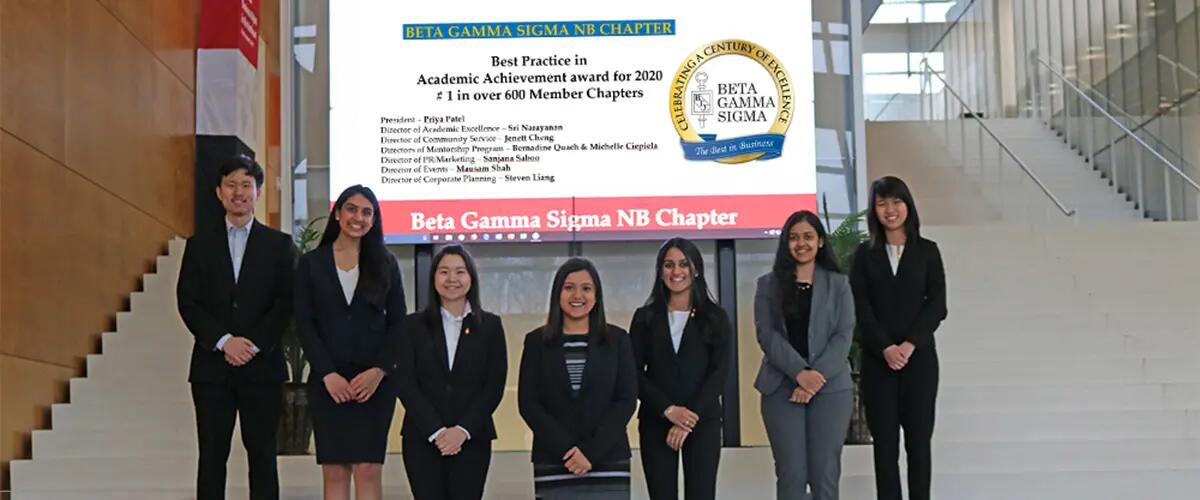 Honor society commemorates founding with virtual food drive
Sri Narayanan, Rutgers Business School (RBS) '21, knew about Beta Gamma Sigma (BGS) while she was still in high school. "I hoped to join someday," she remembers.  Narayanan was invited to join BGS during the RBS spring term, 2019 and served as president of the chapter before graduating.  The incoming analyst at Blackstone studied business analytics and information technology (BAIT) and marketing at RBS.
Why is Beta Gamma Sigma is an essential organization for students on the New Brunswick campus? 
              BGS supports students throughout their academic careers with tutoring, mentoring, networking, and recruiter events. I attended a National conference in Chicago.  It was a great experience to meet and network with such a diverse range of students from across the country.
What are the benefits of being involved with BGS?
              Beyond receiving support, many students look for ways to volunteer and make a difference for others at Rutgers Business School, the university and/or the wider community. 
Can you provide an example of the community service projects BGS has accomplished? 
The Beta Gamma Sigma New Brunswick Chapter commemorated the honor society anniversary during Founders Week, February 15 – 21 this year, with a virtual food drive.  We could not hold an in-person event because of COVID-19 safety protocols, so we collaborated with City Harvest to host an online food drive.   Rather than donating physical food, which becomes difficult coordinating logistics and maintaining social distancing, people can donate a few dollars towards food purchases.  
Beta Gamma Sigma's initial goal was to raise 250 pounds of food. City Harvest made the online food drive safe, easy, and very successful.  The Chapter has raised over 300 pounds so far and we increased our goal to 500 pounds.
The Drive will run to Friday, March 12.  We can't wait to see RBS rally together to exceed that goal once again!
What are some Beta Gamma Sigma initiatives planned for the future?
              I recently spoke with the Head of the National Multiple Sclerosis Society about a virtual card party event.  Using a platform like Zoom or WebEx, volunteers could see and talk with each other while they write 10 – 15 e-cards that would be sent to MS Society volunteers and professionals.  The messages would thank them for everything they are doing with the MS community.  The live, interactive web event would also help connect the BGS members while we are all isolated for now. 
Beta Gamma Sigma – New Brunswick earned the Gold Chapter Award in 2017 designating it the No. 1 Beta Gamma Sigma Chapter in the world out of 544 business schools.  The chapter also won the 2020 Best Practice in Academic Achievement Award.  This first national honor society in business began through the union of three separate honor societies February 19, 1913.
Press: For all media inquiries see our Media Kit