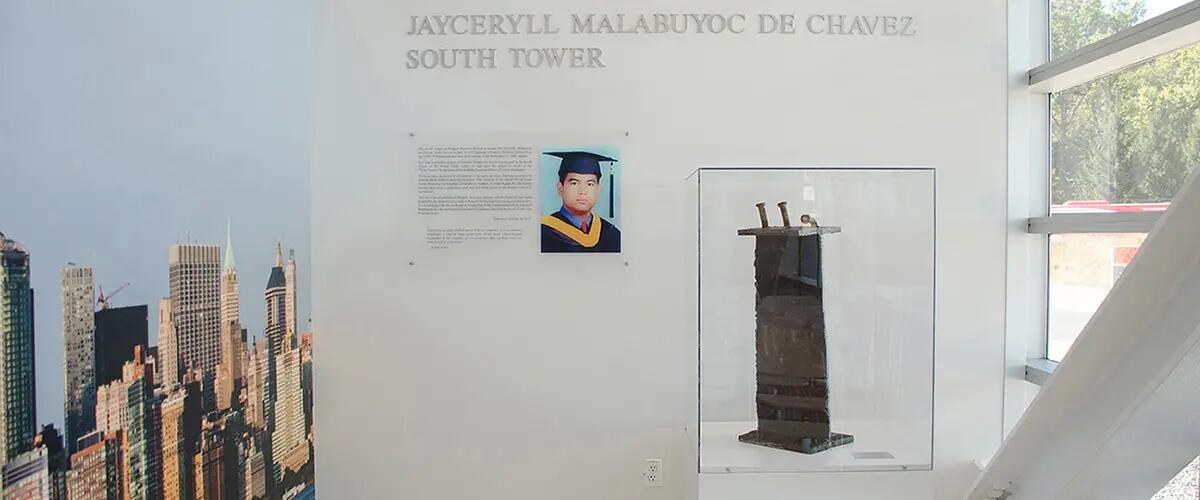 Honoring the memory of an alumnus lost on 9/11
The dedication of the South Tower on the Livingston Campus links Jayceryll Malabuyoc de Chavez to the school that provided him with the opportunity to achieve his dream. Twenty years after the 9/11 terrorist attacks, Rutgers Business School remembers one of its own by reposting this story about the dedication to de Chavez.
Rutgers Business School dedicated the South Tower of its building on the Livingston Campus to Jayceryll Malabuyoc de Chavez, an alumnus who perished during the 9-11 terrorist attack at the World Trade Center.
More than 100 guests assembled in the tower's foyer on Oct. 20 in front of a new plaque inscribed with details of de Chavez's life, a photo taken at his graduation and a portion of steel beam from the ruins of the World Trade Center.
Through the foyer's front wall of glass and steel beams, guests could see a sky as blue and cloudless as it was on the morning of Sept. 11, 2001, and some remarked quietly about the similarity.
As a Livingston College student, de Chavez studied finance and economics. He was working as a portfolio analyst at Franklin Templeton's offices on the 95th floor of the South Tower when 9-11 happened.
John Murillo, a friend, recalled meeting de Chavez in the city about two weeks before the World Trade Center attack. There were about a dozen friends hanging out after work in a bar in the Village. "He always wanted to work in finance and he always wanted to work at the World Trade Center. He lived to achieve his dream," Murillo said.
Rutgers Business School Dean Lei Lei said members of the de Chavez family were visiting the Livingston Campus last year when they learned that part of the four-year-old building was known as the South Tower. "It was the perfect place for them to link Jacy's memory to the school he loved," Lei said.
De Chavez was a distinguished scholar who started two fraternities, Delta Chi and Alpha Kappa Psi, while he was at Rutgers. An immigrant from the Philippines, he appreciated everything and was driven to succeed – to leave his mark, according to his friends.
During the dedication ceremony, Lei said de Chavez embodied the Rutgers Business School brand – resilient, resourceful and responsible. "Jacy had unique strengths in all three," she said.
"He became a high quality business professional," Lei said. "He is an inspiration to all of us at Rutgers Business School."
His friend and fraternity brother, Michael Olszak, spoke about De Chavez's accomplishments, his quiet influence on younger fraternity brothers and friends,  his leadership. "People talk about his ambition, but his most over-arching trait was not ambition but commitment," Olszak said. "It wasn't enough for him to start a fraternity. He wanted it to thrive."
De Chavez graduated from Livingston College in 1999, years before the new Rutgers Business School building was created as a striking entrance to the  campus. The foyer, where the memorial was installed, has high ceilings and is bright with natural light. It is a busy entrance way and a space where students often meet or study quietly.
A mural of the Jersey City and lower Manhattan skyline stretches across the inside wall as part of the installation and the plaque describing de Chavez also contains words from Sir Henry James that the alumnus chose as his inspiration and mantra.
Chad Olszyk, another of de Chavez's friends and fraternity brothers, described it as "honorable tribute."
Friends, relatives, Rutgers Business School faculty, administrators, students and other guests listened to remembrances of de Chavez during a luncheon after the ribbon-cutting in the foyer. At one table in the front of the room, de Chavez's sisters, Maria Aizza Malabanan and Aimee Ramcharran sat with their husbands and children. 
Bibiano and Asuncion de Chavez also spoke briefly during the luncheon. Their son was intent on giving back to Rutgers for the opportunities it provided to him, his father said, and his family has worked to ensure that it happened.
A conference room and four reading rooms at the campus library are named after de Chavez and his family recently created a $1 million endowed scholarship and endowed excellence fund in his memory. Alpha Kappa Psi also awards a scholarship in his name.
With his wife standing beside him, Bibiano de Chavez described the dedication of the South Tower as "bittersweet."
He paused for a moment and then added: "We are happy that Jacy's memory will live on for generations to come."
- Susan Todd
Press: For all media inquiries see our Media Kit