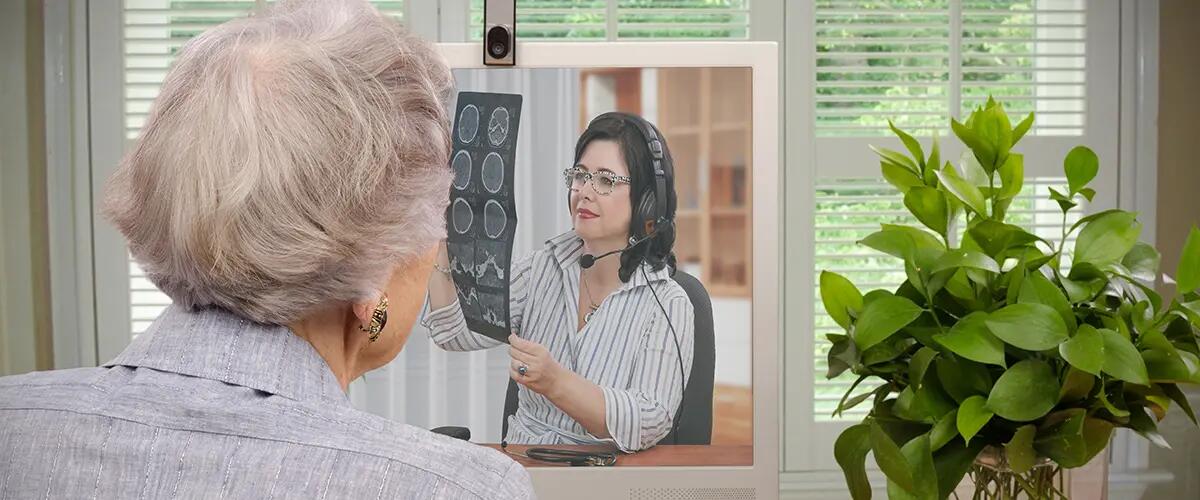 Improving health care access, lowering costs through telemedicine
Rutgers School of Nursing and Rutgers Business School have teamed up to pilot the use of telemedicine technology to provide health care for underserved populations in Greater Newark. The pilot research study will employ a technology system developed by SmartCareDoc, a division of Telemed Ventures, to connect providers and patients virtually using internet connected mobile devices.
"Telemedicine is rapidly becoming an accepted part of the health care delivery system," said Ann Bagchi, a registered nurse and instructor at the School of Nursing who is a key driver of the pilot study. "When the technology is used appropriately, it has a unique capacity to improve access, lower costs, and improve health care outcomes."
SmartCareDoc allows health professionals to remotely interact with and examine patients. Portable devices that plug into a laptop, tablet or mobile phone allow the provider to listen to a patient's heartbeat, check a patient's temperature, blood pressure or pulse rate or obtain an electrocardiogram reading in real-time.
Bagchi will be bringing the telemedicine technology to 10 patients residing in Newark public housing developments where access to health care has been limited. A nurse practitioner will monitor and interact with the patients remotely from the School of Nursing's community health center.
The pilot is part of a joint grant between Rutgers Business School and Rutgers School of Public Affairs and Administration awarded by Rutgers University – Newark Chancellor's Seed Grant program to promote high-impact, publicly engaged, collaborative scholarship in Newark.
Benjamin Melamed, a distinguished professor of Supply Chain Management at Rutgers Business School and the principal investigator of the project, will be assessing the effectiveness of the results. "Telemedicine has the potential for mitigating the health care crisis by improving patient access and substantially reducing costs," he said.
"Rutgers Business School is committed to using our expertise to make a positive social impact in the Newark community – a key strategic mission articulated by Rutgers-Newark Chancellor Cantor," said Lei Lei, dean of Rutgers Business School. "Together with Rutgers School of Nursing, we can help solve real-world problems and find better ways of doing things," she said.
According to William Holzemer, dean and distinguished professor at Rutgers School of Nursing, "Telemedicine technology could be a real asset to our ability to provide high-quality, accessible primary care through our school's federally qualified health center serving Newark communities.  We are excited about the possibilities this technology holds for delivery of care."
Dr. Raj Shah, CEO and founder of SmartCareDoc, sees this joint project with Rutgers in Newark as a great opportunity. "Working on this project with Rutgers in Newark is a great opportunity to collaborate with a highly respected research institution to expand knowledge and understanding about telemedicine use with various populations," he said. "This pilot will bring telemedicine to individuals who could benefit from this innovation, but who have likely never heard of its accessibility. We are pleased to provide this public service to the community."
About Rutgers School of Nursing
The School of Nursing at Rutgers, The State University of New Jersey is dedicated to the pursuit of excellence in education, research, and evidence-based health care delivery in the promotion of community health. The school educates more than 1,600 undergraduate and graduate students at four campus locations in Newark, New Brunswick, and Blackwood, NJ, as well as online. An extensive program of continuing education is available for nurses and other health care professionals. The school's doctor of nursing practice program was ranked the 17th best program in the nation by U.S. News & World Report in 2016. The School of Nursing operates Rutgers Community Health Center in Newark, one of only 16 nurse-managed federally qualified health centers (FQHCs) in the nation. For more information about education, research, and clinical practice, visit nursing.rutgers.edu
About Rutgers Business School Newark and New Brunswick
Rutgers Business School–Newark and New Brunswick is an integral part of one of the nation's oldest, largest, and most distinguished institutions of higher learning: Rutgers, The State University of New Jersey – founded in 1766. Today, Rutgers Business School is educating more than 7,500 undergraduate and graduate students at two main campuses in New Jersey as well as satellite locations in Jersey City, Madison and Singapore. It is recognized as the top public business school in the New York Tri-State area; is ranked #3 nationwide for MBA employment by U.S. News & World Report; is known as the #3 business school for Vets by Military Times; and is part of the campus that has been ranked #1 in diversity nationwide by U.S. News & World Report, since 1997. For additional information, visit business.rutgers.edu.
About Rutgers University – Newark
Rutgers University - Newark is a diverse, urban, public research university that is an anchor institution in New Jersey's cultural capital.  Approximately 12,000 students are currently enrolled at its 38-acre campus in a wide range of undergraduate and graduate degree programs offered through the Newark College of Arts and Sciences, University College, the Graduate School-Newark, Rutgers Business School-Newark and New Brunswick, the School of Law-Newark, the School of Criminal Justice, and the School of Public Affairs and Administration. At a historical moment when our cities, our state, our nation, and our world desperately need higher education to fulfill its promise as an engine of discovery, innovation, and social mobility. Rutgers University – Newark is exceptionally well positioned to fulfill that promise. It has a remarkable legacy of producing high-impact scholarship that is connected to the great questions and challenges of the world. It has the right mix of disciplines and first-rate interdisciplinary centers and institutes to take on those questions and challenges.  It is in and of a city and region where its work on local challenges undertaken with partners from sectors resonates powerfully throughout our urbanizing world.  Most importantly, Rutgers University - Newark brings an incredible diversity of people to this work—students, faculty, staff, and community partners—making it more innovative, more creative, more engaging, and more relevant for our time and the times ahead. For more information, please visit www.newark.rutgers.edu.
About SmartCareDoc
SmartCareDoc is a division of Telemed Ventures LLC headquartered in Langhorne Pennsylvania.  Founded by a practicing cardiologist the company is an emerging leader in patient specific, outbound telehealth service and innovation.  The SmartCareDoc System is a physician designed, patient centric comprehensive telehealth platform, cost effectively enabling online patient to provider encounters, remote exams with an array of medical devices and broad population health management programs.   For more information, visit www.smartcaredoc.com  or email jturner@telemedvisit.com
Press: For all media inquiries see our Media Kit