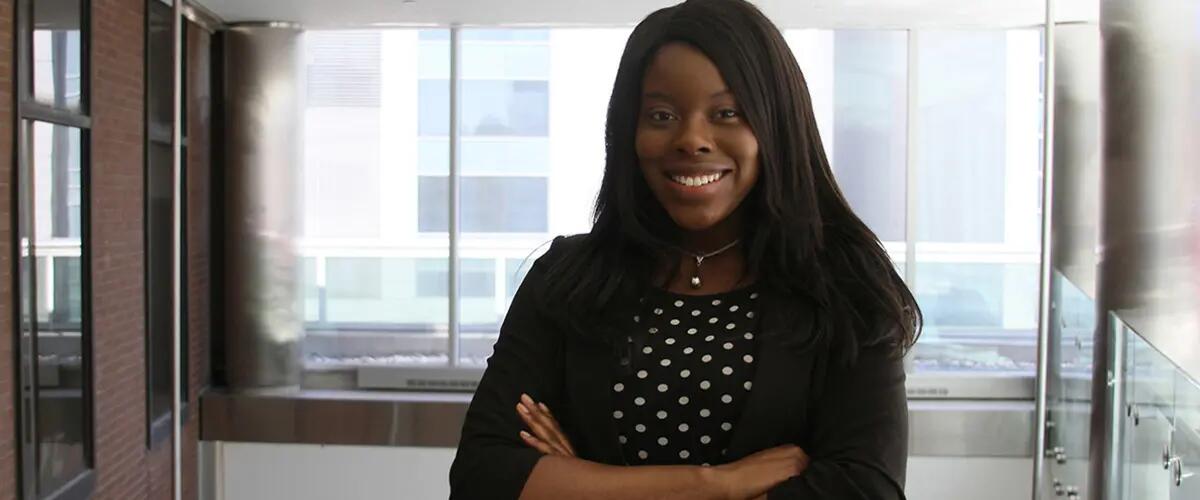 From inner-city to Goldman Sachs: graduating senior plans to pay it forward
After benefiting from mentors and internships, senior Chioma Igwebuike wants to create a non-profit of her own to help inspire other young people.
When she graduates from Rutgers School of Business-Newark and New Brunswick and before she begins her career at Goldman Sachs, Chioma Igwebuike already is planning what she wants to do with her volunteer time.
Looking beyond her high school to prepare for college, Igwebuike participated in programs that introduced her to professional settings and career options. She wants to do the same for others.
"I want to pay it forward," she said. "I want to help inner-city students get exposure to professional settings and to let them know you can be so much more than you're seeing in your immediate environment."
Growing up in Newark, Igwebuike got involved in NJ LEEP, a college access and success program, through which she was teamed with a lawyer, tried out law school classes and participated in constitutional law debates.
Through the All Stars Project of New Jersey, she had her first official internship with the Port Authority of New York and New Jersey. "That helped me so much because I met people with degrees in accounting who told me it's a good field with so many opportunities," Igwebuike said. "It's one of the reasons I chose accounting."
One of the most influential programs she said she participated in is Rutgers Business School's B-STAR program, an award-winning, competitive academic and residential bridge program offered by the RBS Office of Diversity Programs and enrolling 20-25 students every year.
The first tier of the program includes an intensive, six-week summer academic experience in which selected incoming freshmen live on campus and take two college courses for full academic credit. The second tier provides follow-up and support services, resources and opportunities for the students through their undergraduate years and as alumni. Learn more about the impact the Business Student Transition at Rutgers Program has on participants.
"Having B-STAR, taking economics and accounting in the summer, helped me see what I would have to deal with in upcoming years," she said. "When I started my freshman year, it wasn't all new."
It also helped having a support network of peers, older students and mentors like Assistant Dean Charles A. Brown, "who was always there to give me good advice," Igwebuike said.
"I want to help inner-city students get exposure to professional settings," Igwebuike said, "and to let them know you can be so much more than you're seeing in your immediate environment."
Brown uses words like tenacity and grit when talking about Igwebuike, who he said welcomes a challenge and is a unique problem-solver. "We saw tremendous growth in Chioma in a short period of time," he said. "She is fearless."
Born in Nigeria, Igwebuike moved to the United States with her family when she was 5 years old. "My parents always pointed me toward college" she said. "That was the whole point of coming to America – to start a new life and to give me and my siblings opportunities we wouldn't have in Nigeria."
All of her pre-college experience helped Igwebuike excel as a student and earn internships at J.P. Morgan and Goldman Sachs, which offered her a job that will start in July.  It's what inspired her to want to start her own nonprofit organization one day to help students connect with mentors and gain career guidance at an early age.
An accounting major with a concentration in the business of fashion, Igwebuike sporadically tends her creative side on her blog, Shine.Wit.Grace, where she shares her views on faith, motivation and style. At the business school, Igwebuike also served as vice president of the National Association of Black Accountants chapter.
"What I love about RBS is the student organizations really do have the opportunity to change the campus," she said, noting the chapter brought employers to campus and set up workshops on resume writing and career networking. "A lot of the work we do, the students benefit from it. It's rewarding."
This article was originally published in Rutgers Today. It was written by Dory Devlin.
Press: For all media inquiries see our Media Kit