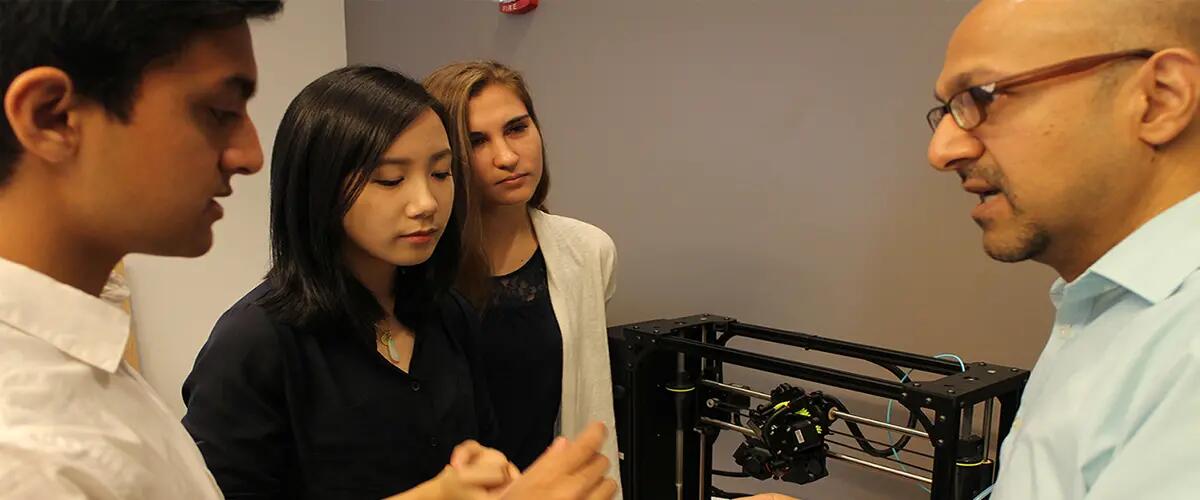 Innovation Laboratory teaches student entrepreneurs how to bring business ideas to life
Six proposals, from a pacifier that can deliver nutrients to newborns to a Bluetooth device to help prevent sexual assault, are in incubation stage this year
Mukesh M. Patel, a successful entrepreneur, mentor, business attorney and adjunct professor at Rutgers Business School and Rutgers School of Law who has helped many startup companies develop their business plans and raise significant equity funding, heads the Innovation Lab at the Honors College at Rutgers University-New Brunswick. He joined the college as its inaugural director of innovation this past summer.
The Honors College incorporated the Innovation Lab into its curriculum to enable students to collaborate across disciplines and tackle complex and global problems in tangible ways.
The Honors College mission course, "the Forum," challenges first-year students to come up with ideas for innovations that could solve societal issues and become sustainable, profitable ventures. Of the more than 100 ideas pitched last year, six advanced to become the focus for hands-on development in the Innovation Lab by second-year students. Rutgers Today recently spoke with Patel about how the Innovation Lab is designed to work and the student projects in development.
What is the Innovation Lab?
Patel: First, it is a physical space where students of different disciplines and passions come together to develop their ideas. By its design, the lab avoids silos and breaks down boundaries. We call the process "design-thinking," and it's what occurs when teams work collaboratively on projects small or large. We have equipment, such as 3-D printers, mini-computers with a digital design studio, sensor lab, and other gadgetry to test hypotheses, create prototypes and minimally viable products (MVPs) and run pilot programs.
Conceptually, the lab represents how Honors College students learn critical skills vital to developing and bringing an idea to market. This includes how to recruit students from the university because of the expertise they could contribute, plus marketing, public relations and concept testing.
What are the projects under development in the Innovation Lab this year?
Patel: The projects include RFInD, a wearable electronic device programmed with personal medical information to help emergency health care providers find and treat patients in distress; eUse-IT, a system for collecting and repairing laptop computers to reduce electronic waste while making computer devices more accessible to lower-income demographics; Nutrivide, a device resembling a pacifier that provides nutrients to undernourished newborns; Oasis, a process for delivering nutritious food to needy communities and food deserts; Exalight, a specially-designed blanket to prevent neonatal jaundice and potentially treat certain skin conditions; and Merakhi, a Bluetooth and audio wearable tech device to help prevent sexual assault while providing education and empowerment in connection with rape and assault cultures.
What are the tangible goals of the Innovation Lab?
Patel: We teach students how to build an entrepreneurial ecosystem. We expose them to the resources and the basics of building a project through a series of learning opportunities: lectures, discussions, debates and practical workshops throughout the tri-state area. Students attend at least 10 events that revolve around four themes: innovation, startups, social ventures and social impact. We teach them how to raise capital, how to adapt a product idea to fit a need (product-market fit) and how to become inspired about a project while learning how to lead and inspire team collaboration.
We expose them to CEOs and top executives of public and private companies and thought leaders and how to work with other startups. They may also use laboratories at other institutions or businesses, wherever they determine they can receive assistance in developing their venture. We are planning field trips to, and exploring opportunities for collaboration with, business and engineering schools, innovation labs and entrepreneurship centers at other universities such as Princeton, Columbia, Harvard, MIT, NJIT, Stevens and Montclair State University.
The Innovation Lab fellows will also compete in state, national and global venture competitions. In fact, in our first innovation competition run by the New Jersey Technology Council, two of our venture teams placed in the top position as finalists earning a $1,000 cash prize per team. In addition, two of the venture teams were accepted into the Rutgers Law School Entrepreneurship Clinic, where they qualify for complimentary legal services. Furthermore, all six venture teams were accepted to participate in the Social Entrepreneurship Venture Summit in New York City run by the KIND Foundation and Venture for America, where our students met with social innovators such as Daniel Lubetzky (founder and CEO of KIND Snacks and the KIND Foundation), Andrew Yang (founder and CEO of Venture for America), and Arianna Huffington (founder and CEO of Huffington Post and Thrive Global). 
What are the key lessons you want students to learn?
Patel:  We teach thought-leadership and stress the importance of not being afraid of failure, to push the boundaries. We emphasize exhausting all free resources before applying for the limited seed money available. We want students to learn what to do to advance a project resourcefully while applying lean methodologies. We want them to understand how, as 19-year-olds, they can have a significant impact on the world. That's a big part of the process. They need to learn persistence and how to pivot; to go through the journey and experience the process. We want them to be inspired for what they want to do. We want their impact to be long-term.
They are required to build an advisory board, but not only consisting of people they know. They start forming relationships and determining whatever the venture needs. This requires them to reach further. We want them to think that way. We want them to experience what to do when they are told "no." The key is to teach them not to let obstacles get in the way of good ideas going forward. They learn and practice grit.
How will you judge success of these projects?
Patel: You can judge success in many ways. If you fail and nothing works, that could be a huge success because you took a huge risk, because you embraced failure, and hopefully learned from it. We say don't be afraid of failure and to fail fast to succeed faster. A failure at one point could count as a success because that will mean you are one step closer to what might work.
The more obvious success is something that becomes a national or global enterprise with a social impact, especially something with sustainability and profitability that creates opportunities to hire and create jobs.
What drove you to accept the innovation position at the Honors College and how many ideas do you anticipate reaching production?
Patel: As a Rutgers alumnus, I wanted to give back by engaging through designing and leading an innovative and creative platform for social impact. I was inspired by the opportunity to work with the top leaders at the Honors College who are catalysts, thought leaders, and game changers. They believed in and supported my vision and model to create something special, an experiential, collaborative, multi- and interdisciplinary ecosystem for impact through social innovation. I anticipate a significant percentage of the ideas will reach various phases of production, especially considering the creativity and drive of our students, the Innovation Lab fellows.
This article originally appeared in Rutgers Today.  Jeff Tolvin wrote the story and took the photographs.
Press: For all media inquiries see our Media Kit