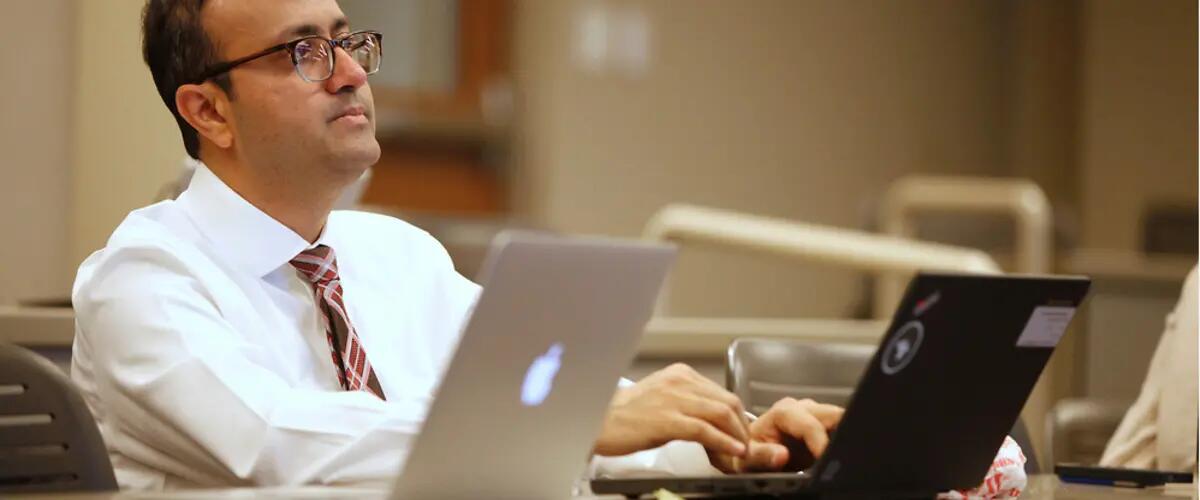 Internship instills importance of relationships
This article originally appeared in TopMBA.com, written by Nicole Willson.
Suraj Adiecha is a Rutgers MBA student who decided to intern at Bayer after visiting the company for a presentation and learning that the company's values aligned with his own. In this interview, Adiecha discusses his experience at Bayer, including his observation about how building relationships helps to get things done within the organization.
Which business school do you attend?
"I am pursuing an MBA in pharmaceutical management and marketing at Rutgers Business School in Newark, New Jersey. I will graduate in May 2017."
Which department did you intern in and what kind of projects did you work on?
"I interned in the summer of 2016 in the U.S. oncology sales strategy business department. There were several projects that I worked on during my internship in which I spent time understanding the different sales and marketing strategies that are implemented for Bayer's pharmaceutical products. In addition, I was involved in conducting meetings and training key members of the team on various initiatives to improve the efficiencies of overall operations. During my internship, I learned how different functional units collaborate to successfully drive company initiatives."
Why did you decide to intern at Bayer?
"After researching Bayer and speaking to my peers, who had previously interned and/or worked at Bayer, I decided to attend a site visit at Bayer, which was arranged by Rutgers Business School. In the few hours that I spent learning about the organization's vision, values and culture, I was truly amazed. This visit was probably one of the main reasons for my decision to work at Bayer.
"It was very refreshing to see how humble and down-to-earth all the directors and VPs who presented and spoke to all the students were. From this presentation, I learned that Bayer would be an amazing organization to work for and somewhere I could put my passion, as a pharmacist [Adiecha holds degrees in pharmacology and pharmacy from the University of Auckland and Oregon State University, respectively], into practice and make a difference in patients' lives. Bayer's 'LIFE' values (leadership, integrity, flexibility and efficiency) aligned perfectly with my own personal values."
How did the application process work?
"The application process was similar to that of other organizations. After applying online for the internship, a Bayer recruiter contacted me for a phone interview. He then arranged an in-person interview with a director of hematology and a human resources manager. In less than two weeks, the HR manager contacted me with an internship offer."
What were your impressions of Bayer's corporate culture?
"Bayer's corporate culture is very open and collaborative. Everyone is happy to share their experiences and knowledge even if they work in different functional groups. The team created a cohesive and collaborative working environment in which I was accepted as a family member within a very short period of time. They not only fostered my existing individual abilities, talents and strengths, but also helped me to develop new skills and further my understanding of the business.
"The company offers employees a wide range of options to help them balance employment with their personal and family lives. There are various employee resource groups to join which provide support and aim to enhance career and personal development in the work environment.
"Bayer is an exceptional organization with which to gain experience in the pharmaceutical landscape. Their focus on life sciences allows them to concentrate strongly on their mission: 'Bayer: Science For A Better Life'. If you believe in the company's LIFE values and culture as I do, then you will truly enjoy working for Bayer."
What did you enjoy most about your internship?
"The thing I enjoyed the most about my internship was the relationships and connections I built with some great individuals in various departments. I was able to connect with individuals who not only helped me understand development options related to my projects, but who also acted as mentors and encouraged collaboration in an inclusive way.
"Everyone I worked with was extremely helpful and always ready to share their insights to help me succeed. They even stayed till 9pm to help me with my final presentation to the senior leadership. I have not yet come across another organization that does that for their interns. I really felt that I was a part of the Bayer family."
"Bayer's corporate culture is very open and collaborative," Adiecha said. "The team created a cohesive and collaborative working environment in which I was accepted as a family member within a very short period of time."
What were some of the challenges you faced during your internship?
"I feel the only challenge I faced during my internship was developing an understanding of the different organizational teams in order to fully understand the group's operations. I believe I would have faced that challenge at any large corporation."
Of all the things you accomplished during your internship, which makes you the proudest?
"Again, it's really all the connections and the relationships that I built within Bayer, especially with my manager, Deputy Director of U.S. Oncology Sales Strategy Cortney Dominianni-Smith and the Deputy Director of Patient Marketing Cynthia North. These relationships are what made me the proudest."
Is there anything I didn't ask about your internship experience that you would like to mention?
"Bayer does a great job in identifying and partnering interns with projects within each functional group that fit with their prior experience. As an MBA intern at Bayer, having some knowledge about the pharmaceutical industry is always helpful, but definitely not required. However, Bayer appreciates the leadership and analytical skills, and unique perspective that an intern without previous pharmaceutical industry experience can bring as well. I would like to emphasize that it is really important to build relationships and connections to get things done in large organizations such as Bayer. Be professional, courteous, genuine, flexible and consistent in everything you do, every time, every day."
Press: For all media inquiries see our Media Kit