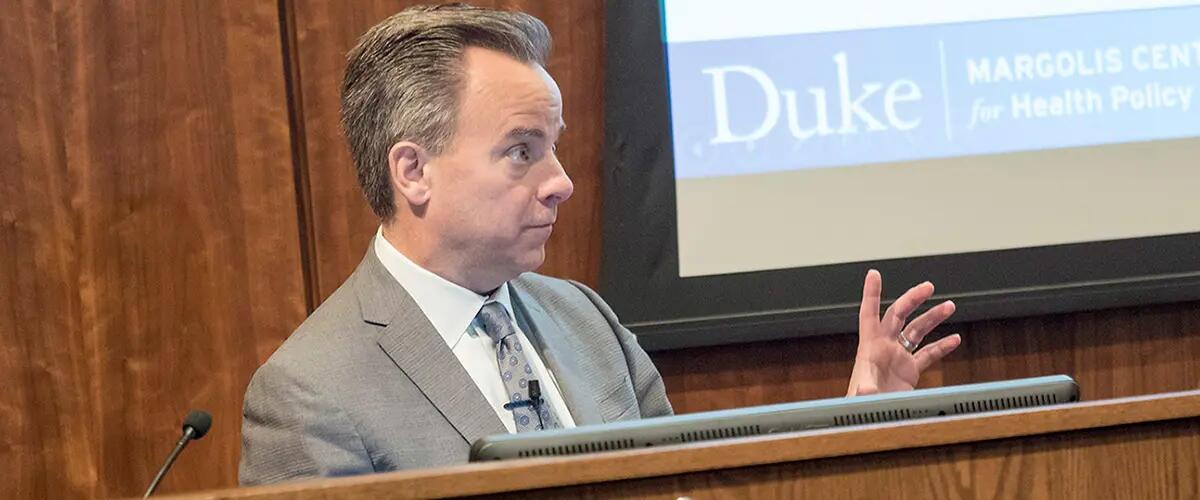 Lerner Center symposium examines prospect of sustaining innovation in healthcare
Sustained innovation in the healthcare industry will require more than discovering and developing powerful new medicines, according to Mark McClellan, director of the Margolis Center for Health Policy at Duke University.
In a keynote speech at the annual health care symposium hosted by the Blanche and Irwin Lerner Center for the Study of Pharmaceutical Management Issues on April 26, McClellan described the new approaches that will be necessary to sustain innovation, from regulatory reform and better coordination of care to non-medical strategies, community services for pro-actively improving health conditions like asthma.
"There's a lot of opportunity for more value in healthcare," said McClellan, whose experience includes a stint as commissioner of the Food and Drug Administration.
Executing on the opportunities is complex though, he said, requiring new legislation, better ways to determine which patients will benefit most from new medicines and, in some cases, new payment models to ensure that innovative health care can be sustained.
The annual symposium is a signature event for Rutgers Business School's Lerner Center. It showcases the center's role as a source of thought leadership for issues and changes in the pharmaceutical and health care industries. The event regularly draws an audience of MBA alumni, industry professionals, faculty current students as well as members of the center's board, including Irwin Lerner, former chief executive officer of drug maker Hoffmann-LaRoche and an alumnus of the Rutgers MBA program. The work of the Lerner Center also bolsters the strength of the MBA in Pharmaceutical Management at Rutgers.
Rutgers University President Robert Barchi, who has been friends with Lerner for years, and Rutgers Business School Dean Lei Lei made opening remarks.
McClellan's talk set the stage for the event, which included a panel discussion on value-based contracting, a driving force transforming the nation's health care industry.
McClellan, said in an effort to help people with asthma conditions, a community group in New York City provided patients with air conditioners, which worked to reduce the number of hospital visits. "These things aren't covered by plans, so how can they be sustained?" he said. "This is why there's so much interest in new payment methods."
"We're never going to solve the problem of health care reform without solving the problem of inefficiencies," he said.
McClellan's talk was followed by an industry trend update from Ed Adamik, vice president of Express Scripts. Dan Leonard, president of the National Pharmaceutical Council, also moderated a discussion on value-based contracting among a group of industry professionals.
Janssen Pharmaceuticals, Celgene Corp., Robert E. Campbell, and Blanche and Irwin Lerner sponsored the 2017 symposium.
-Susan Todd
Press: For all media inquiries see our Media Kit