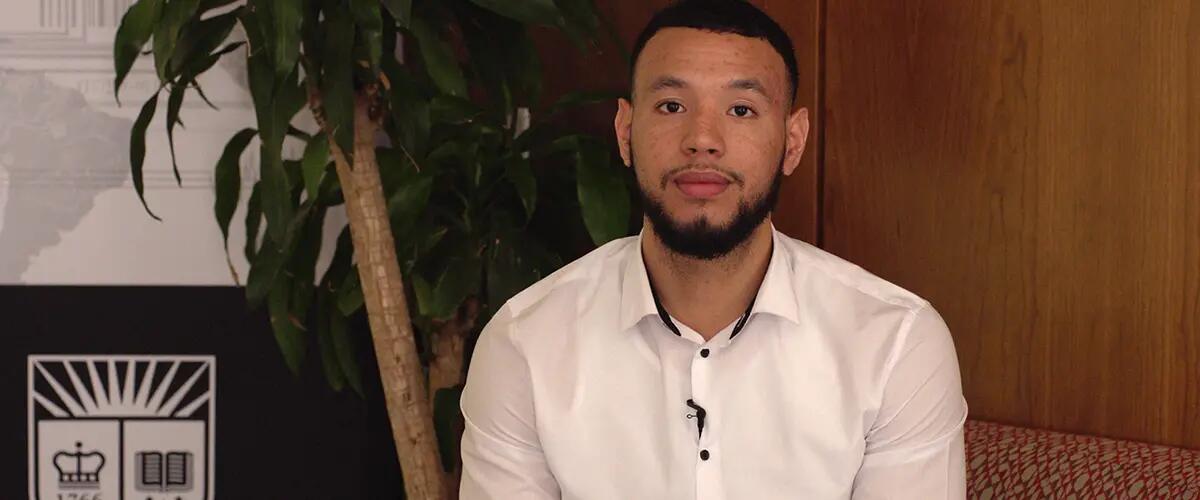 Make an impact on Giving Day by supporting the Finish Line Fund
Rutgers Business School's Finish Line Fund ensures that financial hardship doesn't derail a student's college graduation.
Joel Ayala, a Rutgers Business School student studying supply chain management, had more than three years of college behind him when his graduation suddenly seemed uncertain.
His family's financial difficulties threatened to interrupt his final year of studies and postpone the payoff of his hard work: a college degree.
"My family and I were struggling financially and there was the possibility that I was not going to be able to return to school this semester," Ayala said.
With help from Rutgers Business School's Finish Line Fund, Ayala is on track to graduate in May.
"In just a short time, the Finish Line Fund has helped many hard-working students who faced the pressure of not being able to complete their college education due to unexpected financial hardship," said Dean Lei Lei, who started the fund in 2016. "I invite everyone in the RBS family to offer a hand to our students and contribute to the Finish Line Fund on Giving Day."
Ayala, a high school baseball player whose heart remains in sports, works as a part-time dispatcher with a shipping company in the Port of Elizabeth. He's applying some of his supply chain knowledge on the job and tapping into his passion for sports by guiding Passaic area high school athletes.
He believes his supply chain management knowledge will allow him to make a living and give him the ability to follow his passion for athletics as a side passion, as a volunteer giving back to young, promising athletes.
His dreams might have taken longer to realize without the help from Rutgers Business School and the generosity of donors on Giving Day.
"The Finish Line Fund," Ayala said, "is helping me graduate on time."
On Giving Day, help to ensure other students get the same support that kept Ayala on course to achieve his goal. Donations must be made before 11:59 p.m. to count on Giving Day. To give:
RBS Finish Line Fund - New Brunswick
Press: For all media inquiries see our Media Kit