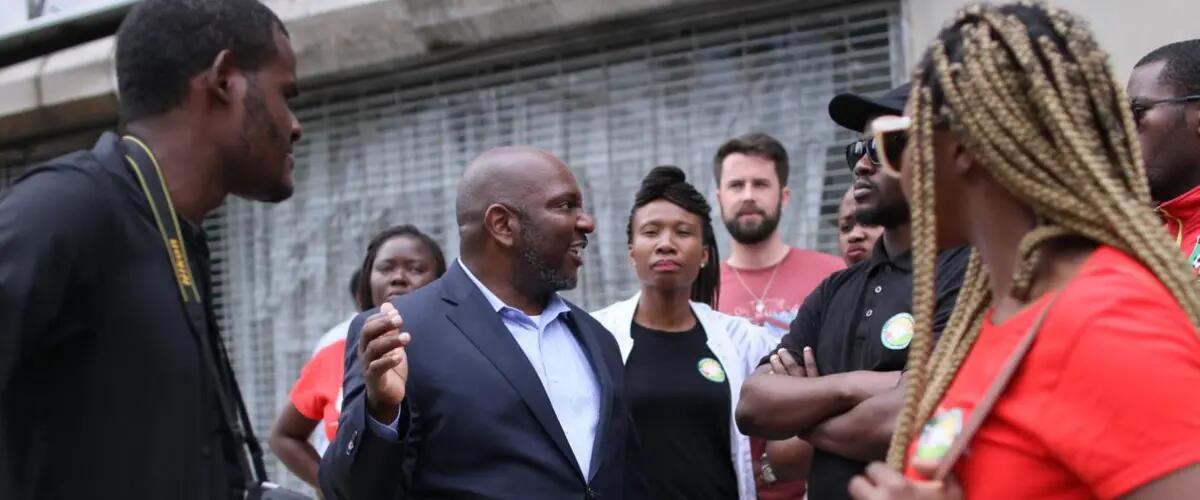 Mandela Washington Fellows get lesson on innovative policies for redeveloping cities
A visit to Rutgers Business School provides insights on the power of entrepreneurship and Newark's revitalization
A group of young professionals from sub-Saharan Africa – some of the 2019 Mandela Washington Fellows at Rutgers University – stopped by Rutgers Business School-Newark to learn more about entrepreneurship and urban policy innovation in the United States.
Professor Jeffrey Robinson, who teaches social entrepreneurship and is academic director at The Center for Urban Entrepreneurship and Economic Development, spoke to 25 fellows about the impact of inclusive and sustainable economic development as part of their summer visit.
Robinson highlighted policies that create capital for enterprises that want to remain or relocate to urban areas and policies that incentivize companies to develop innovative business models for addressing social, environmental and economic issues.
After Robinson's presentation, Lyneir Richardson, executive director of The Center for Urban Entrepreneurship and Economic Development, led the fellows on a tour of the neighborhood around Rutgers Business School. He guided them along Broad Street to the Hahn's Building, a centerpiece of redevelopment in downtown Newark.
Rutgers University offers two six-week Mandela Washington Fellowship Institutes. The Institute for Leadership in Business is led by Kevin Lyons, a professor of professional practice in supply chain at Rutgers Business School and Johanna Bernstein, assistant dean for international programs at the Rutgers Energy Institute.
The Institute for Leadership in Civic Engagement is the second institute. While both institutes have their own focus, the fellows share joint activities, including visits to landmarks in the region, cultural activities and meetings with community leaders.
Both Mandela Washington Fellows Institutes are supported by Rutgers Global.
Photos by Nicolle Williams. Text by Susan Todd.
Press: For all media inquiries see our Media Kit