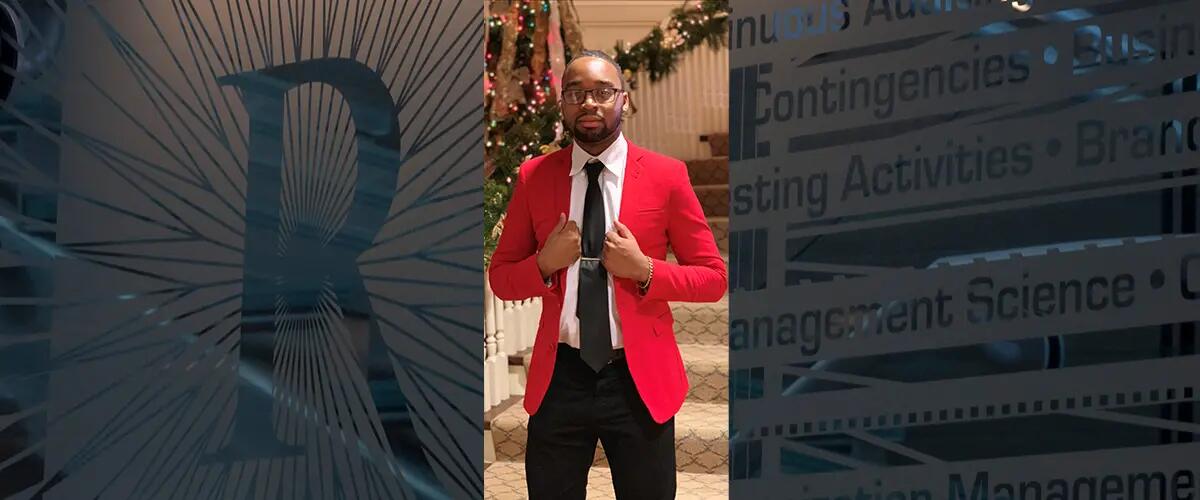 Masters in Supply Chain Management provides the right skills for the right job
Quadree Washington, Masters in Supply Chain Management, '20, said that the high school he attended was not very good.  He was fortunate, however, in that he had two parents who were adamant that he and his sister would graduate from college.  His parents enrolled him in a charter school to get a better education. Being the first in his family to attend college was challenging, but Washington had the drive and determination to succeed.
"I worked hard at school while I also held a job all through my education," Washington said.  "I made the National Honors Society."
Washington worked at Best Buy as he earned an associate's degree in Business Administration and Management at Brookdale Community College and then a bachelor's of science in Business Analytics & Information Technology at Rutgers Business School.
"I was interested in IT, but since I worked all through school, I could not take internships that might lead to a career position," said Washington.  "My various responsibilities at Best Buy required some technology and consulting skills.  I became an "Apple Master."  However, it was my warehouse experience as a product and technology inventory specialist at Best Buy that got me started at Domino Foods, Inc. as a global supply chain analyst.  I came to understand that what I enjoyed was supply chain management."
Soon after starting at Domino Foods, Washington began investigating advanced degrees.  "I knew I wanted a master's degree," he said.  "I learned about the strength of the supply chain management program at Rutgers Business School and the stellar rankings, so I attended an open house where I met Brody Sheldon and Professor Rudi Leuschner.  Their enthusiasm and advice got me excited about the Masters in Supply Chain Management, leading me to apply to the program."
The online format allowed Washington the flexibility that he needed while working full-time.  With Leuschner's advice and the recommendations from his supervisors, Washington selected courses from the requirements that supported his position.  "ERP/SAP (enterprise resource planning software developed by the German company SAP SE) with Professor Lian Qi was extremely helpful, along with Supply Chain Management Strategies, for my work project to analyze why Domino Food's distribution costs were so high."  Washington and his team were able to reduce the $250M annual distribution cost by $12M, leading to his promotion.
Washington said, "Every professor I had at RBS was thorough and helpful. Project Management with Professor Irene Gerlovin was exceptional. She is the reason I want to get Project Management Professional (PMP) certification.  I earned my Lean Six Sigma Green Belt (ICGB) with Professor Gurpreet Singh.  Every course applied to my job; I am using what I learned every day, and the knowledge will be equally beneficial at the managerial level."
"My courses worked hand-in-hand with my position; I could immediately apply what I was learning at RBS directly to my work," Washington said.  "Rutgers Business School's Masters in Supply Chain Management provided me with the skills I need for the rewarding career I chose."
-Sean Ireland
Press: For all media inquiries see our Media Kit