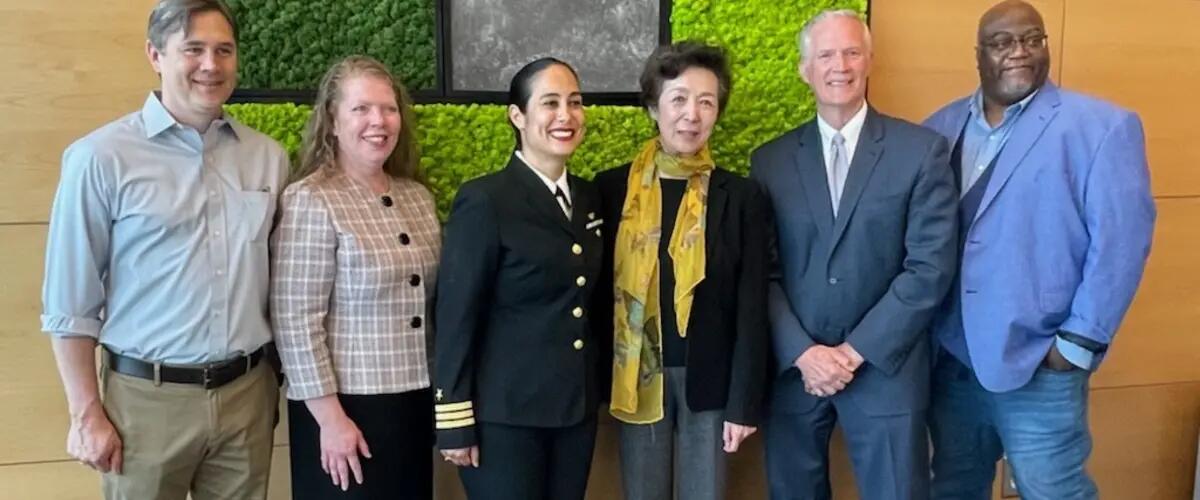 MBA alumna makes a visit during Navy Week Program
The long Navy career of Commander Evita Salles, a graduate of the Rutgers MBA Program, got its start in high school.
While family – three generations of men served in the Army – influenced her impression of the military, her experience in the junior ROTC set her on a path into the Navy.
As part of Navy Week in early May, Commander Salles made a visit to Rutgers Business School-New Brunswick, taking a tour of 100 Rock, chatting with students and taking photos with Dean Lei Lei. When Salles was an MBA student, she studied supply chain in one of Professor Lei's classes.
In addition to Dean Lei, several other Rutgers Business School staff and faculty were on hand to welcome Salles, including retired Commander Haden Patrick, former executive officer of Rutgers Navy ROTC; Margaret O'Donnell manager of Military and Veteran Engagement Programs; Bob Kenny, an attorney, retired major general with the U.S. Air Force Reserve and Rutgers alumnus; and Kevin Lyons, an associate professor of professional practice and director of the Public Private Community Partnership Program. (All pictured in above photo.)
"I'm still very proud of Rutgers," Salles said. "Returning back to my cherished school and seeing 100 Rock for the first time was very special to me. It brought back fond memories of my time at Rutgers for which I will forever be thankful."
Salles received her commission in 2008 through Officer Candidate School in Newport, RI. She completed her MBA at Rutgers Business School in 2012. She also holds a doctorate in Interdisciplinary Leadership from Creighton University.
After receiving her MBA, Salles transferred into human resources where she served as deputy director of the Career Transition Office at Navy Personnel Command. The office is responsible for transitioning active-duty members into the reserve component.
"An MBA is highly valued by the military," she said. "In human resources, it's almost a requirement to have it if you want to advance."
Salles currently holds the title of deputy director of the Office of Women's Policy. She creates and influences policy and programs on women's issues. Her office advises the chief of naval operations on women's issues related to their Navy service. Women represent 20 percent of the U.S. Navy.
A mother of two, Salles said she was pregnant with her first child while she was in the Rutgers MBA program. "I had a good support system," she said. "The faculty and staff cared about you as a student, but they also cared about you as a person."
Photos by Nancy Kiley.
Press: For all media inquiries see our Media Kit