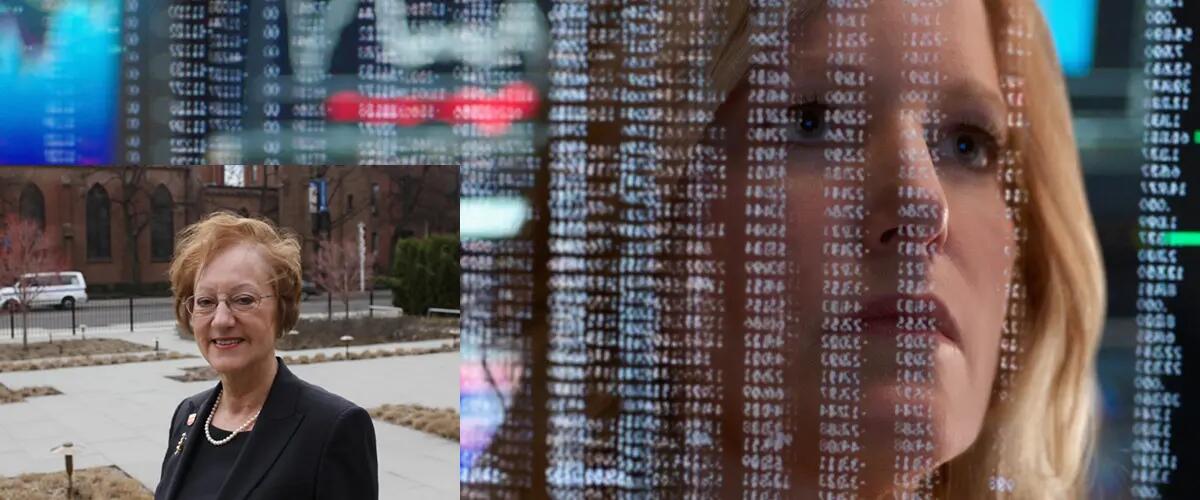 MBA alumna played a role in making movie about women on Wall Street
Beverly Aisenbrey, Rutgers MBA '82, has gotten a little taste of Hollywood in the past year.
When her friend Candace Straight invited her to consider investing in Equity, a movie she was helping to make about a group of women on Wall Street, Aisenbrey saw it as another way she could support women, especially young career women.
Equity tells the story of a female senior investment banker, played by actress Anna Gunn, who becomes involved in a scandalous initial public offering. (Alysia Reiner also stars as a prosecutor investigating the IPO and Sara Megan Thomas plays a junior executive.) The movie opened in New York City and Los Angeles July 29 and will be released in August to theaters across the country and overseas.
Aisenbrey has been friends for years with Straight, who spent a career in the world of investment banking. Both women have influence at Rutgers. Straight sits on the Rutgers Board of Governors and Aisenbrey, DC '75, serves on the dean's board of advisers at Rutgers Business School and the Rutgers Board of Overseers.
Equity has even more ties to Rutgers though. Two other alumnae, Suzanne Ordas Curry, RC'84, and Tristen Tuckfield, LC '99, also helped to back and promote the movie.
After completing her MBA, Aisenbrey spent 33 years at Frederic W. Cook, an executive compensation consulting firm. In 2015, she retired as a managing director. In a short interview, she talked about her career, the impact Equity might have on young women with ambitions of being on Wall Street and her own brush with movie-making.
Q: How did you become involved in the making of Equity?
A: "I have always been a supporter of women in business. I support the program Women BUILD (Business Undergraduates in Leadership Development) at Rutgers Business School. My friend, Candy Straight, knew that. She's the executive producer of the film. I was interested in backing this film because the premise of the two actresses who began the production company was that it was time for us to have a movie which starred a high-level professional woman on Wall Street. That was the point they wanted to make, and I thought that was a great idea."
Q: What was your own career like?
A: "Early in my career, I was usually the only woman in the room. For me, it was something of a challenge, but not inside my firm. The firm was very friendly to its woman employees. I feel we were given equal responsibility, equal opportunity and equal compensation. When I would go out to make presentations at other companies, sometimes they would look at my male partner instead of me. The things that resonated with me in this movie were different though. When you get into a field like this, it is demanding and unpredictable from a time perspective, and that, I think, is harder for women, especially women with children.
"This is not just a feminist movie but will illustrate some of the issues women face in this profession. The point of the movie is, where are all the high-powered women on Wall Street? Well, we're seeing her in this movie. And she's surrounded by women – strong women."
Q: What was the biggest challenge you faced during your career?
A: "Initially, getting listened to in board meetings and having the courage to speak up at board meetings. I am very assertive today, but I was not so assertive 34 years ago."
Q: What impact do you hope the movie has?
A: "I hope it will give young women a fairly realistic look at what it's like to work on Wall Street. It's demanding, and in many ways, it's rewarding."
Q: What was it like being at Sundance?
A: "It was like being in a foreign world. It was very free-flowing. It's interesting to be there, you may have a chance to see a really good movie, like Birth of a Nation or The Innocents, way before the rest of the world. You may see some quirky movies that never get distributed. So people go and they see four or five movies a day."
Check out these other stories about how Rutgers women helped to make Equity:
"Revealing the Real Story of Wall Street Women"
-Susan Todd
Press: For all media inquiries see our Media Kit