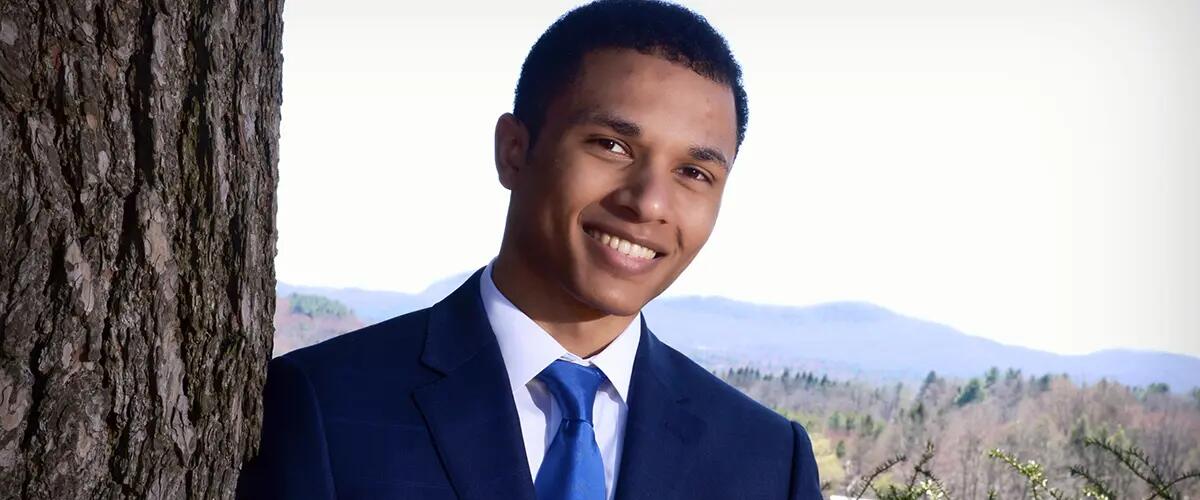 MBA enabled student to think about business on a "higher level"
When a spot opened on a team vying to win a prestigious contest, Full-Time MBA student Nick Felli volunteered to fill the vacancy. The team placed first in the Tepper International Case Competition for its analysis of supply chain disruptions for semiconductors.
"I really wanted to experience everything the MBA had to offer, so I was willing to put myself out there," said Felli, who is concentrating his studies in finance and entrepreneurship. "It was pretty tough because we had a late start. It was probably because of the challenges that it made us dig deep and push hard."
Felli was listed among the 2023 MBAs to Watch by Poets & Quants. Read his profile here. 
Felli said he and the team used concepts they learned in their MBA courses to snag the victory. It is one example of how Felli is translating classroom lessons into real-world experience. He leveraged his Managing Growing Ventures course to help a Newark dance studio, Inspira Arts, secure funding and improve its business model. He learned financial modeling from a professor who worked on Wall Street. "We're getting the training they get at Goldman (Sachs)," said Felli. "The Rutgers MBA enabled me to think at a higher level about business, and the world in general."
Felli graduated from Phillips Exeter Academy in New Hampshire, and Amherst College with a bachelor's in mathematics and economics. He worked for a year at Epic Systems Corp., a medical records company in Wisconsin, before enrolling at Rutgers Business School. He was attracted to the Rutgers MBA program because of its strength in pharma and supply chain management, areas of higher interest for Felli after the pandemic.
"I really wanted to experience everything the MBA had to offer, so I was willing to put myself out there." - Nicholas Felli
Felli, 25, said he is one of youngest MBA students in his class, but he has landed leadership positions, such as becoming president of the Black & Hispanic MBA Association. "I've grown a lot," he said. "It's one of the most active clubs at Rutgers and a great network. It is another place to feel like part of the Rutgers community." He also was chosen for the Certosimo Leadership Award.
Rutgers Business School's TeamUp mentorship program helped Felli get a corporate finance internship at Auramet International, a precious metals trading company in Teaneck. Felli was a 98% match with the company's chief financial officer Mark Edelstein, a Rutgers alumnus. "I wanted a mentor for life as well, and he's really been that. He's helped me career-wise and life-wise," said Felli, noting Edelstein offered advice about how to interview for jobs and how to assess career prospects. Felli also interned at JP Morgan Chase and for the New Mexico Angels.
After his graduation in May, Felli began working at Quest Diagnostics as a senior financial analyst. "Career services has been very helpful throughout the process of exposing me to companies and getting my foot in the door at Quest," he said before graduation.
Dean Vera, director of the MBA Office of Career Management, described Felli as the "quintessential student for any career management office."
"He partnered with my office to hone his interviewing skills and joined case competitions to gain real-world experience," Vera said. "Landing a corporate finance role at Quest Diagnostics culminated all his efforts."
- Sharon Waters
Press: For all media inquiries see our Media Kit