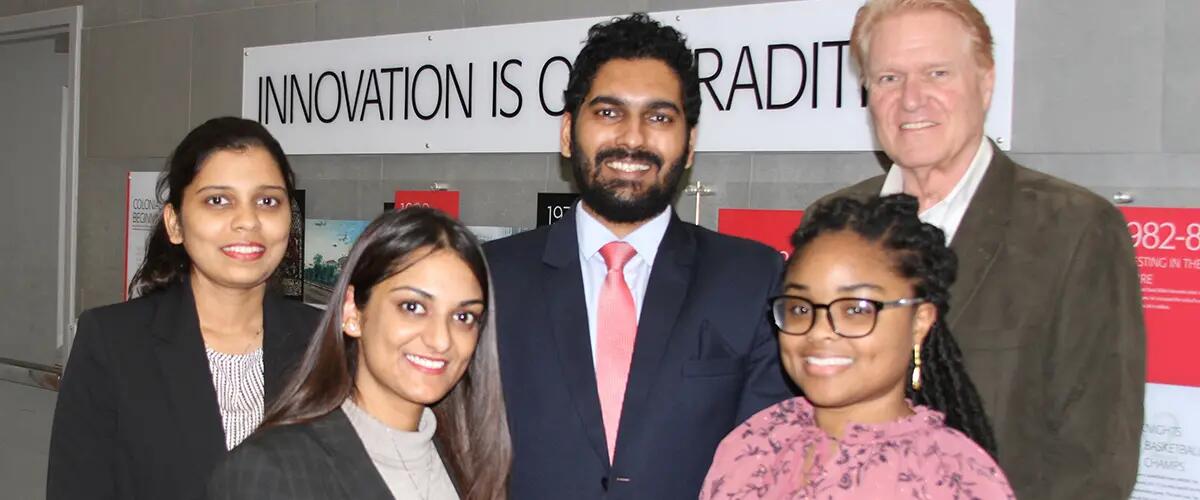 MBA students are among top winners in separate national case competitions
Two different teams captured second place in major case competitions that tested their knowledge and ability to collaborate on innovate, problem-solving ideas.
A team of Rutgers MBA students won second place in an inaugural Health Equity in Clinical Trials MBA Business Plan Competition hosted by BioNJ, New Jersey's life sciences trade association.
MBA Kimberly Schaller said the competition offered the students a chance to suggest ideas expanding health equity by increasing the diversity among patients who participate in clinical trials for new disease-altering medicines.
The team's plan focused on using population health and data analytics to identify health equity targets specific to clinical trial sites in prostate cancer.
In the competition, Schaller teamed up with full-time MBA classmate Aarthi Prakash, and part-time MBA students: Jay Amin, Mitul Parikh, and Ruhee Jain. The students received $7,000 for finishing in second place. Rutgers finished behind Johns Hopkins University and placed ahead of Northwestern's Baylor College of Medicine and Rice University.
"I'm very, very proud of what we did," Schaller said. "I can see the idea going forward."
The success of Schaller's team was the second time in a matter of months that a Rutgers MBA team was among the top winners in a national competition.
Four first-year students – Priyanka Lunawat, Ria Gupta, Daphni Sawyer and Surya Narrayanan Muthukumar – won the second-place prize of $600, behind the University of Alabama, at the Florida Southern Case Competition.
The competition focused on a human resources topic, something outside each student's expertise. "The learning started when we came together as a team," Muthukumar said. While the team's ideas to help the company involved leveraging automation, employee incentives to both retain employees and attract new ones, it was a clever slogan that won the team points with the judges.
Muthukumar said the multi-faceted test offered the team an opportunity to collaborate and apply some of their classroom lessons as well as their experience to a real business issue. "Everyone comes with a different perspective, and you come together to formulate a solution," he said. "In the end, everyone is trying to solve the same problem."
Press: For all media inquiries see our Media Kit