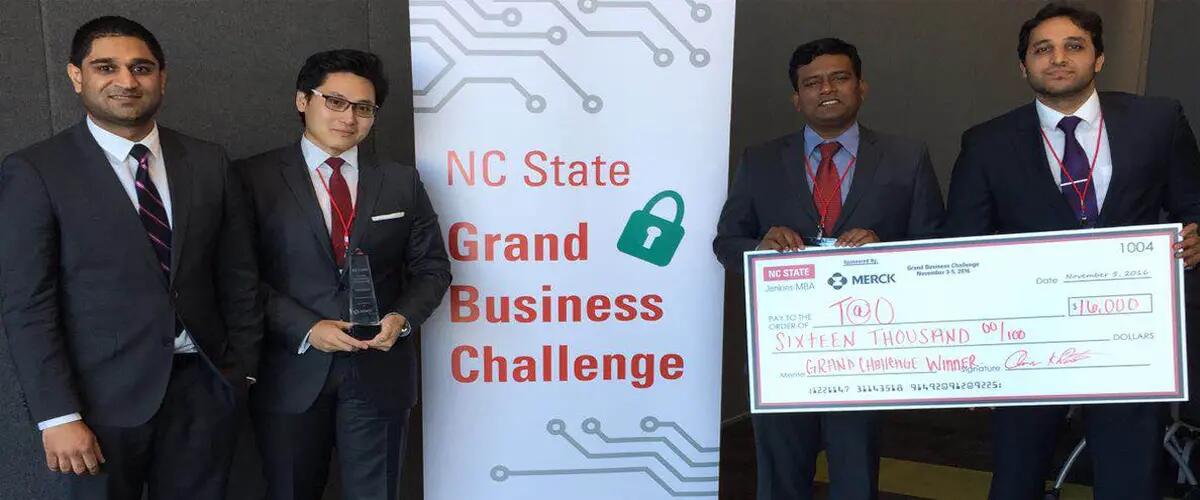 MBA students are top winners in North Carolina State Business Challenge
A group of Rutgers Business School MBA students captured first place at the North Carolina State Grand Business Challenge.
The rigorous case competition, which was sponsored by Merck & Co., gave the MBA students a chance to demonstrate their skills and knowledge to assistant chief informational security officers from Merck as well as the NSA, Intel and Cisco.
Rutgers MBA students Sunny Shah, Jagadish Mahendran, Chirag Paghdal and Wayne Chen competed as Team T@o. In addition to helping the team win first place, Chen, who is in the pharmaceutical management program, also won the best presenter award.
The intensive three-day event began Thursday, Nov. 3 and ran through Saturday, Nov. 5. With the primary focus on Healthcare IT security, the competition was divided into three rounds and prompts. The first round permitted teams a month of preparation while the second permitted only one day, including a heated knockout round. The final round was a demanding and comprehensive eight hours of strategic planning.
The team was required to carry out the following as part of its case: Develop a cyber-attack strategy on a specified company followed by a discussion on high-value targets, attack vectors and creation of an initial attack plan; create a recovery plan in response to the first attack; summarize the first two questions and reflect on how a proactive approach would have prevented the initial attack.
Team T@o won over the judges by presenting a satirical response as a masked hacker group going after Merck's prime product Keytruda. They continued it throughout the duration of the competition, prompting special interest in the final round.
Professors Leon Fraser and Gary Branning were instrumental in advising Team T@o.
Beyond the recognition and cash prizes totaling $16,000, the Rutgers team experienced the competitive thrill and powerful networking opportunities that will benefit them long after they have completed their studies.
-Altea Uku
Other schools that participated in the 2016 NC State Grand Business Challenge:
Boston University Questrom School of Business
Clemson University College of Business
Duke University Fuqua School of Business
Florida State University
North Carolina State University Poole College of Management
Singapore Management University
Texas Christian University Neely School of Business
University of Economics, Prague
University of Georgia Terry College of Business
Press: For all media inquiries see our Media Kit