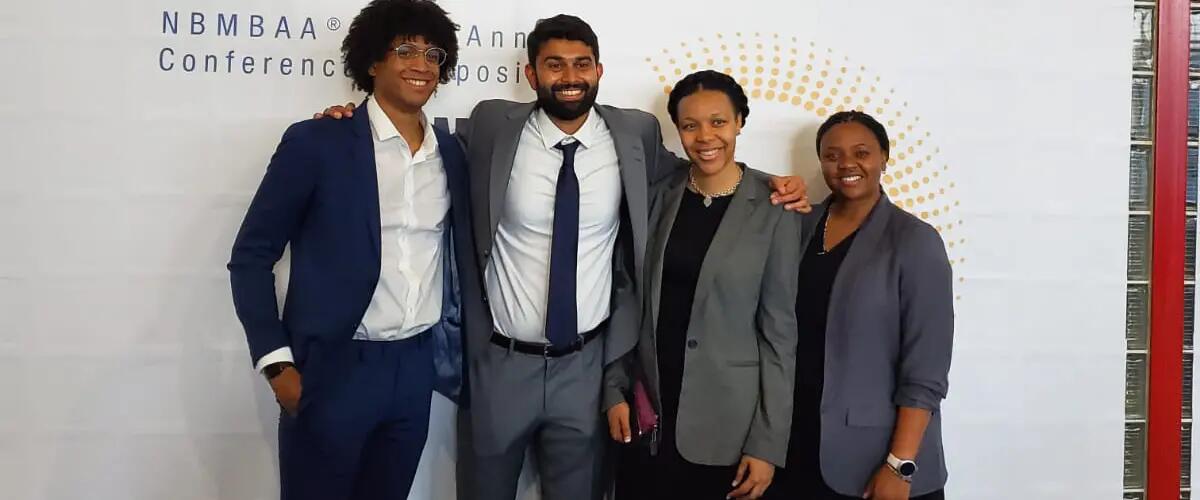 MBA student's excitement for business problem helped her win award
Rutgers MBA student Livonia Mitchell was awarded the "Best Presenter" award in the National Black MBA Association's annual case competition.
The competition, sponsored by Fiat Chrysler Automobiles, was held Sept. 25 in Houston. In addition to Mitchell, Rutgers Business School was represented by MBA students Shanee Porter, Chandan Dhal and Jamar Negron. The students competed against teams from 36 other schools.
Mitchell said from the time the Rutgers students received the case on Aug. 13, they spent every weekend working on it. "We put a lot of research, work and thought into it," she said. The team was advised by marketing professor Yla Eason and Al Turner, assistant director of Rutgers Business SChool's MBA Graduate Admissions.
Learn more about the experiences and opportunities Rutgers MBA students have at a Graduate Admissions Open House on Saturday, Oct. 26 in Newark or Sunday, Nov. 10 at the Rutgers Business School building on the Livingston Campus in Piscataway.
The Rutgers team members were polishing their presentations until early morning on Sept. 25 when the case competition took place, Mitchell said. The competition required the participating teams to explain how Fiat Chrysler could make a subscription car program profitable. The students had to develop a business model as well as a marketing plan for the company.
Mitchell, an engineer who works as director of operations excellence at Ports America, said she believes her passion for the case was evident and that led to her winning the "Best Presenter" award. "The story really spoke to me," Mitchell said. "I connected with it. I think a lot of that came out."
Mitchell is a student in the Part-Time MBA Program and expects to declare a concentration in Strategy and Leadership. It was her first case competition.
Press: For all media inquiries see our Media Kit