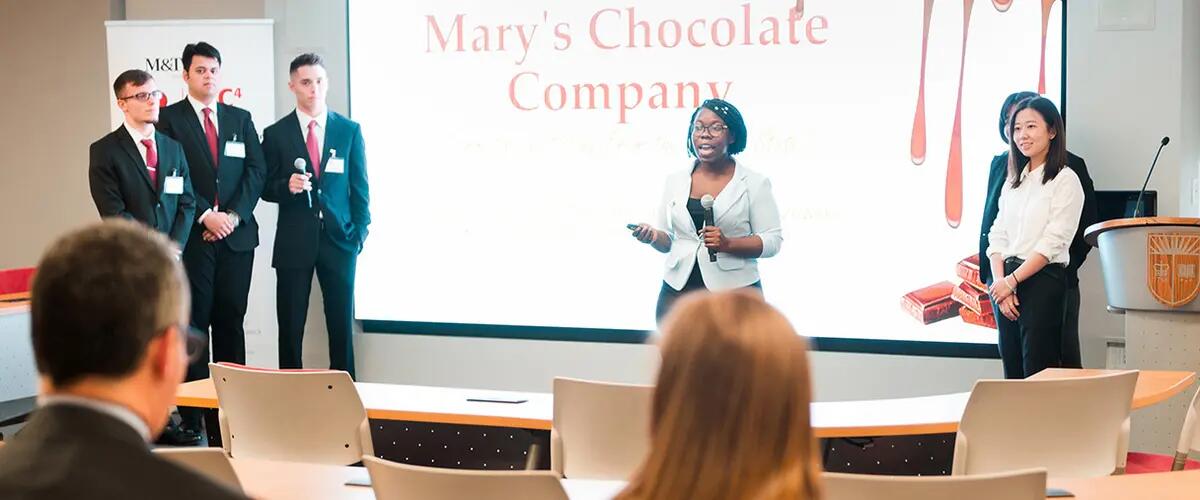 Mercer wins top prize in New Jersey County College Case Competition
The annual competition hosted by Rutgers Business School attracted six teams from across the state. In addition to Mercer County, teams from Sussex County and Morris County were top winners.
A team from Mercer County Community College captured first prize in the 2019 New Jersey County College Case Competition at Rutgers Business School.
The student team – Ahmed Alvi, Kevin Pogreszewski, Shuchen Wei, Nunana Honutse, Aaron Van Cleaf and Mable Yeboah – made a creative and innovative presentation to stand out among teams from Bergen, Hudson, Sussex County Community Colleges, County College of Morris and Middlesex County College.
More than 60 people, including students, faculty advisors, judges and M&T executives who volunteered as ambassadors to the teams, participated in the New Jersey County College Case Competition, known informally as NJC4. For the third year, M&T Bank sponsored the event.
"This will be the highlight of the year for them," said Laura Sosa, a professor at Mercer County Community College who selected and advised the team with fellow professor Eva Csige. The team also received coaching and feedback from Andy Zalescik, an executive with M&T Bank.
The Mercer County students chalked up their win to hard work, a diversity of perspectives and a drive to come up with ways that they could differentiate themselves from the other teams. "We were looking to have a creative edge," Van Cleaf said.
The team designed a survey and one student, Mable Yeboah, took on the persona of Mary, the owner of a fictitious chocolate company at the heart of the case the students were asked to analyze.
"We spent a lot of time coming up with the ideas," Yeboah said as the team savored its win. The team collaborated on calls and spent nearly five days of their spring break working on the case.
Yeboah and Pogreszewski also attributed the team's success to its diversity, which brought a collection of perspectives to the group's approach to the case.
The teams were judged by a panel of professors and business professions: Mallory Boron, M&T Bank administrative vice president and retail market manager for New Jersey, and Thomas Comiskey, M&T Bank, regional president for New Jersey. Also serving as judges were Frank Giarratano, president and chief operation officer of SGW Integrated Marketing Communications, Arturo Osorio Fernandez, Rutgers Business School assistant professor of professional practice; and Jennifer Rodrigues, Prudential Financial, vice president, planning and analysis.
As part of the event, the county college students participated in a variety of activities designed to highlight team-building skills and career opportunities. They also toured the Newark Museum and the Rutgers Business School building.
"I really liked applying what I've learned in my classes to the case," said Chiara Totoli, a student from County College of Morris. "I was sitting in my accounting class one day and I realized I could use what we were learning as part of the case."
"You don't have an opportunity to do that very often," she said.
Press: For all media inquiries see our Media Kit