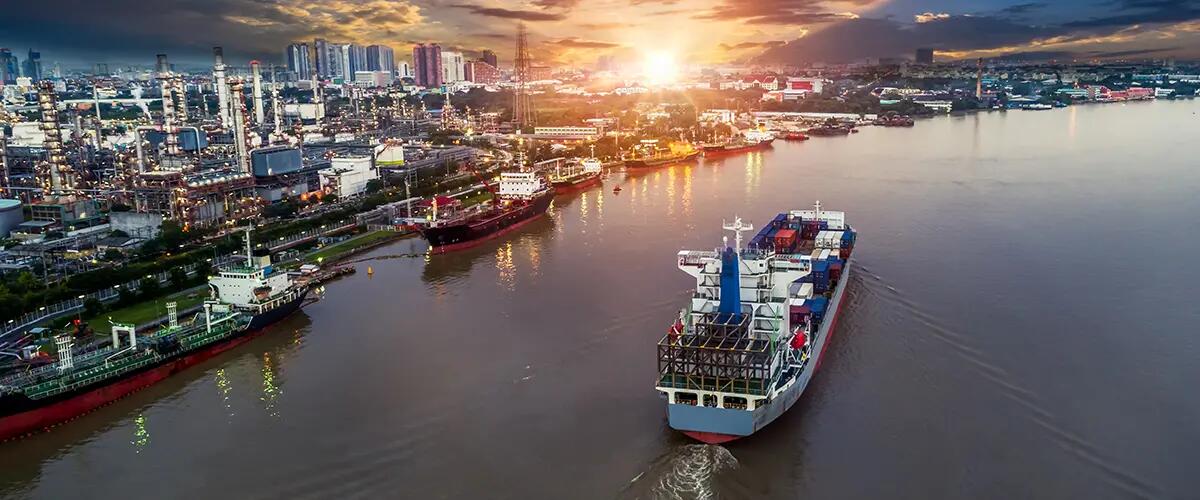 Merchant Mariner charts course for MBA in Supply Chain Management
Supply chains are how business gets done.
Merchant Mariner Christina Betancourt is studying how supply chain management gets done.
Christina Betancourt, a 2012 graduate of the Merchant Marine Academy at Kings Point, NY, sailed the world for seven years as a merchant mariner.  Her degree, two U.S. Coast Guard licenses, and work experiences developed her passion for maritime shipping, intermodal transportation, and logistics.  She is now pursuing an MBA at Rutgers Business School concentrating on supply chain management (SCM). 
"I want to better understand the how and why of supply chains," she said.  "Supply chain management is such a wide and encompassing subject with nearly limitless career opportunities.  People have told me that 'SCM is too broad; in what aspect do you want to work?'  I want to work in many aspects of SCM during the course of my career."
Once she decided to earn an MBA, she started researching programs and schools.  "I chose Rutgers Business School for its highly-ranked supply chain management MBA program and career outcomes," Betancourt said.  Rutgers Business School- Newark and New Brunswick is recognized as one of the top three public business schools among Big Ten (BTAA) business schools and is the highest-ranked public business school in the Northeast U.S.
The OCM hosts many company presentations with recruiters every fall semester. At an Intel company presentation, set up by Dean Vera and the OCM team, Betancourt connected with a recruiter who thought her merchant mariner background and that she is studying supply chain management were valuable.  "One month after starting my Rutgers MBA I secured a summer internship with Intel in the indirect procurement department," said Betancourt.
During her second semester, Betancourt prepared for the summer internship by taking Global Procurement and Supply Management with Assistant Professor of Professional Practice Warren Cohen.  "He brought years of corporate experience and passion for teaching to the course," she said.
In the middle of the term, the COVID-19 pandemic changed everything.  The University closed and in two weeks all course instruction was converted to be delivered remotely.  Betancourt said: "The RBS faculty did a great job of shifting to remote instruction very quickly.  It was nearly seamless."
Similarly, Intel offered their internships remotely.  During the last ten weeks of the three-month internship, Betancourt was tasked with improving indirect procurement sourcing strategies: getting the things necessary to run the business.  This gave her the opportunity to learn what HR, sales, marketing, etc., need; to see how the company runs.
Intel had not given a project of this scope to an intern before.  "I was left to define and refine the scope of the project," said Betancourt.  "I feel that there was no loss for managing this project and the internship remotely.  In fact, it pushed me to be more self-reliant and independent.  I recently presented my report, remotely of course, to an audience of 40 and my findings were very well received."
"Through the remote instruction at Rutgers Business School and fully engaging in a three-month internship remotely, I've learned to adapt to changing circumstances and still complete deliverables," she said.  "Supply chain management means adapting to disruptions and unforeseeable changes, and I am better prepared for working in the 'new normal.'"
-Sean Ireland
Press: For all media inquiries see our Media Kit