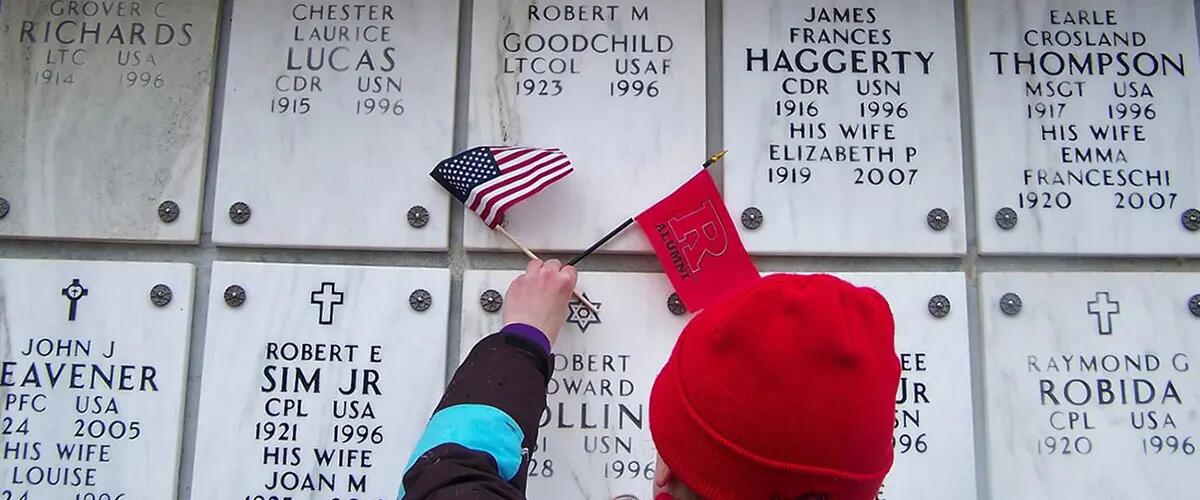 On a mission to find Rutgers graduates at Arlington
A Rutgers Business School alumnus is hoping that one day there will be a record of all Rutgers University graduates buried at historic Arlington National Cemetery outside Washington D.C.
Two years ago, Jim Simos, Rutgers MBA '80, started a new tradition that combined the spirit of the holidays with his devotion to Rutgers University.
As the holidays approach, Simos recruits a few other Rutgers alumni and they trek through the sprawling Arlington National Cemetery leaving small American and Rutgers flags on the graves of veterans who graduated from the university.
Simos, a New Jersey native who lives in Virginia, was interested in creating a community service project that would bring together Rutgers alumni in the Washington D.C. area. (There are an estimated 11,500 of them.)
After reading a story on the Internet about alumni groups from other schools taking part in Wreaths across America, he decided it represented a chance for him to begin a service without "reinventing the wheel," as he put it.
In the Washington D.C. area, Wreaths across America is a huge event. Nearly 70,000 volunteers show up at Arlington National Cemetery each year to lay wreaths adorned with a red bow on hundreds of thousands of graves. Simos joins the massive crowd at the cemetery that day to add their own decorations to the graves of Rutgers alumni. The event occurs Dec. 16.
In 2015, when Simos and a handful of other alumni started their project, they worked from a list with the names of 75 Rutgers University graduates buried at Arlington. They were able to locate some by using a map on the cemetery's website. Others they found by searching.
"We went one by one," Simos said. At each grave they found, they placed a miniature American flag and a small scarlet Rutgers flag at the graves, sometimes inside the wreaths of evergreen.
Simos, who works as a financial planner and adjunct college professor, said last year an ice storm hit the D.C. metropolitan area on the day of Wreaths across America. Things got started later, but the 18-wheelers with the wreaths still came. And so did the volunteers.
"All the research and information," Simos said, "will be my gift to the university."
Simos, hampered by a ruptured Achilles tendon, worked with four others to find the graves and adorn them with flags. Simos said they were the last to leave the cemetery. Still, he said each year goes a bit more smoothly. This year, they know of seven additional graves.
"After doing this for three years, we're learning," Simos said. "The first year, we were doing it alphabetically and we went around the cemetery like a bunch of pinballs."
This year, Simos drummed up some publicity in hopes of expanding his list of veterans to honor. "We have a lot more to find," he said. He thinks there could be as many as 300. The media attention helped. He has received letters from relatives of veterans who graduated from Rutgers and are touched by his project. "The emails we've received are mind-boggling," he said.
One woman wrote Simos after reading a recent story in the Asbury Park Press about his interest in learning about more deceased veterans with Rutgers ties. "My husband graduated Rutgers (Newark Campus) in 1966. After a 23-year career in the Air Force, he is buried at Arlington (Vietnam section)," she wrote. "Our family would be honored if a Rutgers flag was added to his grave this Christmas."
From another email Simos received two weeks ago, he learned about a Rutgers graduate who spent eight years as a prisoner of war in Hanoi. He was released by the Vietnamese in 1973 and buried at Arlington last year, his son wrote in the email to Simos.
The emails leave Simos in awe and committed to continuing the project.
Maybe it will take a few more years, but Simos said he hopes he will eventually be able to identify every Rutgers alum buried at Arlington.
"All the research and information," he said, "will be my gift to the university."
Have information to share with Simos? Contact him by email: rutgersatarlington@gmail.com .
-Susan Todd
Press: For all media inquiries see our Media Kit