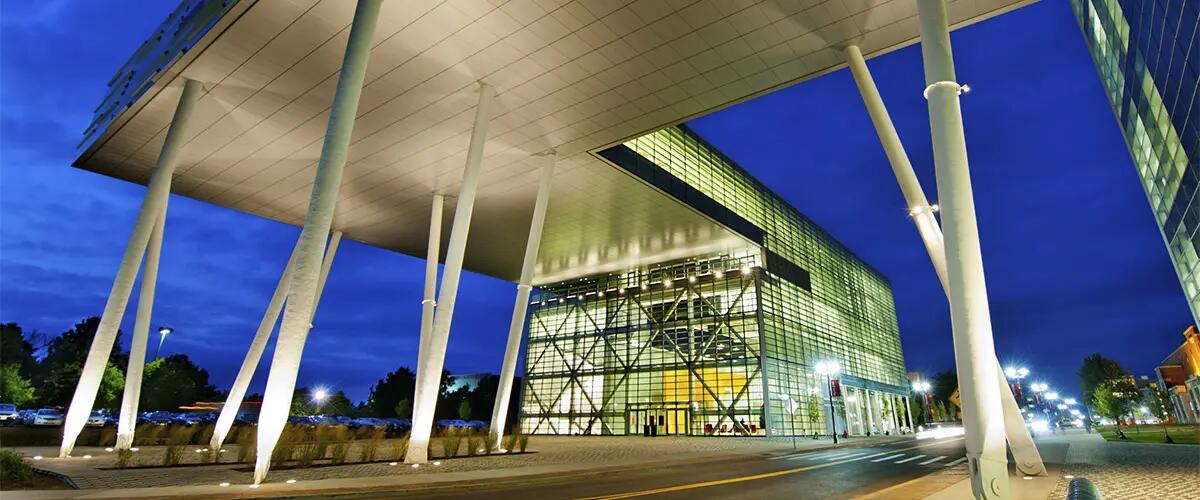 New building gives Rutgers Business School a dramatic presence on Livingston Campus
This story originally appeared in August of 2013 as Rutgers Business School was preparing to open its new building on the Livingston Campus. It is being republished now as the building, known informally as 100 Rock, celebrates its 10 anniversary.
Rutgers Business School opened its new six-story building on the Livingston Campus to coincide with the start of the fall semester.
The $85 million building represents an expansion of Rutgers Business School's presence and reflects its growing importance in the larger university community. It is also a dramatic sign of how a decades-old campus, once perceived as an outlier, continues to morph into one of the university's most desirable places to live and study.
The building's glass exterior, its grand, sweeping stairway and the series of slanted columns beneath a dramatic walkway connecting two towers gives the structure the look and feel of a corporate headquarters. The building is also among the university's most technological and the newest example of its commitment to renewable energy.
"It's very impressive in many different ways," Kevin Dowlin, Rutgers Business School's director of information technology, said of the new building, which is known informally as 100 Rock.
Rutgers Business School hosted a festive afternoon-long event on September 9 with music, food samplings from campus eateries, giveaways and activities to celebrate the completion of the building. Watch video.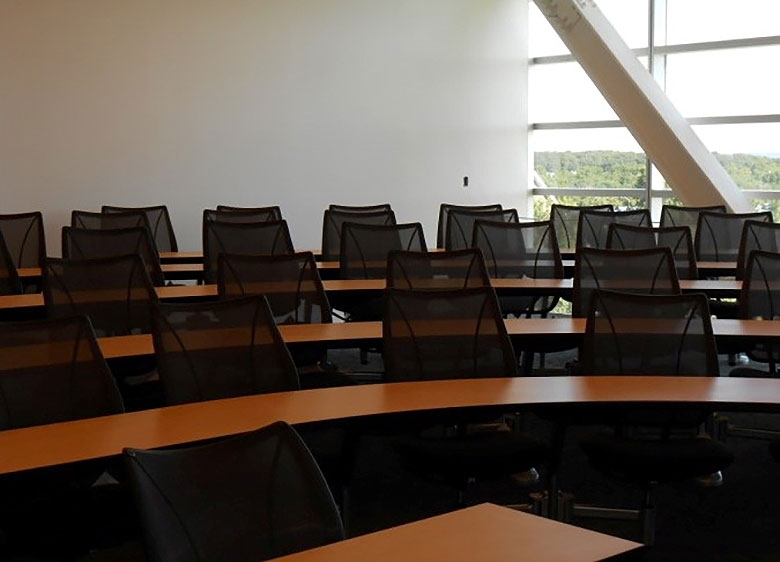 Classrooms contain a variety of technology, including Ultra Short Throw projectors, touch screens and glass marker boards. The building is also equipped with 91 WiFi access points, ensuring that students and faculty will be able to connect to the Internet from wireless devices from a variety of locations.
Altogether, the 143,000-square-foot building contains nearly $4 million worth of technology with the majority of it wired into the more than two dozen teaching rooms, a combination of classrooms and lecture halls. Ten meeting rooms are equipped with HD video-conferencing.
Some of the other features:
Three student technology centers, including two that will operate on a reservation system.
Courses will be taught using clickers, a technology that allows students in even large lecture halls to interact more effectively with the instructor.
Inspired by one of the building's spacious flex rooms, RBS is introducing a new course emphasizing teamwork and leadership skills.
Two solar fields on campus will supply electrical power and a large geothermal system, with more than 300 holes reaching a depth of 500 feet underground, will heat and cool the building.
The building qualified for the U.S. Green Building Council's Sustainable Design Silver LEED (Leadership in Energy and Environmental Design) certification.
More than 230 business classes for the fall semester, mostly undergraduate level courses, were scheduled in the building last year, requiring faculty and staff to move from offices in the nearby Janice Levin Building during much of August. Faculty and staff continued to move into the building this week while workers completed finishing touches.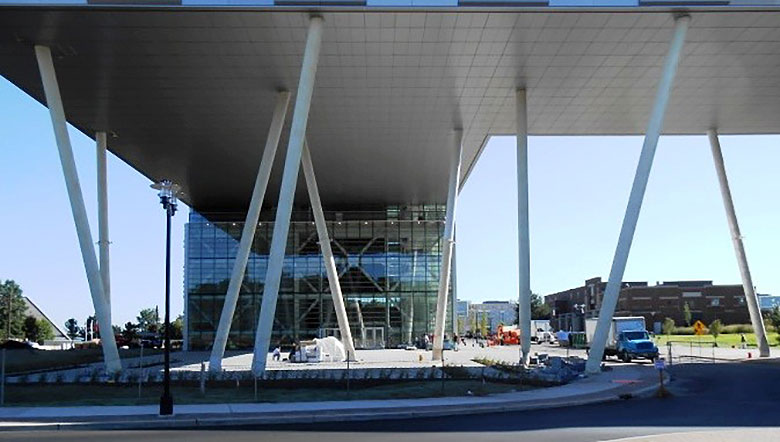 RBS Dean Glenn Shafer said the new building "shows Rutgers' commitment to providing first-rate business education for students from New Jersey and around the world."
"Our partnerships with scientific and technological disciplines at Rutgers give our students access to new skills businesses need in the information economy," Shafer said.
The building was designed by architect Enrique Norten to create a landmark gateway to the Livingston Campus. As eye-catching as it is from the outside, it has numerous impressive features inside, from a 60-foot atrium, 12-foot doors leading into each classroom, a 440-seat theater-like auditorium and glass-enclosed team rooms. The building is designed to accommodate 3,200 undergraduate students.
In an interview earlier this year, Norten had this to say about the building: "The main idea was to create a state-of-the-art facility."
"It would be a very comfortable building, a very efficient building,'' he explained, "but it would also represent the personality of a cutting-edge, forward-looking institution."
Rutgers Business School, which has a location in Newark, constructed the Livingston Campus building as a result of private, anonymous gift announced by the university in 2008. The majority of the $13 million gift was earmarked for the business school building.
Plans proposed at the time of the historic gift called for Livingston to become a campus dedicated to business and professional studies. It was an updated vision for a campus that was started in 1969 as home to the first co-ed liberal arts college at Rutgers University. With the vestiges of old army barracks standing on its borders, the mission of Livingston College reflected the socio-political changes of the 1960s.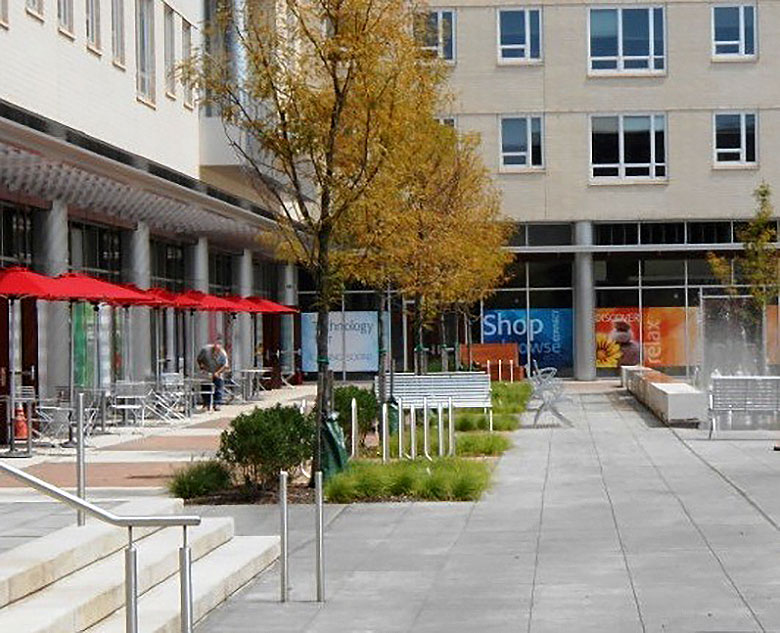 By the 1980s, the college still clung to its roots as an experimental college with its own history of diversity as well as social and political activism. Livingston College disappeared in 2007 with the creation of the School of Arts and Sciences.
The new Rutgers Business School building stands on the north end of the Livingston Campus, close to the landmark Rutgers Athletic Center and within walking distance of new student apartments and a retail center containing restaurants, a movie theater, nail salon, a Starbucks and an Apple store.
A formal ground-breaking ceremony with dignitaries from Rutgers University and Rutgers Business School is scheduled for Oct. 25.
-Susan Todd
Press: For all media inquiries see our Media Kit