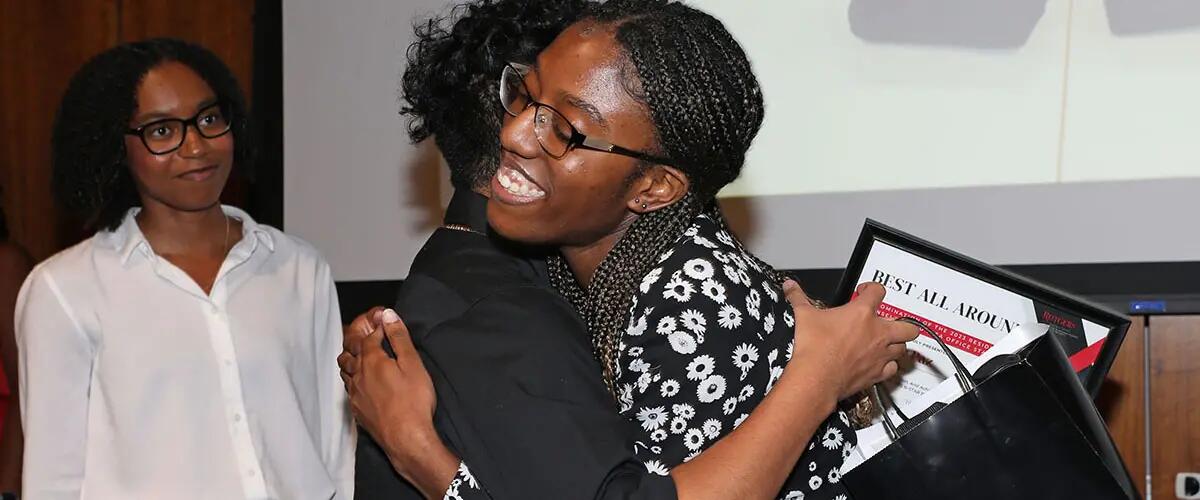 A new class of B-STARs celebrates the start of college
When incoming freshman Stephanie Caamano reflected on the first phase of the Business Students Transition at Rutgers Program during a ceremony with her classmates, she talked about inspiration and teamwork.
Caamano, one of 36 new B-STARs, was chosen to represent students from Rutgers Business School-Newark, at the recognition ceremony that culminated a six-week summer program of college courses, field trips and enrichment workshops for the incoming students.
"The skills and information we were given would have taken me a very long time to learn on my own. We did it together," she said. "This was only a taste of what college will be like, but it has prepared me to keep moving forward."
The recognition ceremony is a tradition that marks the end of an intense introduction to and preparation for college life for the B-STARs. It is also a ceremonial prelude to their freshman year at Rutgers. While other incoming freshmen were enjoying the peak of summer vacation, the B-STARs attended their first college courses, studying together, visiting corporate offices and meeting faculty. They started building networks and support systems that will help them navigate the next four years.
Alexis Contes, who was chosen to represent the incoming B-STAR class from RBS-New Brunswick, described the summer program as "nothing short of transformative."
"I've been provided the tools to excel," she said.
A variety of other speakers at the ceremony offered the new B-STARs more motivation and encouragement, including alumni of the B-STAR program and the dean of Rutgers Business School.
In her remarks, Dean Lei Lei told the B-STARs about a team of current undergraduates, including two B-STARs, who won first place in a real estate competition designed for graduate students. She told them of scholars who benefit from the generosity of companies like EY.
"We prepare our students for career success, and we look forward to your success in the near future," Lei said.
Rutgers Business School graduates, Tiffany Bennett and Ty-Lyn Johnson, both alumni of the B-STAR program, shared their experiences and offered some advice for navigating the challenges and recognizing the opportunities. "Your path looks different than anyone else's," Bennett told the audience, which included her younger sister. "Remain focused on what you want."
"You all are going to do some amazing things," said Johnson, who encouraged them to network, travel and to actively seek work experience through internships.
The B-STAR program is open to talented, high-achieving students from underrepresented groups. Many of the speakers, including the B-STARs themselves, encouraged the students to draw on the strength of their diversity.
"To be a B-STAR is about excelling and fostering diversity," Contes told her classmates. "We will break stereotypes and rewrite narratives."
Dean Charles Brown, who leads Rutgers Business School's Office of Inclusion, Diversity, Equity and Access, acknowledged the achievement of the students completing the first leg of the B-STAR program and encouraged them to continue. "You are surrounded by support systems who will mentor you and hold you responsible," Brown said.
"You are brilliant," he told them, "and you belong here."
See scenes from the B-STAR Recognition Ceremony in the slideshow below:
Press: For all media inquiries see our Media Kit