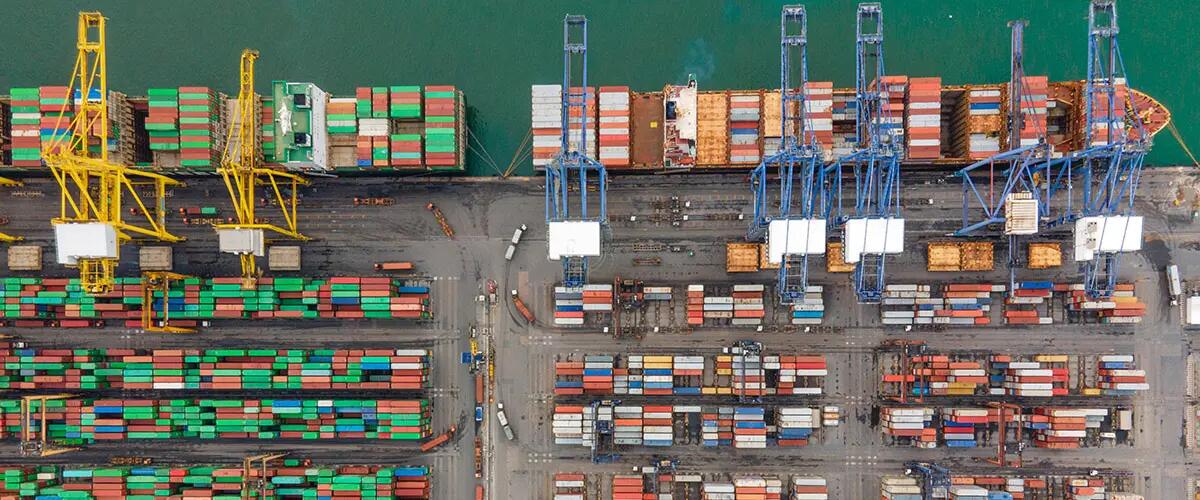 Ocean Network Express offers students unique opportunity in shipping industry
An MBA student's work this summer will lay the groundwork for future Rutgers students to work closely with the company on its efforts around environmental sustainability.
Rutgers Business School is increasing its connections to the Pacific Rim and creating new learning opportunities for its students in the process.
This summer, through the Center for Supply Chain Management, Shasha Cui, a first-year Full-Time MBA student, will begin a long-term study of the container shipping industry, with financial support from Ocean Network Express (ONE). The study will lay the groundwork for undergraduate students to engage in specific projects in this important and changing industry starting in the fall. These projects will allow Rutgers students to examine trends in maritime decarbonization ("green" operations) and start to create connections between academic knowledge and industrial application. Green Strategy Department, the newly launched organization dedicated to ONE's environmental sustainability, will be hosting and mentoring all the projects conducted by Rutgers students.
Rutgers Business School's emphasis on experiential learning allows undergraduate and graduate students to work in teams on projects provided by companies, offering students opportunities to apply the knowledge they've learned in the classroom to real-world business issues and problems. As evidenced by the opportunities presented by ONE, these projects can extend well beyond New Jersey.
ONE is one of the largest container liner companies in the world with the U.S. among its top markets. Headquartered in Singapore, ONE has achieved remarkable success since it was started three years ago. For fiscal year 2020, ONE reported nearly $14.4 billion and $3.5 billion for revenue and profit respectively. Rutgers Business School's International Executive MBA program is also based in Singapore. In addition, Rutgers offers a new, partly online Master of Science in Supply Chain Management for students in the region. 
Doug Miller, director of the Rutgers MBA Program, said the opportunity offered by ONE will enhance both the MBA and undergraduate experiences by allowing students to learn by doing in an area of increasing importance to all businesses. "We are grateful for their partnership to create learning opportunities for our students that will have significant social impact," Miller said. 
Yasuki Iwai, managing director of ONE's Product and Network Division, concurred that the ONE-RBS partnership will provide uniquely valuable opportunities to its faculty and students, which will help boost the quality of academic teaching and learning and in turn, yield them a clear competitive edge. "We are pleased to take this strategic step with Rutgers to synergize the academia and the industry on the same journey to tackle the pressing environmental sustainability challenges," Iwai said.
 About Ocean Network Express
Ocean Network Express (ONE) was launched on April 1, 2018, upon taking over the integrated container liner business from the three largest Japanese shipping companies. Headquartered in Singapore, ONE operates a global business spanning more than 120 countries. As of the beginning of 2020, ONE is the sixth largest container company in the world, running more than 220 ships. Magenta is its signature corporate color, used on its ships and containers deployed all over the world. 
Press: For all media inquiries see our Media Kit