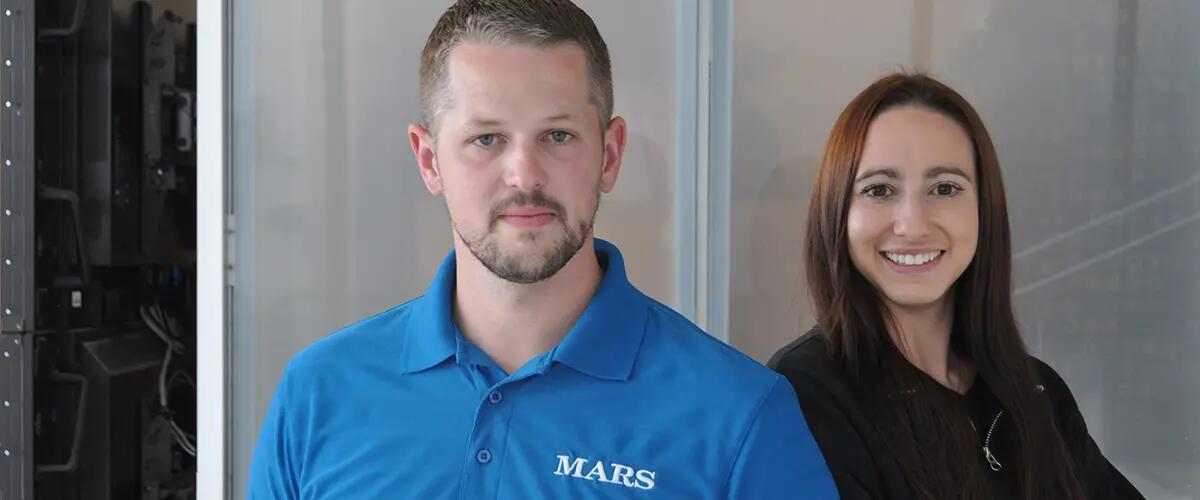 A pair of alumni demonstrate the lasting power of TeamUP mentoring program
When Alyssa Trecozzi was weighing a decision to relocate to North Carolina for a management role at Campbell Soup Company, she reached out to a mentor she met as a student at Rutgers Business School.
The TeamUP mentoring program paired Trecozzi with Joseph Maurer, an RBS alumnus. Trecozzi was studying supply chain and so had Maurer. His career path had taken him to Johnson & Johnson and then Mars, two companies she admired.
The opportunity to relocate was one of those times when Trecozzi, who graduated in 2018, would turn to Maurer for advice. "I just wanted to get his input. I told him, honestly, my family does not want me to leave," she said. "I valued his opinion, and I knew he would be honest."
Trecozzi ended up making the move to North Carolina where she spent three years getting experience managing as a line supervisor before moving briefly into a role an inventory coordinator for raw bulk material. More recently, she took a new job at Mars after another conversation with Maurer about her career.
For Hannah Salto, acting assistant dean of mentoring programs at Rutgers Business School, Trecozzi's story demonstrates how long-lasting and impactful relationships can be between mentor and mentee. Find out more about all of Rutgers Business School's mentorship programs.
"Mentoring is such an integral part of our lives, especially for students who are navigating their academic and career journeys," she said. "Our programs make the connection, but the mentoring relationship itself makes the difference."
TeamUP, which is a by-invitation program, arranges roughly 225 mentoring relationships a semester or about 450 a year. Students range from sophomores to seniors who meet a GPA requirement.
Trecozzi had occasionally texted and called Maurer when she needed a sounding board as student. Maurer was willing to review her resume, answer her questions, return her texts. Maurer, who was mentored himself, enjoyed being able to offer insights and guidance. "Often when I'm mentoring, I'm giving advice that I've gotten," he said.
When Trecozzi contacted him about the North Carolina move, Maurer said he tried to put himself in Trecozzi's shoes. He knew the prospect was daunting. Not only was she leaving family and friends, but she would take her first manager position, requiring her to supervise a team of 40 older workers on a line that packaged cheese and peanut butter crackers.
Trecozzi's experience also coincided with an unprecedented challenge for manufacturers and managers everywhere – a global pandemic. From one day to the next, there was no guarantee of how many people would show up healthy and able to keep the line moving, "It made my team stronger," she said. "It made me stronger. I had to learn to be flexible and I had to learn to lead on my feet."
Maurer sounded like a coach when he talked about how Trecozzi changed because of the experience. "I've seen her gain so much confidence," he said. "It's rewarding to see her grow."
After four years at Campbell, Trecozzi said she was beginning to think about her next move. "I loved my job, and I loved the company," she said, "but I wondered if it was time to see what else was out there."
She reached out to Maurer who reassured her that it was normal to be thinking about how she might leverage her experience. A week later, he called her back to tell her there was a position open at Mars. "It would be a good fit," he said. 
Trecozzi didn't get the first job, but Mars offered her another position that built on her procurement experience. She is working as a liaison between the suppliers of gum-based, dairy, and fats and oils supplies and the manufacturing plants – 15 of them across the U.S. – that require those materials for making a variety of chewing gums and candies.
Maurer, who has spent nearly nine years at Mars, has moved away from manufacturing into a procurement role focused on people leadership. He continues to serve as a TeamUP mentor, and he said it's not just the mentees who benefit from the program. "It's a unique opportunity to flex that development muscle that you don't get to do early in your career," he said.
- Susan Todd
Press: For all media inquiries see our Media Kit