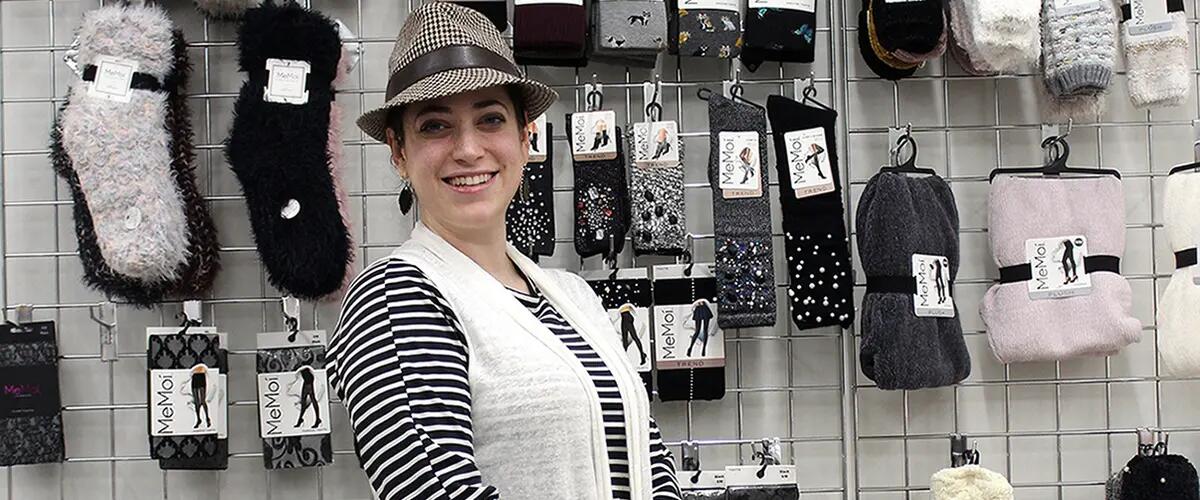 Part-Time MBA student gains new perspective
Stories of resilience, resourcefulness & responsibility
Few students have pushed through the type of hurdles Mindy Schaper faced when she chose to pursue her dreams, which include earning a Rutgers Part-Time MBA.
Growing up in a Hasidic family in Brooklyn, none of her relatives were college educated much less graduates of masters programs. For Schaper and other ultra-Orthodox Jewish girls, there are few educational opportunities. The only programs that exist for young women train them to be teachers or secretaries in the community.
Two of her friends got married in their senior year of high school. Others followed a year or two after graduation. The expected role for a woman in the Hasidic community is to be a wife and a mother. From a young age, Schaper wanted more, though she said, "I don't disparage that."
While her parents are traditional Hasidic Jews, they are more open-minded than most members of the community. Each week they took Schaper and her two brothers to the Brooklyn Public Library, where they took out 30 books apiece. Reading historical fiction and books about different cultures as well as being allowed to watch movies, which was also unusual in Chassidic households, prompted Schaper to "want a different life."
Schaper attended the Bais Yaakov Orthodox Jewish school for girls, where she received a classical Jewish education and became known as "the one who asked questions." Viewed as "strange" in the community, she always wanted to be part of the bigger world.
""The MBA program has made me into a well-rounded person," Schaper said. "My thinking is more linear, and I'm more capable of considering practical outcomes."
When Schaper turned 17, she underwent what she describes as an "identity crisis," questioning everything she had been taught. In response, her parents allowed her to attend Touro College, a Jewish all-girl college program. She said she never completed the program because her parents took her home after she went on a date with a boy.
Schaper eventually attended a program in Israel called Neve Yerushalayim and met her husband while in the country. He was of Dutch origin and had come to Israel to complete his conversion to Orthodox Judaism. Schaper faced tremendous resistance to their marriage from her family and community, but eventually they were able to marry with her parents even attending the wedding.
While working towards her goals, Schaper has repeatedly demonstrated the 3 R's – resilient, resourceful and responsible – that represent the Rutgers Business School brand.
At 22, she transferred to the University of Memphis, graduating in 2014 with a degree in psychology, English, and Jewish Studies. She funded her education with loans, scholarships, and earnings from her and her husband's jobs.
She is now a mother of two young children and has a full-time position as account manager for shipping, quality control and assurance for packaging and labeling at Memoi.com, a hosiery company. At night she is attending classes in the MBA program at Rutgers. She also works in customer service at Lowe's several nights a week.
Schaper turned her sights to an MBA because she wanted something "lucrative and practical. I have two kids, and I send them to private Jewish school. I needed a program in the evenings, and it couldn't be too long."
While researching programs, Schaper decided on Rutgers Business School because it was affordable and would allow her to study part-time. She started the Part-Time MBA program in January 2018.
"As soon as I stepped into the program, it addressed a part of my life that was necessary," she said. "I used to be very creative and spiritual. In business school, people are very practical and down to earth. I really admire my classmates, as I am not naturally like that."
Cyndi GeBorde, interim acting assistant dean of operations for the MBA program at Rutgers Business School, met Schaper when she volunteered at the program's annual picnic last fall.
"Mindy is a role model for other young women in her community, or anyone who feels that she can't do it," GeBorde said. "Her story really resonated with me."
While Schaper is not yet sure of her MBA concentration, she has a strong interest in psychology and business. "The MBA program has made me into a more well-rounded person," she said. "My thinking is more linear, and I'm more capable of considering practical outcomes."
-Bonnie Schultz
Press: For all media inquiries see our Media Kit