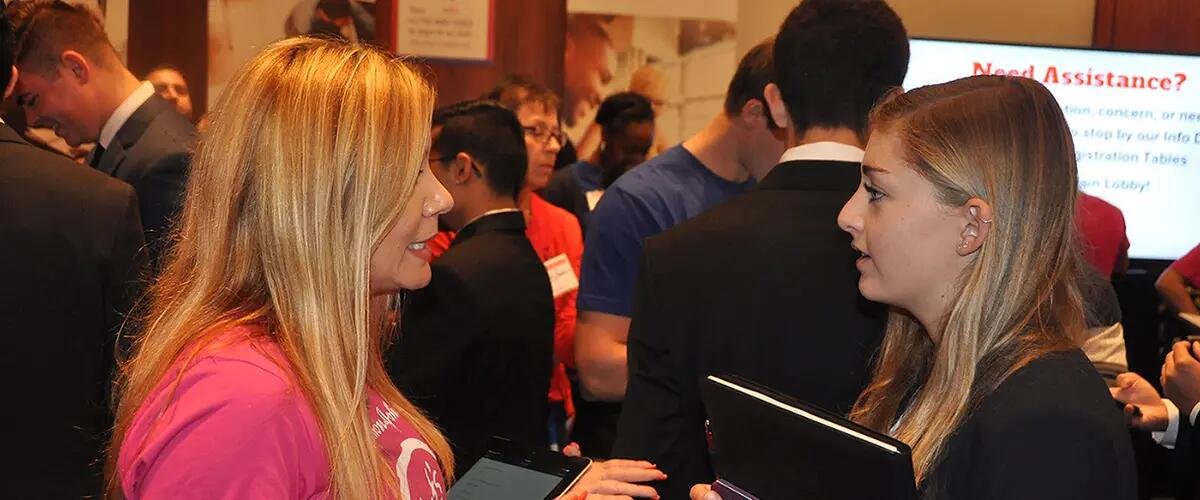 On the path to a career: Annual fair connects students with employers
Nearly 1,400 students spent part of Friday at Rutgers Business School's annual career fair, networking and learning about companies where they hoped to land interviews and internships.
The students arrived at the Hyatt Regency Hotel alone or in small groups, dressed in dark-colored suit jackets, gripping resumes and ready to ask questions. About 125 undergraduate students from Rutgers Business School-Newark attended, including 56 who were bused to the Hyatt by the Office of Career Management.
"I hope to make a lot of connections," Daniel Rubin, a junior studying supply chain and finance, said as he stood in line waiting to speak with a recruiter.
Crowds of students moved among dozens of tables set up around with the sprawling ballroom. There were colorful signs and tabletops covered with trade show-like S.W.A.G. – pens, keychains and zip drives. Ninety-three companies participated in the event.
Kristen Guidice, a sophomore studying supply chain, was on the hunt for a company that could provide her with a co-op experience. "This is the prime time for me to try to do internships," Guidice said. "It's important for me to get my resume out there."
Guidice made a stop in one corner where Johnson & Johnson had assembled tables with large signs that read: "Let's talk about opportunities," with different fields on each sign – finance, global operations and consumer marketing.
Dressed in a dark skirt suit, Guidice stopped and struck up a conversation with Wendy Spain, a business operations specialist looking for a student to fill a co-op spot on her team.
The two chatted briefly. Guidice gave Spain her resume. Spain gave Guidice her contact information. The two shook hands. When Guidice walked away she said the encounter made her feel "hopeful."
Spain also felt optimistic that she had found a possible candidate for a position that would be full-time, an experience the student would have to juggle with academic courses and college life. "I think she would be a good fit," Spain said.
Similar conversations occurred throughout the day around the sprawling room.
Shreya Prabhu, a sophomore studying finance, stopped at the Deloitte table to ask about a specific internship program she had heard about and wasn't able to find any information about online. A company representative encouraged her to use Handshake, a job posting platform operated by Rutgers University Career Services.
"That was a good tip," Prabhu said.
Press: For all media inquiries see our Media Kit