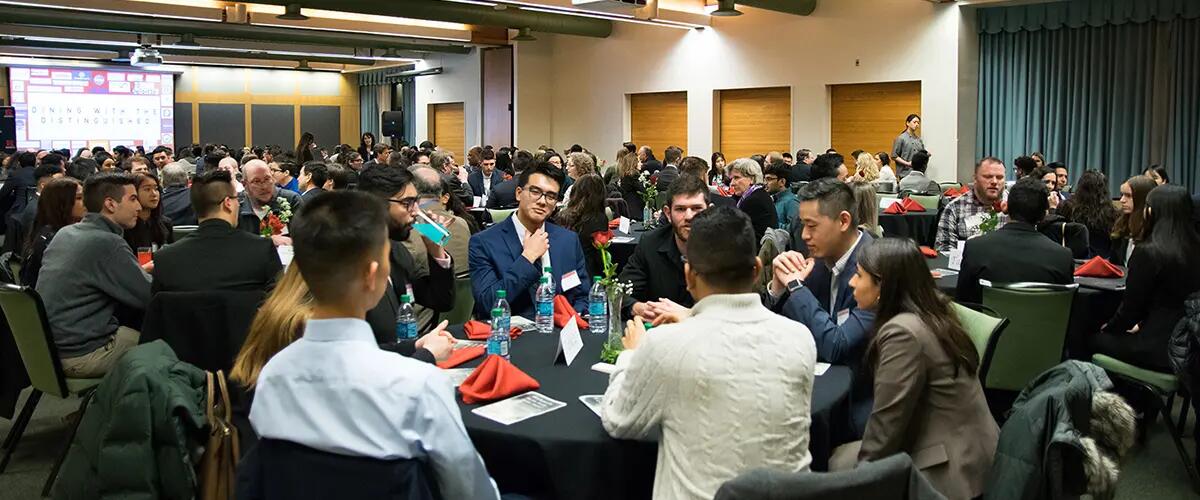 Phi Beta Lambda's "Dining with the Distinguished" attracts record crowd
Phi Beta Lambda's annual Dining with the Distinguished event was held Nov. 30 at the Busch Student Center with a record turnout of nearly 300 students and professionals.
A total of 70 professionals representing more than 50 companies came to network with more than 200 students from Rutgers University.
"Every year, Rutgers PBL's Dining with the Distinguished is recognized as a top event at RBS and a signature networking event for the Rutgers community and we are proud to offer students the opportunity to meet and dine with recruiters and industry professionals in a formal dinner setting," said chapter President Matthew Peyrek.
"I am grateful to our co-sponsors, and partners who made this event possible," Peyrek said. "Nothing would have been possible without the hard work of External Vice President Chelsea Wong, Event Coordinator Breanna Schad, and the entire public relations and events committee."
From accounting and finance to engineering and health, professionals from a wide range of disciplines were in attendance. This event attracts some of the biggest names in the industry including EY, Deloitte, Morgan Stanley, JP Morgan Chase, PEOPLE Magazine, BASF, and Prudential. It has been consistently voted the "Best Overall Event" or Best Networking Event" in the business school for five years running.                                             
About FBLA-PBL, Inc.
Future Business Leaders of America-Phi Beta Lambda, Inc., the premier student business organization, is a nonprofit 501(c)(3) education association with a quarter million members and advisers in over 6,500 active middle school, high school, and college chapters worldwide. FBLA-PBL's mission is to inspire and prepare students to become community-minded business leaders in a global society through relevant career preparation and leadership experiences. The association is headquartered in Reston, Virginia. For more information, visit fbla-pbl.org.
About Rutgers Phi Beta Lambda
Rutgers Phi Beta Lambda is a local division of FBLA-PBL, Inc. located in Piscataway, NJ and a student organization of the Rutgers Business School New Brunswick Campus at Rutgers University. It is a professional development organization open to all majors, built around the pillars of Service, Education, & Progress. Rutgers PBL hosts many on-campus networking events and offers the opportunity for its members to compete on the state and national stages at conferences across the United States.
Press: For all media inquiries see our Media Kit