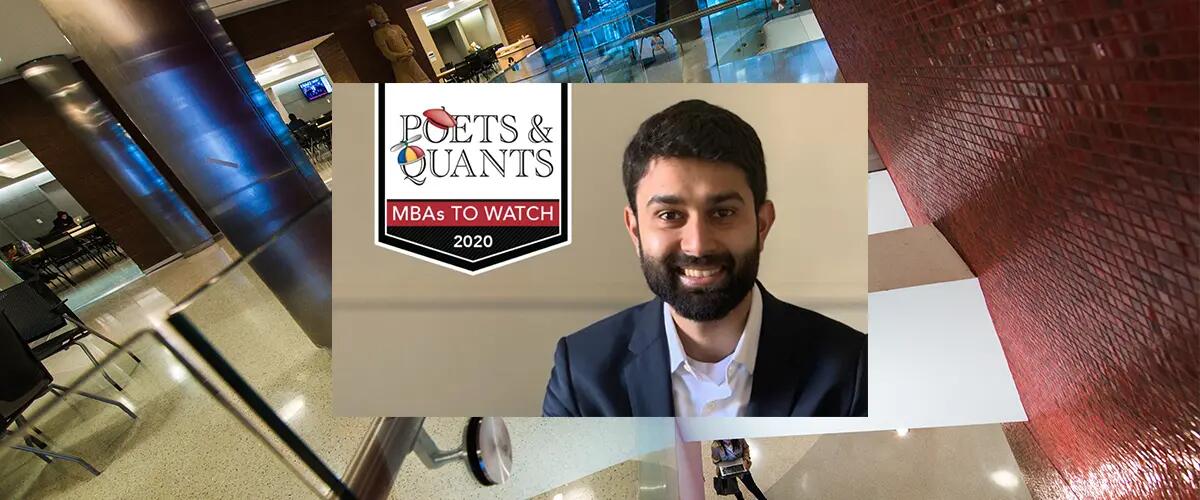 Poets & Quants 2020 MBAs To Watch: Chandan Dhal
This story written by Jeff Schmitt originally appeared on Poets&Quants, May 30, 2020.
Chandan Dhal
Rutgers Business School
"I am a highly motivated team-player and enjoy challenging myself whenever I can."
Hometown: Toronto, Ontario, Canada
Fun fact about yourself: I worked in a gold mine for six years in Northern Canada and spent almost every day 6,000 thousand feet underground.
Undergraduate School and Degree: University of Toronto – Bachelor's in Engineering (Mining)
Where was the last place you worked before enrolling in business school? Kirkland Lake Gold as an Operations Engineer.
Where did you intern during the summer of 2018? Gartner, New York City location.
Where will you be working after graduation? Gartner, Consultant.
Community Work and Leadership Roles in Business School:
I was elected to be President of the Finance Club. In this role I had industry leaders come to Rutgers to speak to students. I also organized social and professional events for students interested in finance to meet with alumni and industry professionals in the finance sector.
I was a recipient of the Dean's Excellence Award upon admission to Rutgers Business School.
I was involved with the RBS Mentorship program. Over the last two years, I have mentored Rutgers undergraduate students, current MBA students, and prospective students.
Which academic or extracurricular achievement are you most proud of during business school? The extracurricular achievement I am most proud of is my participation in case competitions. For someone who was terrified of public speaking, participating in these competitions has allowed me to overcome a debilitating fear and has also allowed me to understand the importance of collaboration. Additionally, I formed close connections with my classmates and competitors and developed a strong network.
What achievement are you most proud of in your professional career? During my internship at Gartner, Inc., I was given the opportunity to create a staffing model along with a budget plan for a client. Seeing the proposals, I made come to fruition and be effective is something I am very proud of.
Prior to business school, I was in an intensive engineer in training program at Kirkland Lake Gold, where I trained in four departments for one year respectively. Upon completion of training, engineers are typically placed in one of the four departments. However, my primary interest was in operations management, but there was no department dedicated to operations. I spoke to management about my interest in operations management and a position was created for me to work as an Operations Engineer. This is something I am very proud of because it demonstrated the company's faith and trust in me to create a position tailored to my interests.
Who was your favorite MBA professor? My favorite professor in business school was Professor John Hellriegel, who teaches supply chain strategy to MBA students. Professor Hellriegel provided me with a strong foundation for analyzing cases and thinking strategically. Professor Hellriegel brought an infectious energy to the classroom and really kept me engaged throughout the semester.
Additionally, Professor Hellriegel dedicated a lot of his time mentoring students who are career changers, including myself. He also helped students look for internships and jobs that best suited to their skill set.
What was your favorite MBA event or tradition at your business school? Orientation week was my favorite MBA event. Transitioning back to school from the workplace after six years was daunting. The events planned out during orientation week gave me an adjustment period and allowed me to meet some of my closest friends.
Why did you choose this business school? I chose Rutgers Business School for several reasons. However, what drew me most to Rutgers Business School was the well-regarded Supply Chain program and smaller class size.
Prior to business school, I lived in a small gold mining town in Northern Ontario for six years. The population was not more than 10,000 people and it was winter for ten out of the twelve months of the year. I was ready for a big change and part of why I chose Rutgers Business School was the proximity the school has to the New York City area and the opportunities that come from the New York network.
What is your best advice to an applicant hoping to get into your school's MBA program? I would advise applicants to reach out to current students and alumni. Current students and alumni have been through the experience and are well-equipped to answer questions and address concerns. You can also set up an informal meeting with them and clarify doubts you might have about the program. I reached out to several individuals who were either current MBA students or who had recently graduated, and I found it tremendously helpful when making a decision about where I wanted to pursue my MBA.
What is the biggest myth about your school? One of the biggest myths about the Rutgers MBA program is that it is a program catered to those wanting to go into the pharmaceutical industry. While New Jersey is a hub for big pharmaceutical companies, Rutgers offers a lot more and provides exposure to a wide range of industries. Faculty, alumni, and the school's proximity to New York City offer a wide range of networking opportunities.
Looking back over your MBA experience, what is the one thing you'd do differently and why? Unlike my undergraduate experience, business school flew by. In my first semester of business school, I was focused on maintaining a high GPA and obtaining a summer internship so I missed out on several opportunities to develop stronger connections to my classmates.
In my second semester, I decided to start competing in case competitions and I realized how much I loved participating in them. I found case competitions to be exhilarating and a practical way to use the skills I developed at school. I also enjoyed meeting competitors from around the country and learning more about their experiences. Case competitions exposed me to different cities, companies, and industry professionals and was an incredible learning experience.
Looking back, I would make more of an effort to get involved with more extracurricular activities right from the first semester.
Which MBA classmate do you most admire? It is very difficult for me to pick one classmate whom I admire the most. There were numerous students that contributed to my experience at Rutgers Business School. I took away presentation skills from some and learned how to be better organized from others. Other classmates taught me how to be an effective leader and how to motivate a team. I am grateful to have had the opportunity to be exposed to diverse professional and cultural backgrounds in class. My classmates came from backgrounds such as medicine, law, pharmacy, finance, and engineering – all from countries around the world. This stimulated interesting conversations and debates in class which opened my eyes to how different industries operate in different parts of the world.
If I had to pick one classmate, it would be Hans Shao. He moved from China to America to pursue a career in marketing. He moved to the United States without any family and did not know anyone here. He was determined to pursue an internship in marketing and secured a great position with a startup firm. He is kind and generous and always welcomed everyone to his home and taught us some of his delicious hometown recipes. One skill set I learned from Hans was the importance of connecting with people when presenting. Whether or not Hans was confident about the material he was presenting, he always came across as personable and humorous and could always make everyone laugh even when the material was dry. This made him relatable and as a result people really listened to him.
Who most influenced your decision to pursue business in college? When I applied for college, I was determined to focus on finance. However, I was encouraged by both my parents to get an engineering degree. My dad, who is a banker and works in the financial sector, emphasized that an engineering background would provide useful once I was ready to pursue my MBA. After a few years into my career as a mining engineer, my dad started reminding me of my ultimate goal of getting an MBA. My dad influenced me, was my role model and I strived to follow in his footsteps.
My dad was ultimately right. My technical background came in useful in business school and more so in my summer internship. I am forever grateful to my parents, especially my dad, for encouraging me to take the path I am on.
What are the top two items on your professional bucket list? One of the items on my professional bucket list is to work for a startup company. I think that startups provide an opportunity for people to innovate and create something brand new. While it can be risky it is also very exciting and something, I hope to be a part of at some point.
Another item on my professional bucket list is to work on the corporate management side of a mining company. Having been immersed in how a gold mine operates; I would love to work on the project development side of a large mining company.
In one sentence, how would you like your peers to remember you? I would like my peers to remember me as a collaborator that can step up and be a leader when needed.
Hobbies? Biking, outdoor sports, traveling, and teaching myself how to code python.
What made Chandan such an invaluable addition to the Class of 2020?
"Chandan Dahl is the complete package! He has a sharp mind, an inquisitive spirit, and a warm heart. As a student, Chandan strives for excellence in all his classes. In Supply Chain Strategies at Rutgers Business School, Chandan excelled with his supply chain depth and his business breadth. He excelled in numerous case competitions; this year his team made the international level of the ASCM competition. He is a leader, not only in roles such as President of the Finance Club, but also in organizing his peers for social and academic interests. Chandan's unique blend of knowledge, tact, and kindness will ensure his success now and in the future."
John Hellriegel
Assistant Professor of Professional Practice
Supply Chain Management
Press: For all media inquiries see our Media Kit