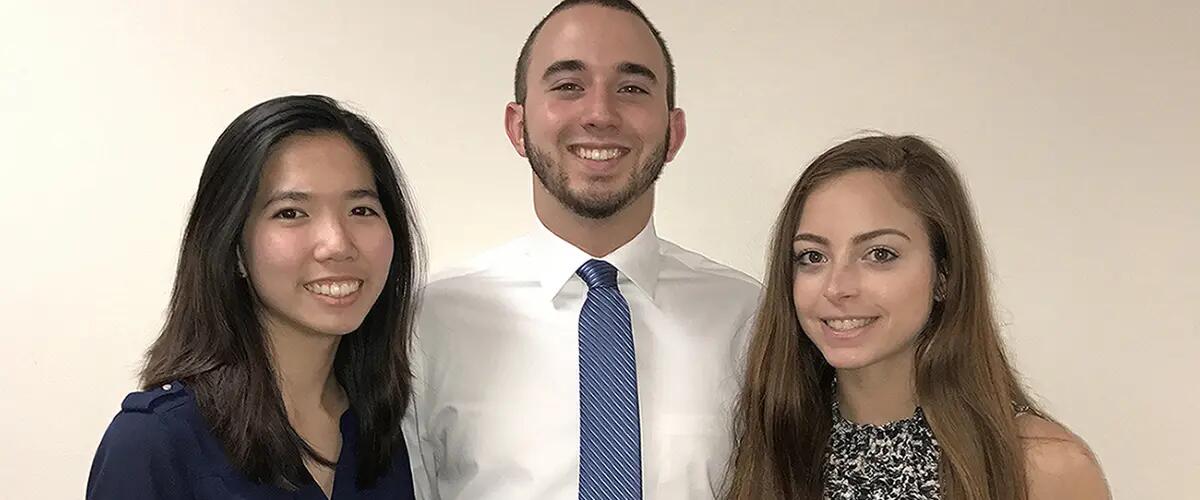 Prepared for Success: How Beta Gamma Sigma Develops Leaders
This interview originally appeared on the Best Business Schools blog, which is published on the Best Business Schools AACSB website. The interview was done by Hanna DeBevoise, social media coordinator for AACSB International. It features three Rutgers Business School students who are active in the award-winning chapter of Beta Gamma Sigma.
Dominick DiCarlo, Elaine Lee, and Amanda Maher serve on the student executive board of Rutgers Business School's (RBS) Beta Gamma Sigma(BGS) chapter, the international honor society for academic achievement in the study of business, located only at AACSB-accredited institutions.
For each, BGS has provided them with the opportunity to develop their leadership skills and advance their educational experience. In this interview, they share their perspective on how BGS has benefited their business education and how they feel it has prepared them for their future careers.
Why did you choose to study business? If a specific concentration, why that particular area of business?
Amanda: I was lucky enough to attend a high school that allowed for seniors to attend an internship every Wednesday in lieu of attending classes. After cold-calling at least 50 local businesses, I was able to land a marketing internship, giving me my first taste of business. I immediately knew that marketing was the path I wanted to take when I started at RBS. The ability to explore different careers and areas of business so early on in my education was an amazing opportunity. I haven't looked back since!
Elaine: At first, I enrolled at RBS simply because I did not know which career path I wanted to take. After taking some courses on supply chain management, I became interested in how that field is driven by a combination of data analytics, critical thinking, and technology. I decided to pursue my degree in it. As a results-oriented person, being able to quantify my achievements—saving costs by X percent or improving productivity by Y percent—was motivating to me. I especially enjoy working with numbers and analyzing the data to see what stories are being told.
Dominick: I decided to enroll at RBS because of an economics course I took in high school. My teacher had previously worked for a Big Four accounting firm and would talk to the class about her experiences in the industry. I also really enjoyed learning about how financial markets work and furthered my interest in the field by studying the components that comprise a business. It fascinated me to learn how many factors go into the success of a business, from the manufacturing and costing of products to sourcing and distributing those materials and products along a supply chain. I decided to study accounting because I felt it would provide me with a solid foundation of business operations and would allow me to explore many different areas over the course of my career.
How has your membership in Beta Gamma Sigma enhanced your business education?
Elaine: Not only did BGS provide me the space to improve my skills, it gave me numerous opportunities to meet a diverse network of people. As a BGS peer mentor, I was meeting eager first-year students as well as other mentors seeking to give back to the business school community. I have met hardworking, talented individuals by serving on the executive board for two years. I have made friends by simply attending and participating in events.
Amanda: Membership in BGS has enhanced my business education by showing me what the business world is like from a 360-degree approach. While classes and academics are very important, BGS has helped me develop soft skills that are equally important to a successful business career. From our chapter's peer mentor program to networking opportunities to early access at career fairs, BGS has made me a more well-rounded business student.
Dominick: BGS has provided me with all the skills and experiences that a classroom is unable to provide. I've improved my communication and public speaking skills by participating in programs such as the mentorship program and working with my mentees to help them transition into college. BGS has helped me grow both socially and professionally by putting my classroom knowledge to use in real-world settings and by helping me improve skills that are crucial to my success in business.
All three of you are on RBS's Beta Gamma Sigma New Brunswick Chapter executive board. How do you think your experience leading the chapter will help you in your future careers?
Dominick I think that working on the board will improve many skills that are essential to being a successful businessperson and leader. We are constantly collaborating with other board members and RBS staff and are also learning how to juggle many different tasks from different areas in the chapter. For example, I'm revamping our mentorship program for this year, but I'm also involved in much of the chapter's community service and administrative work as well. Being able to work in teams and individually to accomplish a wide variety of goals is crucial in any career path you choose.
Elaine: Our chapter is in such an exciting period of growth right now. In this stage, we are always trying to implement new programs for our members and strengthen existing ones as well as increase our member engagement and campus presence. At any given moment, there is quite a lot going on, and navigating all of that is in itself an incredible learning experience. We are always challenged to think outside the box. These small moments enhance our skills that will be critical to our future careers.
Amanda: I am so honored to be serving on the executive board of a chapter that has won BGS gold and silver chapter awards back to back! Building off of this momentum, we are continuing to develop a vision for how we want to see BGS at RBS grow and evolve long after we're gone. Having that strategic, forward-thinking mindset is going to help set us apart as leaders in our future careers.
What is the most impactful experience you've had in Beta Gamma Sigma so far?
Amanda and Dominick: Last year, we were able to connect our BGS chapter with the Rutgers Student Food Pantry through our club, Rutgers Cares. We ran a BGS-sponsored food drive in the business school to collect food to donate to the pantry. After a month of collecting, we received over 250 pounds of food donations from RBS students, faculty, and staff, as well as toiletry donations to contribute to the Jersey Cares First Night Kits Drive that supports women and children fleeing domestic violence. It was an amazing feeling to see BGS make an impactful contribution to the overall Rutgers community, and we're excited to build upon our success this year!
Elaine: Meeting Monica (Sung), the chapter's president during the 2017–18 academic year, had a great impact on me. During her time at Rutgers, Monica was actively involved with multiple organizations both inside and outside the business school. Despite being highly involved, she still dedicated 100 percent of herself whenever the chapter needed her. She carries herself with confidence and is genuine in all her interactions. Having her as a role model inspired me to believe that I can accomplish anything I put my mind to. Now here I am, leading this chapter just as she did a year ago.
What does attending an AACSB-accredited institution mean to you?
Dominick: Attending an AACSB-accredited school was one of the "must-haves" on my list when choosing where to go to college. Much of business is about providing high-quality outputs and maintaining a strong reputation, and I believe having a degree from an AACSB-accredited business school tells the same story. It helps highlight the amount of effort the students at RBS put in every day and confirms to the world that we are ready to make an impact in business. It also shows that we are dedicated to our craft, we maintain the utmost integrity, and we want to carry that high-level of skill and standards into our careers upon graduation.
Elaine: At an AACSB-accredited business school, I can be confident that I am receiving quality education. It means that I am dedicating finances, time, and effort to a program that upholds high standards, and I wouldn't prefer it any other way. Education is an important investment, and I love that I am in a worthwhile program that is rigorous and relevant and that continuously strives to challenge me.
Amanda: Attending an AACSB-accredited institution was something that was very important to me throughout the college application process, and is something I'm extremely proud of today. I am confident that the hours of hard work and dedication that have been put toward my degree will be recognized globally no matter where I seek employment or advanced schooling. RBS embodies the rigor and excellence that is standard of an AACSB-accredited institution.
Press: For all media inquiries see our Media Kit