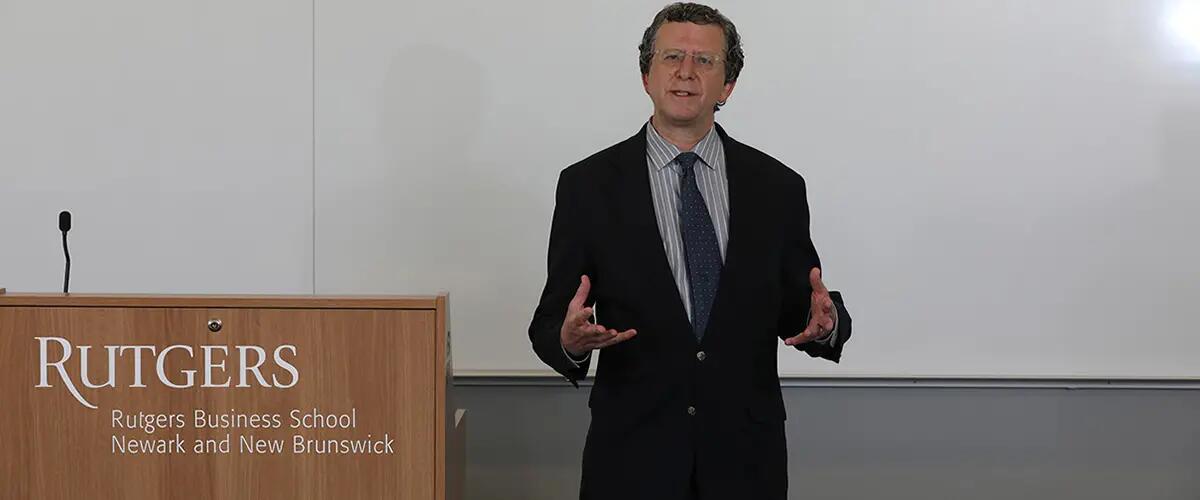 Professor's experience adds real-life insights to MBA strategy lessons
Faculty Spotlight: Doug Brownstone brings glimpses of Corporate America into his classrooms
Assistant professor of professional practice, management and global business
What he teaches: Integrated Business Applications (familiarly known as Team Consulting); Mergers and Acquisitions, Corporate Strategy, Strategic Management.
Who he teaches: MBA students, part time and full time.
Before Rutgers: "I spent my career in Corporate America. I started at Proctor & Gamble and until nearly four years ago, I worked as an executive in the pharmaceutical industry, at Johnson & Johnson, GlaxoSmithKline and Novartis. I worked at Novartis for nine years, and I spent two years working on strategy for the company's global over-the-counter drug business. I was an expatriate living in Geneva, Switzerland with my family during that time. It was a once-in-a-lifetime opportunity."
"The most important thing (about teaching) is that the things I've put forward become part of the students' mindset, and they can make better decisions in business and do things better."
How he brings his business experience into the classroom: "Instead of saying open your textbook to page 187, I teach from experience. I'll describe a time when I walked into a company meeting and I describe the meeting and what it was about. And I ask the students, what would you do? After we discuss it, I say, here's what actually happened. The students like the real-world experience. When they're done the MBA program, they're going to be getting new jobs or getting promotions at their companies and they're going to be sitting in board rooms and making decisions. I think the real-world situations are helpful to them."
How else do his MBA students get that helpful real-life experience: "Our Rutgers MBA Team Consulting class allows students to work side-by-side with professionals from major companies to solve current real-life problems and to capitalize on opportunities. This semester, we're working with Goldman Sachs, Johnson & Johnson, BlackRock, Becton Dickinson, Pitney Bowes, Johnson & Johnson's Janssen subsidiary, Spotify, Bayer Consumer Health, and GlaxoSmithKline Pharmaceuticals. This experiential learning challenges the students to go beyond the norm to make recommendations on problems that these companies are trying to solve right now." 
Why he teaches: "I love teaching. I like trying to explain things in an interesting way and have people learn. I want them to remember and act on what they've learned. That's the most important thing, that the things I've put forward become part of their mindset and they can make better decisions in business and do things better."
How he works with MBA students outside the classroom: "I work with some of them as a mentor. The annual business plan competition is another big one. We get 30 applications each year and ultimately, I pick five and work with the top five, which usually include some MBA students. I look at their business plans and make suggestions for refining their plans. Some students have started businesses during the MBA Program – Surf, Turf and Earth, a restaurant in Somerville, is an example of one (started by Part-Time MBA student Paul Auriemma). Part-time MBA student Anton Kogan is expanding his business (Emma's Premium Services) into California. In both cases, we funded them and off they went."
- Susan Todd
Press: For all media inquiries see our Media Kit