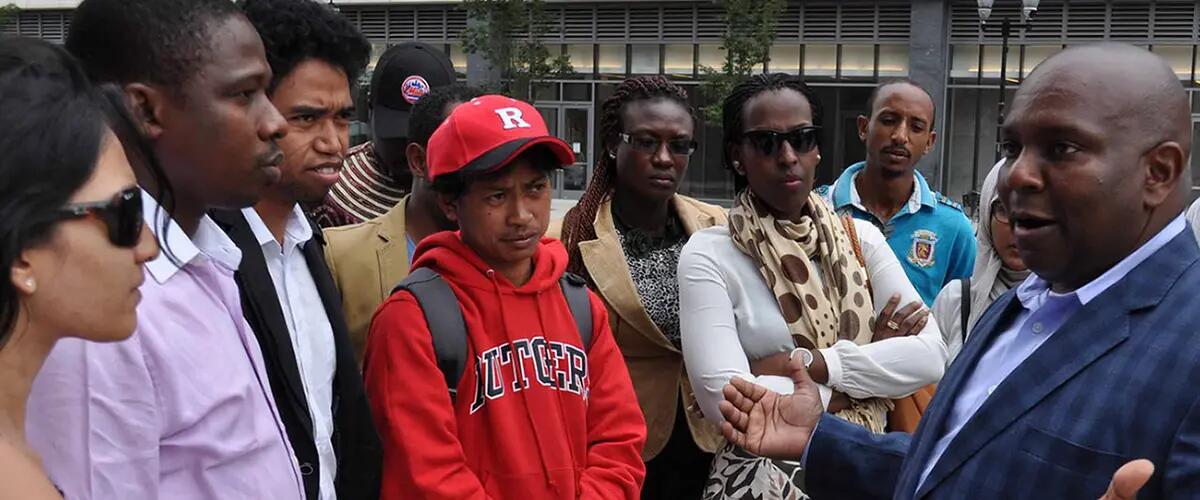 A quick lesson in urban economic redevelopment
For the past four years, a delegation of young professionals and business owners from nations in sub-Saharan Africa have spent six weeks at Rutgers University as Mandela Washington Fellows.
As part of this summer's program, the fellows got a first-hand look at redevelopment in Newark and an explanation of the forces that have sustained it over a years-long process.
Lyneir Richardson, director of The Center for Urban Entrepreneurship and Economic Development at Rutgers Business School, guided the group through the neighborhood around the Rutgers University-Newark campus, where much of the latest redevelopment is most evident. Lyneir is also the former CEO of Brick City Development Corp. in Newark.
The tour began at Rutgers Business School and continued along Broad Street, where Richardson pointed out the New Jersey Performing Arts Center, Military Park and the renaissance at the Hahne & Co. building, a long vacant department store. The group strolled also strolled along Halsey Street and past 15 Washington Avenue, a one-time insurance building converted into Rutgers student housing and event space.
The Mandela Washington Fellowship is a flagship program of the Young African Leaders Initiative. At Rutgers, the program follows two tracks – the Center for Global Advancement and International Affairs works with the School of Social Work and the Center for African Studies to provide a civic leadership training. The GAIA also partners with Rutgers Business School, the Department of Chemistry and Chemical Biology and the Rutgers Energy Institute.
Kevin Lyons, a professor of supply chain management at Rutgers Business School, plays a key role in infusing the program with business knowledge.
Twenty-five fellows are participating in each program offered through Rutgers this year. The fellows receive leadership skills and knowledge to help them improve their communities, develop economically viable business ventures and promote employment and job growth in their region.
During the Newark tour, the fellows asked questions about economic incentives the city used to encourage redevelopment and the time it took for the redevelopment efforts to progress. Richardson told them about promoting investment opportunities and the city's efforts on economic inclusion.
-Susan Todd
Press: For all media inquiries see our Media Kit