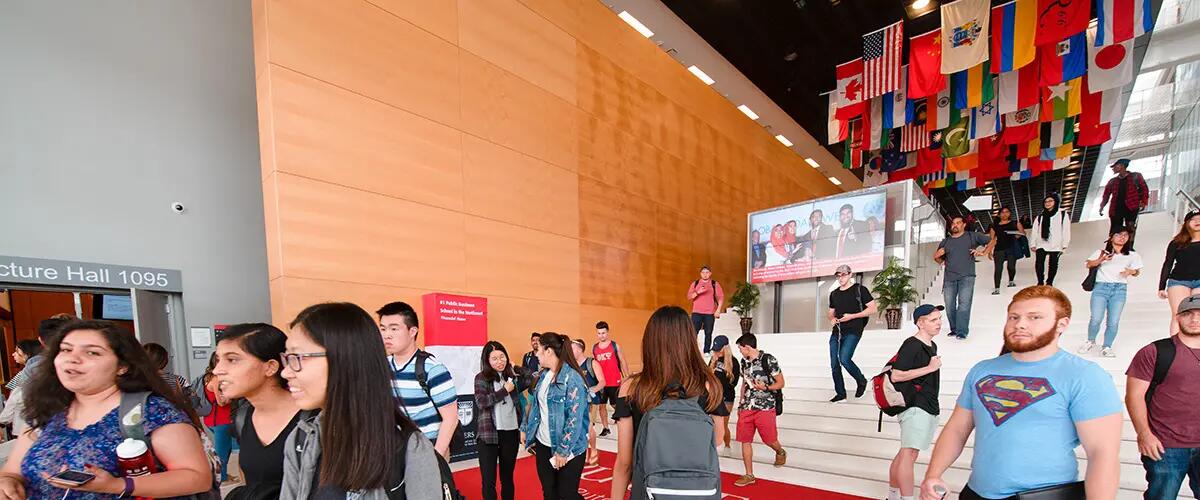 RBS-New Brunswick No. 6 for international students
Rutgers Business School – New Brunswick, which has students from more than 100 countries, was listed as No. 6 for having the most international students as part of the Poets & Quants Best Undergraduate Business Schools ranking.
Business students studying in the New York City metropolitan area, the epicenter of global business, are acutely aware of the global nature of business and the necessity of cultural fluency.  Classroom discussion, team projects and the college experience are enriched by international perspectives and exposure to different cultures.
International students are drawn to Rutgers Business School for the same reasons as local students: outstanding faculty and programs, two locations close to New York, strong career services and corporate partnerships providing internships and full-time employment.
Qiying Xu attended Rutgers Business School – New Brunswick as part of an exchange program offered by South China University of Technology.  After her undergraduate degree, Xu enrolled in the new Rutgers specialty Master of Supply Chain Analytics. The program offered her course work in Lean Six Sigma and data mining, complementing the supply chain management theory she learned as an undergraduate. "It gave me the picture of the whole supply chain," she said.  In her first semester, she did an internship at the freight transportation and logistics company OEC Group. 
Xu will begin working at Amazon as an entry level area manager in one of the company's new fulfillment centers and will remain in the U.S. on an employment-based visa. Ultimately, she said she would like to work for Amazon in China. "There are lots of opportunities in Shenzhen," she said. "Eventually, I would like to go back."
International students returning to their home countries with experience gained from a U.S. company, and domestic students seeking experience abroad, both benefit from the Rutgers Business School global mindset.
-Sean Ireland and Susan Todd
Press: For all media inquiries see our Media Kit