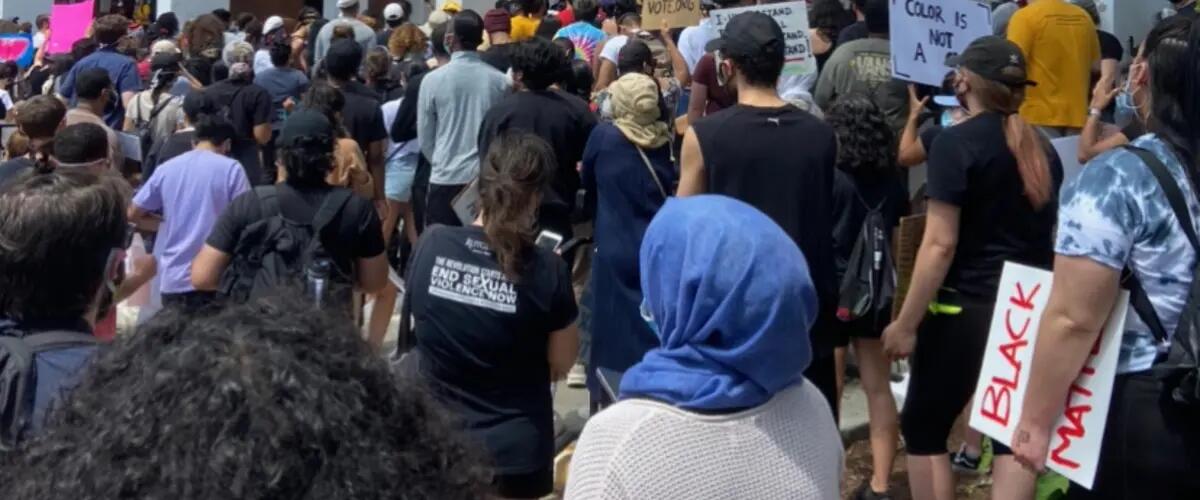 RBS Voices: Black Lives Matter protests gave student deeper understanding of racial injustice
The call for racial justice echoed across the U.S. and around the world following the murder of George Floyd last summer. For Rutgers Business School senior Kimberly Wong, participating in a series of local protests instilled her with a sense of responsibility for helping to bring about change.
By Kimberly Wong
As a student studying marketing and psychology, I genuinely enjoy learning about and getting a better understanding of the varying perspectives of people and the environments they come from. With that being said, the reason I participated in a series of Black Lives Matter demonstrations last summer and fall is that we need to understand our fellow humans. As a person of color, I wanted to – and continue to want to – support, listen, and understand the experiences of Black Americans. I needed to educate myself and become aware of the injustices occurring in the community where I live and the communities around me. Listening to the stories has allowed me and other non-Black people of color to share these experiences with people we know and help others open their eyes and better understand the systemic issues within our society. With each event, I gained new knowledge and grew as an individual, listening and supporting the strong speakers who spoke their truths and shared their experiences. 
As I experienced the Black Lives Matter demonstrations, I shared my thoughts and reactions on social media. I have compiled some of my posts here for RBS Voices:
"I attended a protest at Princeton University today and it made me realize – even more – how privileged we are. Most of the protesters were either White or Asian, with a low population of Black representation because Princeton itself – and the area around it – lacks diversity. The best thing we can do with the privilege we have is to support one another during these devastating times and spread awareness – educate those who need educating and be LOUD about it.
I know not everyone is going to read through this message or look through the videos, but the speaker has made very powerful statements and remarks. It truly was a privilege check to hear him explain the "talk" he had to give to his children about the negativity and hate they would receive growing up in this country. In addition to that, he raises an important point – if he has to prepare and talk to his children about the racism and discrimination they are going to face growing up, then white people (and non-black people), you have to be ready to teach your children not to be racist and hateful.
We all need to do better. We all need to be proactive and take action to make positive changes. Protest if you can, donate if you can, sign petitions, and share information. Black Lives Matter every day. Together we can fight this social disease.
"We all need to do better. We all need to be proactive and take action to make positive changes."
"I've lived here my whole life, but I feel like this has never happened in the West Windsor-Plainsboro area before – unity and community. Aside from social media activation and digital awareness, today I learned that we need to LISTEN to one another – LISTEN to what our Black peers are telling us and the experiences they've encountered in their lives. We need to be EMPATHETIC and COMPASSIONATE to the Black community in order to grow and change. Saying all these things is easy, but actively showing up with your voice and being an active listener either through protesting or contributing through an online presence can make an impact.
Staying silent only allows ignorance to spread. Staying silent doesn't mean you're "neutral," and doesn't do anything for anyone. It forces things to stay stagnant. Let's continue to learn, educate, protest, share, support, and LISTEN to our Black communities and stand with our fellow humans.
On Sunday, I attended a march that was led by Gwen Carr, mother of the late Eric Garner may he rest in peace. As students and educators of Rutgers Business School, I believe we must continue to stand with the Black community and advocate for positive change. As allies, we must do our best to fight for equity amongst our fellow humans, especially when these events and resources are accessible to us within the New Brunswick community.
To further emphasize, let it be known that youth is the future for change. To the students of RBS, continue to sign petitions, share information, and educate yourselves on these important matters. If we all collectively put in the time and effort to improve, then positive change is attainable! #BlackLivesMatter #RBSStrong.
"This past Saturday, I participated in another protest in New Brunswick, however, this time, with the honor of having Terrence Floyd (George Floyd's brother) and Lawrence Hamm (U.S. Senate candidate), organized by New Brunswick activist Tormel Pittman. As always, I gained a lot of insight from the speakers.
"...attending these protests has made me a better person. I've become more socially responsible, aware, and empathetic toward the victims of police brutality. I want to help and be part of positive social change."
It was a great experience standing there silently, absorbing and listening to everyone speak their minds and truths. For instance, Lawrence Hamm explained some very valid points:
In Breonna Taylor's case, although a settlement was "necessary," $12 million is still not equivalent to an ENTIRE life and should not be a "payoff" to excuse the murder of an innocent life.

In George Floyd's case, even though Officer Chauvin has been charged, there will be no justice until he is convicted. This is a problem because Floyd's murder occurred on May 25, 2020, but the case against Chauvin will not go to trial until March 8, 2021. Why does it take THIS long to put him on trial.
This is truly, absolutely ABSURD. This makes my blood BOIL, but I know frustration and aggression won't help the cause. Redirecting this intense energy into a passion to proactively make a difference in our communities will create a larger impact than exerting negativity. As an ally, I personally need to learn how to educate people with less negative energy, but it's not anyone's job to educate someone else on how to NOT be straight-up racist. This includes racist/hate language. Overall, to conclude my thoughts, I just want to say attending these protests has made me a better person each time. I've become more socially responsible, aware, and empathetic toward the victims of police brutality. I want to help and be part of positive social change.
Kimberly Wong is a senior at Rutgers Business School-New Brunswick. She is studying marketing with a minor in psychology. 
Press: For all media inquiries see our Media Kit