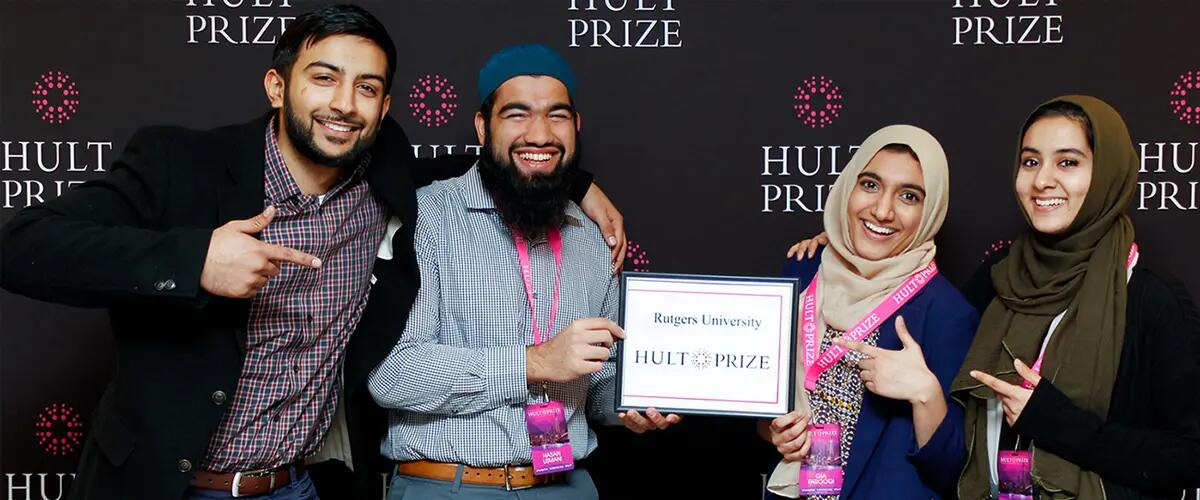 Roshni Rides pitches to investors
As the spring semester winds down, the founders of Roshni Rides are transitioning from a student team into a business, juggling exams and a new sense of responsibility to investors and a community rooting for their success.
The Rutgers team vying for the 2017 international $1 million Hult Prize for social entrepreneurship continues to raise money to pilot its solar-powered rickshaw business in Pakistan this summer.
With a little more than a week remaining of its crowdfunding campaign on Launch Good, the team has raised a more than half of its $30,000 goal. As of Wednesday (May 10) morning, the team still needs $3,117.
Rutgers Business School students Gia Farooqi, Moneeb Mian and Hasan Usmani and alumna Hanaa Lakhani created the Roshni Rides transportation business for the Hult Prize Challenge regional competition in March. The pilot is an important part of the team's strategy going into the final competition in September.
"If the pilot is successful," Farooqi said, "then we know we can do this."
In a pitch to Rutgers Business School faculty this week, she said previous winners of the Hult Prize have presented proof that their concept can work.
The Hult Prize competition challenged student teams from around the world to propose scalable start-up businesses capable of improving the lives of 10 million refugees by 2022. The Rutgers team won the regional competition – a first for Rutgers University – and will compete against five teams for the $1 million Hult prize. Rutgers is the only U.S. team among the finalists.
Roshni Rides is proposing to run solar-powered electric rickshaws on a systematic route, with strategic stops near employment, hospitals, schools and markets. The service, inspired by the New York City subway, is designed to provide refugees a consistent and affordable transportation service. The team will spend two months piloting the business in Pakistan's Orangi Town, an area in northwestern Karachi where an estimated 2.4 million people live.
"If the pilot is successful," Gia Farooqi said, "then we know we can do this."
The members of the Roshni Rides team embody the traits that have come to represent the Rutgers Business School brand. They are driven, entrepreneurial and thinking beyond themselves. They are pursuing the Hult Prize with confidence because of the education they received at Rutgers Business School.
Raising the $30,000 is important," Usmani said after the faculty presentation, because once the team has proof-of-concept, it will be in a position to win another $1 million to fund Roshni Rides.
"A small investment now," he said, "can have so much impact in the future."
-Susan Todd
Press: For all media inquiries see our Media Kit