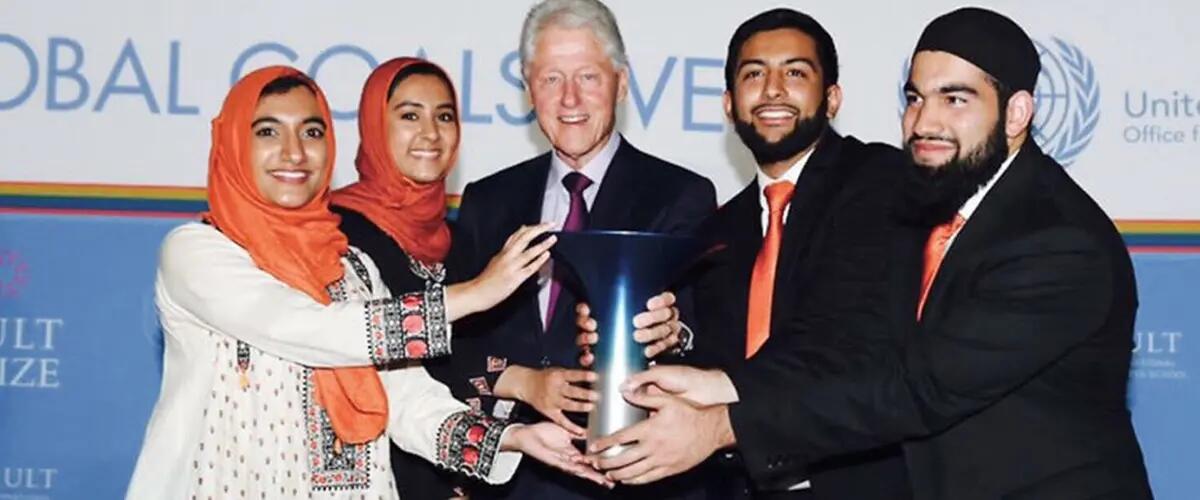 Roshni Rides wins Hult Prize
Fueled by a passion to make a difference in the lives of refugees in South Asia, the team embarked on a marathon quest to build a transportation business from scratch.
A team representing Rutgers Business School won the $1 million Hult Prize for social entrepreneurship on Sept. 16, capping off 11 months of entrepreneurial effort with a polished, convincing pitch about the ability of its rickshaw transportation business to improve the lives of refugees overseas.
Student Gia Farooqi, new graduates Hasan Usmani and Moneeb Mian, and alumna Hanaa Lakhani created the Roshni Rides startup as a way of answering the 2017 Hult Prize Challenge of developing a business capable of restoring the dignity of one million refugees by 2022. The company uses a pre-loaded transaction card, encourages ride-sharing and employs existing rickshaw drivers.
Their ability to persuasively pitch the idea to the Hult judges enabled them to beat out finalist teams from five other schools: Harvard University's Kennedy School, the Instituto Tecnológico Autónomo de México, the University of Waterloo, the University of Calgary and York University.
Former President Bill Clinton, who announced the winning team, said that along with optimizing rickshaws to provide reliable transportation for refugees, Roshni Rides modeled their card transaction system after the New York City subway's MetroCard. The team's business idea, he said, advocates ride-sharing, keeping prices down – and fixed. "It will have a big impact," he said.
The team plans to use the prize money to continue building Roshni Rides and to explore the possibility of using rickshaws powered by electricity rather than natural gas. Listen to the team's winning pitch at the Hult Prize Final.
When Clinton announced Roshni Rides as the winner from a stage on a roof-top patio, it set off a roar of cheers. Hear it here.
Lei Lei, dean of Rutgers Business School, described the team's win as "a great accomplishment and a reflection of the values that continue to elevate the Rutgers Business School brand."
"We are thrilled by their performance, and we will continue to cheer them on as they build Roshni Rides into a global venture," she said.
From the start, the theme of the Hult Prize Challenge inspired and motivated the team, all of whom are Americans of Pakistani ancestry. "We are the sons and daughters of immigrants and refugees," Farooqi said after the team won the regional competition in March. "This is very personal for us."
The team made history with its win at the Hult regionals, becoming the first team from Rutgers to become a finalist in the competition – widely regarded as the Nobel Prize for students. The five finalists beat out 50,000 participants from more than 100 countries.
Alok Baveja, a supply chain professor who advised the team, said "the Hult Prize honor is an unequivocal recognition of this team's undying conviction that great ideas have an elegance in their simplicity, achieve scalable societal good and make good business sense, all at once."
"True to their name, these young Rutgers entrepreneurs are bringing the light (Roshni) of new hope and optimism to millions of displaced refugees globally through an accessible, affordable and reliable rickshaw transportation system," Baveja said.
None of the students were following a direct path into social entrepreneurism. Farooqi is currently finishing her senior year of classes at Rutgers Business School-New Brunswick. Lakhani, Mian and Usmani graduated from Rutgers Business School-New Brunswick. Lakhani and Usmani studied supply chain management as students. And Farooqi combined her studies in supply chain with political science and gender studies. Mian double majored in supply chain and business analytics and information technology.
The team's win at the regionals also set off an intense and challenging quest that included a crowd-funding campaign to raise $30,000, a six-week pilot of their transportation business in Pakistan and an eight-week immersion at a Hult-run startup accelerator. It was a marathon, requiring a disciplined juggling of classes and commitments – two team members were on the verge of graduating with full-time jobs waiting for them – and one was already working full-time in New York City. "We were moving at 1,000 miles an hour," Usmani said.
"We were building a company from scratch," Farooqi said. "It's the hardest thing I've ever done, and we all learned our potential is limitless."
Beverly Aisenbrey, a 1982 Rutgers MBA graduate who sits on the dean's board of advisers, said she was immediately excited by the team's drive and ambition. During the crowdfunding campaign, she supported Roshni Rides. "This amazing team epitomizes the characteristics of so many of our students," she said. "They are truly resilient, resourceful and reliable. The entire board of advisers is proud of them and this incredible accomplishment."
By late spring, the four, who became friends at Rutgers, had transformed from a team of student case competition champions to a group of entrepreneurs who felt a sense of responsibility for building a business fueled by the investments of family, college professors and a community of proud Muslim friends and relatives.
"At different stages we faced different situations," Mian said. "The solution was always the same, trust the team."
"I have personally witnessed their resolve, resilience and resourcefulness at every stage of the process. The entire Rutgers community should be inspired by their amazing journey." - Daria Torres, team adviser.
One of the more vexing situations came during the accelerator program when the team was faced with the decision to drop the solar component from its business plan. "Solar was innovative. It would be disruptive, but we would have to spend a lot of capital to make it work," Mian said, "and that capital could be better utilized if the mission is to help refugees."
After a lot of deliberation, the team pivoted. The decision served as a lesson in being entrepreneurial. "It's not about how many mistakes you make. It's about not being afraid of the advice," Farooqi said. "You have to learn and keep going."
Days before the final competition, the team talked about how the Hult competition had given them a taste for entrepreneurship. Lakhani said her ability to make such an impact on people wasn't the same in a corporate job. Farooqi agreed. "What the Hult Prize does is put a lot of power in the hands of people who want to do good work," she said.
Martin Markowitz, senior associate dean of the undergraduate program at Rutgers Business School-New Brunswick, described the team as "bright, inspired and caring."
"They competed successfully on the global stage, and we are extremely proud of them," he said.
When Hult Prize CEO Ahmad Ashkar introduced Roshni Rides at the final competition, he remarked on the team's commitment and resilience. "I knew they were a team that could go the distance," he said.
Daria Torres, a managing partner at Walls Torres Group and adviser to the team, was similarly struck by the group. "The Roshni Rides team has personified excellence and grace throughout the entirety of the Hult Prize competition," she said. "I have personally witnessed their resolve, resilience and resourcefulness at every stage of the process."
"The entire Rutgers community," she said, "should be inspired by their amazing journey."
-Susan Todd
Press: For all media inquiries see our Media Kit