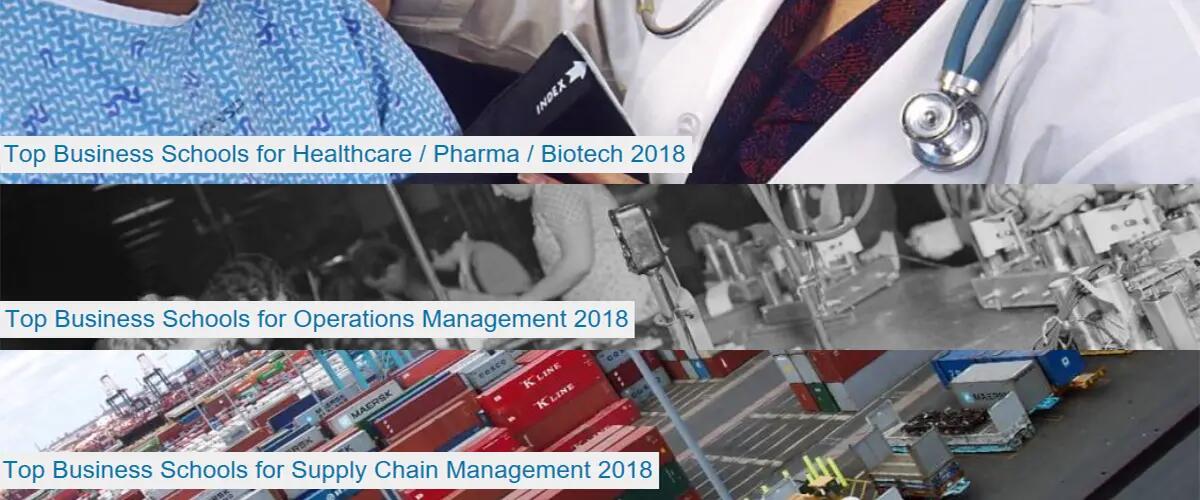 Rutgers Business School highly ranked in three FIND MBA Top 10 Lists
FIND MBA publishes a range of rankings each year, and the editors stress methodology and whether a ranking is a for general MBA or specific career specialties.  
FIND MBA' shortlists of "top" business schools for careers in a particular industry or function have been designed to help future students find the most suitable program for their career goals.  The editors considered employment data, concentrations, existing rankings, international balance, and location.  All of these factors greatly affect students' experiences in the program and their careers after graduation.
In 2018 Rutgers Business School was highly placed in three FIND MBA Top 10 Lists: 
Top Business Schools for Healthcare / Pharma / Biotech 
Top Business Schools for Operations Management 
Top Business Schools for Supply Chain Management 
Full-Time MBA Concentration in Pharmaceutical Management
Rutgers Business School is ranked among the top 5 B-schools for healthcare, pharma and biotech worldwide and is a hub for pharmaceutical knowledge and connections.
More than half of the 20 largest pharma companies worldwide – companies like Novartis, Johnson & Johnson, Bristol-Myers Squibb, Merck, Novo Nordisk and Bayer Healthcare – call New Jersey home. So do a network of teaching hospitals and medical schools here and in neighboring New York City. If access to Big Pharma and healthcare is what you are looking for, Rutgers Business School is uniquely positioned to deliver.
Over the years, we've developed a legacy of strong relationships within this space that inform curriculum, enhance the student experience and connect students to jobs.
 
There's a science to healthcare and a science to managing its delivery.
Healthcare services management is a growing and changing space with an increased demand for healthcare managers who can improve business and clinical outcomes. As healthcare reform laws through the Affordable Care Act continue to change industry standards and operations, the need becomes even greater.
Our program is designed to hone leadership and develop a data-driven process orientation, helping provider managers improve quality, reduce costs and increase patient satisfaction.
Full-Time MBA Concentration in Supply Chain Management
From start to finish and everything in between, supply chain management is how business gets done.
Supply chain management is the coordination and integration of goods and services, information and financial flows within and among organizations, in response to or in anticipation of customer demand. An effective supply chain provides the right product or service, in the right quality and cost, in the right amount, in the right place, at the right time—adding value at every stage, from sourcing to consumer.
Rutgers supply chain students and alumni are among the brightest in the industry – our MBA internship placement rate is 100 percent, and our alumni have been repeatedly named among the top in their fields.
Nearly a third of our students go on to careers in supply chain and operations after graduation, landing jobs as procurement, logistics or planning managers and operational analysts at companies like Este Lauder, Novartis, Colgate Palmolive, Panasonic, Dell, Deloitte Consulting, Mastercard and Bristol-Myers Squibb.
Through Rutgers' Center for Operations Research, students can pursue a dual-degree MBA / MS in Operations Research and Business Analytics. About 29 percent of Rutgers' 2016 MBA graduates went into operations-related roles.
Press: For all media inquiries see our Media Kit