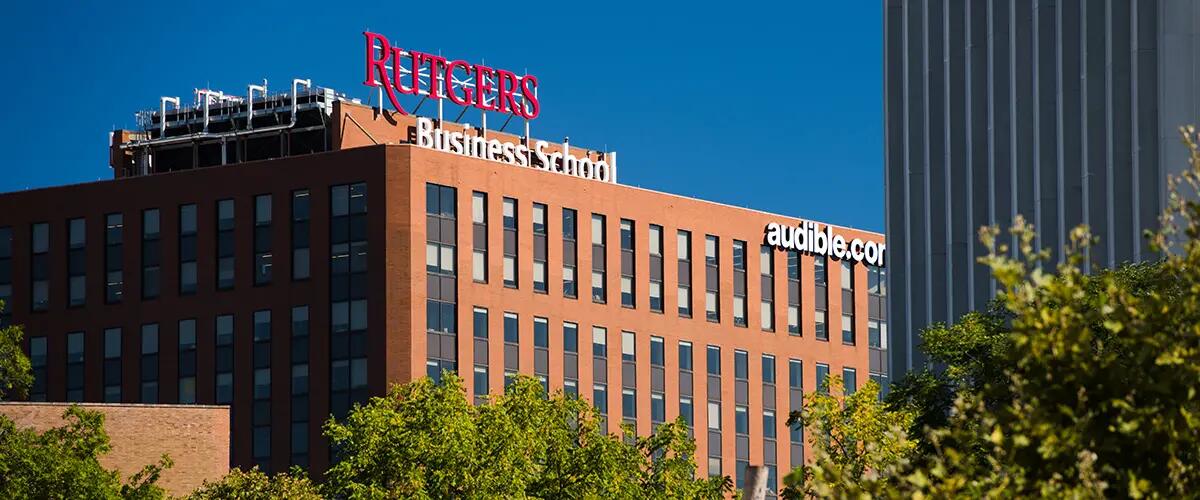 Rutgers Business School impresses Wall Street experts again, wins CFA Institute Research Challenge second year in a row
Team of Rutgers students outperforms 23 other business schools in New York region including Cornell, Dartmouth, NYU, Fordham and Baruch, headed to global finals for third time in five years
NEW YORK, NY – During the high fives and hugs celebrating Rutgers Business School's 1st place victory in the New York Regional finals of the CFA Institute Research Challenge, Elizabeth Miller, one of the Wall Street panelists judging the competition, congratulated the team declaring, "Rutgers is creating a dynasty." Rutgers Business School also won last year and won for the third time in five years in the 10-year-old competition.
"I think this proves that Rutgers is among the top business schools in the country," said John Longo, the team's faculty advisor and professor, finance and economics. "Not only to win in back-to-back years, but for the third time in five years beating other top business schools from Cornell, Dartmouth, and NYU. We have the students that can compete with anybody."
With the victory over 23 other business schools in the New York region, Rutgers Business School moves on to the global finals which will be held in New York City in April. Prizes included a trip to ring the NASDAQ closing bell in Times Square on February 21st, and a $5,000 scholarship for the school.
The Rutgers Business School team consisted of Allison Nagelberg (EMBA, 2012), John Mongold (MBA 2013), Sachin Modi (MBA, 2012), Rodrigo Polezel (New Brunswick Senior, 2012), and Alex Santos (New Brunswick Senior, 2012).
The CFA Institute Research Challenge calls for teams to research and report on a publicly-traded company. This year's company was MICROS Systems Inc., which provides hardware and software for restaurants, hotels, and retailers. Teams must give a "buy" or "sell" rating on the company and then back up their recommendation with detailed analysis.
"We never worked so hard in our lives," said Modi, the team leader. "We had an amazing combination on our team: strong strategy from the MBAs, tremendous financial analysis from the undergrads, and a strong network of contacts through the EMBAs for field research," Modi said.
Field research was one of the differentiators for the Rutgers team according to the judges. "The research is as good as what we see on Wall Street," said Kay Booth, Managing Director at Golden Seeds Fund LP.
"It's very hard to know a company in a short amount of time," said Nagelberg. "But we were determined to know everything we could." Nagelberg made it her mission to talk to Micros's big clients to see how they viewed the company.
She talked to the CIO of Hyatt Hotels Corporation, she Skyped with customers in Dubai, Hong Kong and Australia, and she spoke with many of Micros's European customers in addition to the American ones. "It was amazing how much people were willing to give their time because they could see how passionate we were about our subject," she said.
Holed up in conference room at Rutgers Business School's building in Piscataway for long hours during nights and weekends, Polezel and Santos put their schooling to work. "We were able to handle the technical analysis required for this challenge," said Santos. "Our team's view was shaped a lot by the field research that Allison was doing," said Polezel. "So we had to make the financials back up the story we were going to tell," he said. Rutgers ended up recommending a "buy" rating on MICROS.
"You can tell that the Rutgers undergrad business students are extremely well trained," said Modi. "Alex and Rodrigo were amazing. I'd email a question over at 2 AM, and then wake up and see that they had answered it by 5 AM. Such a tremendous work ethic."
Modi himself worked through challenges including recovering from injuries he suffered in a car accident. "We just put forth an amazing team effort," said Mongold, who was responsible for creating the presentation. "I've been on teams where one or two people carry the load, but this group all brought the effort 24/7."
Longo and Allan Campbell, the team's professional mentor, credited the style of the presentation for helping differentiate Rutgers Business School from the rest of the field. "This presentation was really exceptional," said Campbell. Mongold who has a background in public relations, created animated slides and interesting graphics to tell the story.
"We saw last year in the Global Finals how a dynamite presentation can affect the outcome. The Italians made an impression." said Longo.  Rutgers Business School was runner-up to Politecnico di Milano in the Global Finals competition, over 500 business schools from around the world participated last year.
"This year we want to be the ones that make the impression in the finals," said Mongold. 
Final Four Presenting Universities:
Rutgers Business School, Rutgers University - Winner
Tuck School of Business, Dartmouth College
Dolan School of Business, Fairfield University
School of Business, Montclair State University
Participating Universities in the New York Regional Final included:
Zicklin School of Business, Baruch College
School of Management, Binghamton University
School of Business, The College of New Jersey
The College of Staten Island
Johnson School of Business, Cornell University
School of Business, Fordham University
Frank G. Zarb School of Business, Hofstra University
Hagan School of Business, Iona College
School of Management, New Jersey Institute of Technology
Stern School of Business, New York University
Lubin Business School, Pace University
Queens College
Quinnipiac University
Howe School of Technology Management, Stevens Institute of Technology
Stillman Business School, Seton Hall University
Tobin College of Business, St. John's University
University at Albany, State University of New York
College of Business, Stony Brook University
Cotsakos College of Business, William Paterson University
- Daniel  J. Stoll
Press: For all media inquiries see our Media Kit