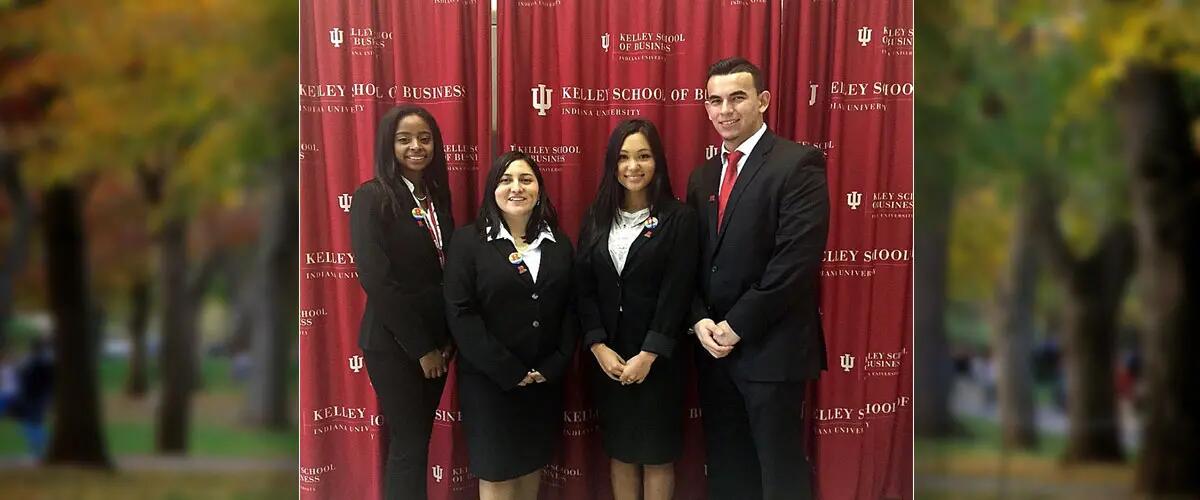 Rutgers Business School-New Brunswick undergraduates earn runner-up at Kelley School of Business National Diversity Case Competition
Rutgers Business School – New Brunswick undergraduate students Carlos Vaca, Aishwarya Sharma, Jasmine Baptiste, and Carmen Navas traveled to Indiana with Donna Brancato as their advisor to participate in Kelley School of Business' National Diversity Case Competition, January 15-17, 2016 and earned runner-up in their bracket.
The Kelley School of Business National Diversity Case Competition (NDCC) is a premier event that brings together top-level, diverse talent from colleges and universities across the country.
The NDCC is held annually over the Martin Luther King Jr. holiday weekend. Undergraduate students compete with a case that requires them to think critically about a business challenge related to diversity.
140 students
35 universities
21 corporate partners
"It was great to see future leaders at an event where diversity is a core belief," said team leader Carlos Vaca, Class of 2017. "We felt as if we had much more than just a voice, and that we are the ones who will make a change in today's world. It also gave me pride knowing I was representing my school, and I'm hopeful to come back to the next NDCC to win the whole thing."
The RBS team, the RUBusiness Masterminds, received valuable assistance and feedback from Professors Leon Fraser, Douglas Miller, Paul Goldsworthy, and Jaideep Vaidya.
The case posed the question: "As a buyer or financial analyst within the Target style business, how would you develop a strategy that stands for style and acknowledges Target's support for the LGBT community?"
Target has long-standing partnerships with LGBT Community groups like Family Equality Council (FEC), Gay, Lesbian & Straight Education Network (GLSEN), and Human Rights Campaign (HRC). In June 2012, Target launched its first-ever PRIDE apparel collection on Target.com with all proceeds going to FEC.
"The case itself taught me how to think of diversity through the lens of an executive," said Aishwarya Sharma, Class of 2016. "I was able to hone in on my financial, marking, and supply chain skills when developing our case. I am grateful that Rutgers Business School was able to give us this amazing opportunity."
Jasmine Baptiste, Class of 2018, said of the competition: "I felt as if we were working for Target in a corporate setting and that this was a task our boss has assigned. I'm so proud of our team as we put together and presented revolutionary ideas that impressed the judges, Target executives, and employees."
"Attending the National Diversity Case Competition provided a great opportunity to participate at workshops, in the case competition, and meeting corporate people during the reception. Furthermore, the case competition made me realized that grouping with the right people is very important because it helps to achieve goals by using resources in a timely fashion," said Carmen Navas, Class of 2017.
-Sean Ireland
Press: For all media inquiries see our Media Kit