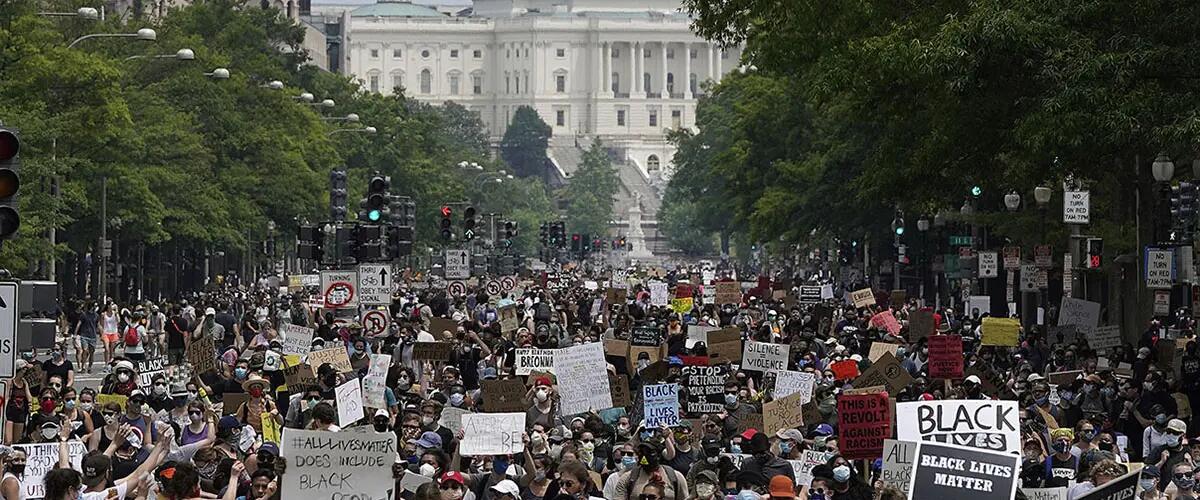 Rutgers Business School speaks out for racial and social justice
Rutgers Business School joined voices from across Rutgers University calling for change as protests against racism and police violence continued across the country following the death of George Floyd while in police custody in Minneapolis.
The following is a message from Rutgers Business School Dean Lei Lei with links to messages from Rutgers University-Newark Chancellor Nancy Cantor, Rutgers University-New Brunswick Chancellor Christopher Molloy and Brian Strom, chancellor of Rutgers Biomedical and Health Sciences.
Dear RBS Family,
The events of the past week – the tragic death of George Floyd and sometimes violent clashes during protests in our nation's cities – have been a painful reminder that racial violence is still part of our social fabric. Rutgers Business School faculty, staff, students, alumni and corporate partners stand together against racism and systematic inequality. We have worked hard to be a force for positive change that provides opportunity for everyone to better themselves, no matter their background. We celebrate and cherish our diversity, knowing we learn more from each other because of our different experiences, cultures and perspectives. RBS will be part of the solution for a better tomorrow for all. We will not back down from doing what is right.   
Rutgers Business School is part of two of the nation's great centers of academia and social justice at Rutgers University – Newark and Rutgers University – New Brunswick. We stand in solidarity with leaders from both campuses and I encourage you to read messages from Chancellors Nancy Cantor, and Christopher Molloy & Brian Strom.
At the same time, we cannot ignore the effects of the global pandemic and economic hardship facing our communities, the country and the world. It is during these challenging times that we must remember that we have the support and care of each other. The RBS family is resilient. We can reimagine and reinvent a better world together.  
Please remember that the university offers counseling services, even virtually. If you are a student, please contact our CAPS program or UBHC for support. Faculty and staff are invited to contact the Rutgers Faculty and Staff Assistance Program (FSAP).
Wishing you all good health and safety. Stay RBS-Strong!
Lei
See and listen to messages from other parts of Rutgers University, including a compelling video made by members of the Rutgers University football team.
The Institute for Ethical Leadership at Rutgers Business School posted the following message on its Facebook page: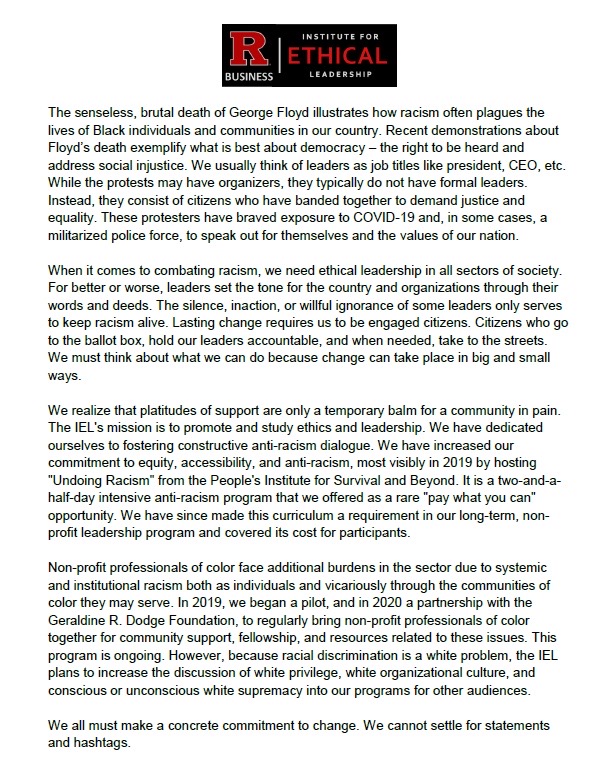 Press: For all media inquiries see our Media Kit