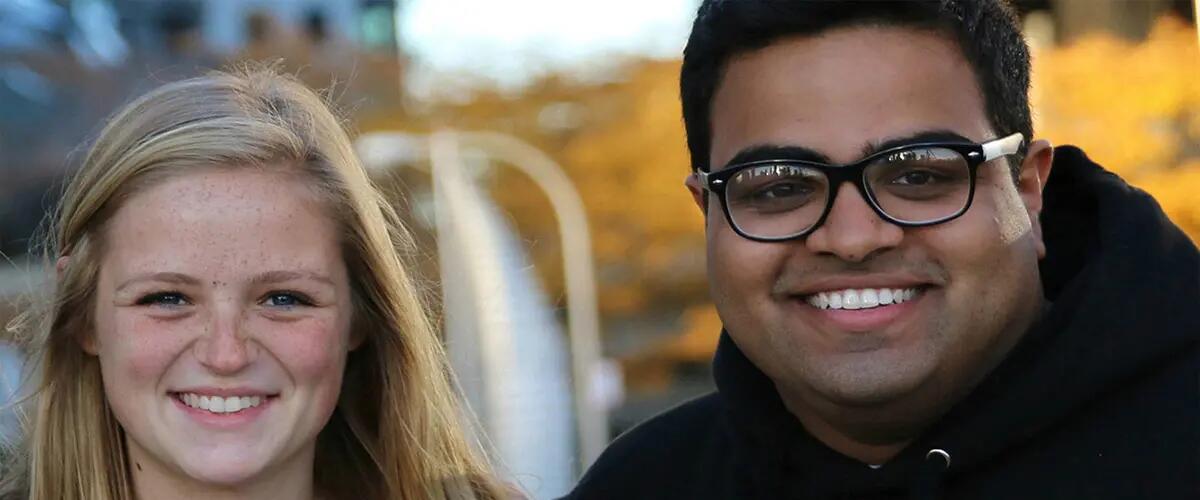 Rutgers entrepreneurs create SafeHalo to provide students with a campus buddy system
This story originally appeared in Rutgers Today. It was written by Dory Devlin.
Starting this semester, Rutgers University-New Brunswick students who find themselves alone late at night can text a request for students to walk them home five nights a week.
Rutgers senior Daniel Reji envisioned the text-a-friend service as a sophomore researching sexual assault on college campuses nationwide. When his research revealed that buddy systems – traveling in groups of two or more – are often the best way to stay safe, he knew the next step was creating a start-up to help students who needed a late-night friend to find one.
SafeHalo was born.
"The same way you get an Uber, I thought, what if you could request two students to walk you home – judgment free, stigma free, actually free?" says Reji, a marketing major with a concentration in entrepreneurship at Rutgers Business School-Newark and New Brunswick.
Launched in fall 2016, SafeHalo ran for 14 Fridays. About 20 well-vetted volunteers called "Halos" rotated and answered about two to three calls per Friday. Word spread mainly through social media, with SafeHalo's student launch team posting instructions and a phone number to call or text on class, sorority and student organization Facebook pages.
From the pilot program's first call, "we realized there is a need for it and there is a need to turn it up and take on five nights a week," says Jamie Farren, a SafeHalo co-director and School of Communication and Information senior double-major in public relations and Spanish.
Word also spread beyond Rutgers. Students from Emerson College in Boston and the University of Oregon reached out when SafeHalo's launch turned up in a search. Reji and Farren are helping teams at both universities recruit "Halos" and launch the service. As they expand SafeHalo at Rutgers-New Brunswick to five nights a week this semester, they are focusing on building a service other universities can buy into.
"This year is all about scaling," Reji says. "We've proven traction and viability at one school, but our main goal is to get into as many universities as possible, so we're working on a scalable business model and building an app platform that could make it easier for new schools to bring SafeHalo to their campuses."
Here's how SafeHalo currently works: Students can text the SafeHalo phone number with their location and where they need to go. Communication begins immediately and continues until two student volunteers meet up with the student, who must provide a short code to confirm the text. "It's done very directly and organically," says Reji, who explains the company's genesis and how it works in this Medium essay. SafeHalo is not meant to replace calls to police when emergencies arise. Says Reji: "We know our place, and our place is best friend and not paramedic."
Reji and Farren have assembled an outstanding team of "Halos," volunteers from a variety of majors, interests and backgrounds who have one thing in common: they want to help fellow students, says Alfred Blake, assistant director of undergraduate entrepreneurship programs in the Center for Urban Entrepreneurship & Economic Development in Rutgers Business School-Newark and New Brunswick. One of the challenges of scaling their model will be for other schools to do the same.
"When they can provide this to other schools, it's going to be a huge benefit to students and their brands because the issues of sexual assault and feeling unsafe are concerns at many schools," Blake says.
Understanding that there are many reasons students may not feel safe on campus, Reji says they want all students to know they can reach out. "Inclusivity is our biggest thing," he says, noting SafeHalo's tag line is "for each other." "It's not just about sexual assault. If you don't feel comfortable on campus, we want you know there are good people who are here to look after you."
Press: For all media inquiries see our Media Kit