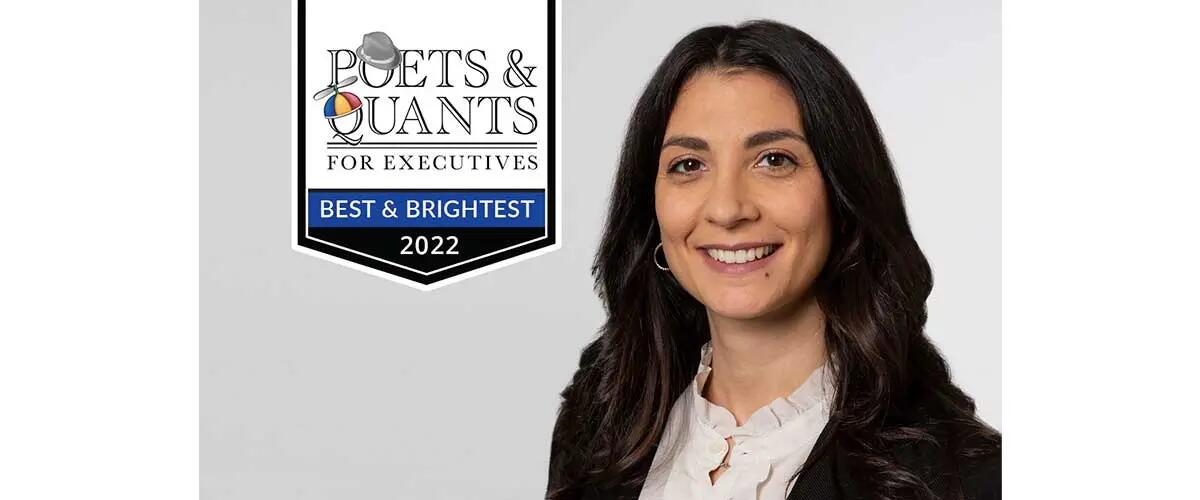 Rutgers Executive MBA graduate more confident and prepared as a leader
This profile was included among The Best & Brightest Executive MBAs of 2022 published by Poets & Quants on July 30, 2022.
Athena A. Patrikios
Rutgers Business School Executive MBA
Age: 39
"Wife, mother, and healthcare leader who enjoys problem solving and helping people navigate the complex healthcare system."
Hometown: Old Tappan, New Jersey
Family Members: Peter (husband); daughters, Andrea, 8, Kalliope, 6; and son, Georgios, 3.
Fun fact about yourself: I am named after my maternal grandmother, Athina who married my grandfather, Panayiotis.  I married Peter who's name in Greek happens to be Panayiotis too!
Undergraduate School and Degree: Ernest Mario School of Pharmacy, Rutgers University; Doctor of Pharmacy Degree (Pharm.D.)
Where are you currently working? I am currently working at Horizon Blue Cross Blue Shield of New Jersey as the director of pharmacy, overseeing our Medicare business. I have worked there for the last 15 years. My team is responsible for managing the rising pharmacy cost trends, implementing and administering clinical initiatives and developing competitive prescription benefits as part of Horizon's Medicare Advantage offerings.
Extracurricular Activities, Community Work and Leadership Roles: I am involved with the Lampousa Cypriot American Association, which is a cultural group aimed at continuing the focus on the Cyprus Problem of 1974 while promoting the customs and culture of the Cypriot people. It is important to me to honor and maintain my roots since both of my parents immigrated from Cyprus as children. I also participate in mentorship and preceptorship programs through the Rutgers pharmacy school and INROADS program at my organization.
Which academic or extracurricular achievement are you most proud of during business school? I'm most proud of developing an understanding and appreciation of financial accounting and financial statement analysis. These are two areas that were way outside of my wheelhouse. I interface with finance teams in my current role and having a strong baseline to be able to ask the right questions has been very valuable.
What achievement are you most proud of in your professional career? The achievement I'm most proud of is how I was able to successfully launch a new Medicare product with my team while being fully remote and overseeing my children's virtual schooling during the pandemic. That whole period is a blur, but it certainly made me a stronger mother, employee and leader.
Who was your favorite MBA professor? It's hard to choose one favorite. The Rutgers EMBA program has such high-quality professors who bring great talent and experience to the program. Professor Lewis Kerman really brought the various areas of law to life with his highly engaging stories and examples. He has such a charismatic and caring personality and generally wants to see his students learn and succeed. He continued to stay connected and engaged with our class long after our first semester course with him.
Why did you choose this school's executive MBA program? I chose the Rutgers Executive MBA program because Rutgers continues to hold a special place in my heart since earning my Doctor of Pharmacy degree from there in 2007. I also instantly connected with the culture during an open house session I attended. Professor Farrokh Langdana was very clear about how the Rutgers program is unlike any other because it fosters collaboration, networking, and development of a family-like connection among classmates. That really resonated with me. I went with my gut and never looked back.
What is the biggest lesson you gained during your MBA and how did you apply it at work? The biggest lesson I learned during my MBA came from Professor Langdana's Cycle of One discussions. During his Macroeconomics and International Trade courses, he presented us with unique scenarios that tested our innate leadership skills to think critically and arrive at a solution. Sometimes, as a leader, you must throw out the rule book or challenge the status quo. At work, I have encountered situations where I have had to be creative, think on my feet, and advocate for the best resolution. Having gone through the Rutgers EMBA program I feel more confident and prepared as a leader.
Give us a story during your time as an executive MBA on how you were able to juggle work, family and education?  I don't think I could have juggled it all without my village. My husband, Peter, has been an amazing partner over the last two years really supporting me and taking the lead when I needed to study or attend class. We were also lucky to be able to lean on both our families during that time for help with childcare and meals. I recall one evening, specifically, I had to take the kids to swim class while Peter had an evening meeting. Swim class was being held during virtual office hours for our Financial Accounting class. I was able to multitask a bit, attend the review session and was still able to catch the end of the kids swim session.
What advice would you give to a student looking to enter an executive MBA program? My advice would be to make sure you have a strong support system both from your family at home and your classmates. I don't think I could have made it through without the teamwork and camaraderie from my colleagues. There truly is strength in numbers.
What is the biggest myth about going back to school? The biggest myth is you don't have the time to fit it in the demands of schoolwork and studying while parenting and having a full-time job. Don't get me wrong, it was not easy. Somehow, you find the time and learn how to be more efficient and creative in how and where you get your work done. Where there is a will there is a way!
What was your biggest regret in business school? My biggest regret is having spent our first year virtually during the pandemic. However, I think we made the most of it, built strong bonds that only got better when we finally were able to meet in person.
Which MBA classmate do you most admire? I'd say all my classmates bring something unique to the table. As a working mom myself, I know what it's like for my fellow working moms and dads in class trying to juggle it all. My one classmate, Elizabeth Novak, took it to a whole other level when she had her first baby weeks before classes started. I don't think I would have been as brave to start this program while being a first-time mom. She was amazing, handling the workload, contributing tremendously to projects while learning the ropes as a new parent. I remember one time we had a group project to give over Zoom, which was right around little Zachary's nap time. Liz handled it with ease, put him in the baby carrier, and lulled him to sleep all while delivering a great presentation. She is the definition of super mom!
What was the main reason you chose an executive MBA program over part-time or online alternatives? The Executive MBA felt like the best fit for where I was in my career and personal life. I was able to meet the demands of a weekend course load while maintaining my full-time work schedule. I liked the in-person learning component as I know that's how I learn best and I liked the ability to network and collaborate with other like-minded executives at similar points in their careers.
What is your ultimate long-term professional goal? I'm looking to continue to grow within the healthcare industry, eventually to a vice president role and C-Suite position. I'm also excited to give back and help develop the next generation of healthcare leaders. The Rutgers EMBA program has strongly prepared me for growth in my field.
What made Athena such an invaluable addition to the class of 2022?
"With a high-level executive position as director of pharmacy, Medicare, at Horizon Blue Cross Blue Shield of New Jersey, one would be excused for thinking that a full-time, high-powered program such as the Rutgers EMBA Powerhouse would be all that one could handle. Not so for Athena Patrikios. Athena graduates with the second-highest GPA in the program – a remarkable achievement in a roomful of highly qualified and dedicated students. As class vice president of communications, Athena ensured that her classmates met all their deliverables and dodged scheduling conflicts. In fact, she even coordinated several study sessions. Many of her classmates consider her to be the MVP of their graduating class. Athena is one of the recipients of the Rutgers EMBA Powerhouse Awards presented to individuals who have been of invaluable assistance to the program."
Farrokh Langdana, Ph.D.
Director of the Rutgers EMBA
Professor of Finance and Economics
Press: For all media inquiries see our Media Kit