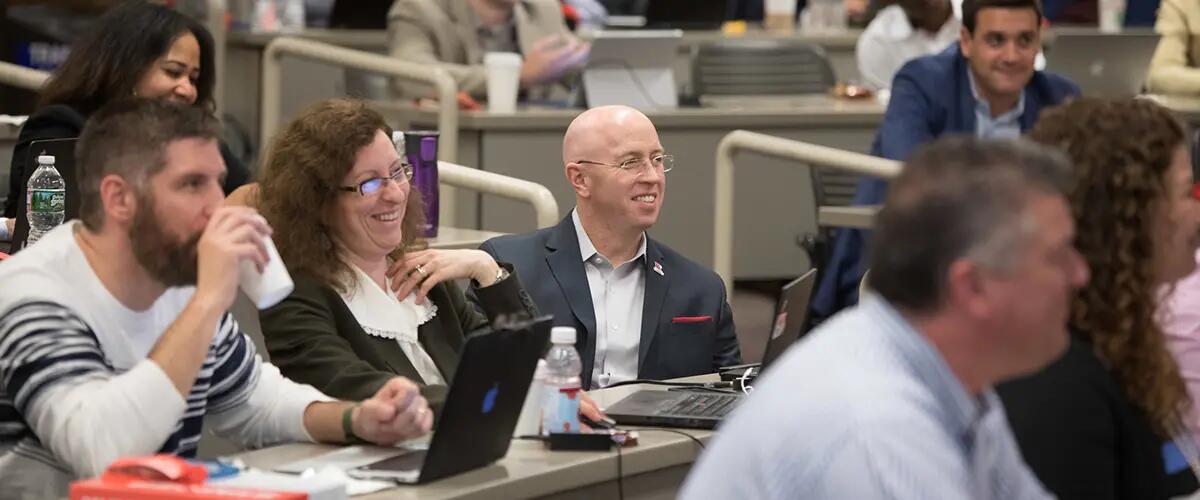 Rutgers Executive MBA ranked No. 28 in the U.S. by The Economist
In the latest rankings of the Top Executive MBA (EMBA) programs in the world, The Economist ranked Rutgers Business School's EMBA No. 48 in the world, No. 28 in the U.S. and No. 5 in the Big Ten.
Rutgers Business School Dean Lei Lei said: "I cannot overstate how competitive the EMBA landscape is around the world. Congratulations to EMBA Program Director Farrokh Langdana and the entire EMBA team, and all the faculty who teach in the EMBA program!  A special thank you to the RBS EMBA Classes of 2017, 2018, and 2019 for your strong support, outstanding performance and strengths that contributed directly to this ranking result."  
"The formula for the consistent success of the Rutgers EMBA Powerhouse in the global rankings is simple: curriculum, faculty, staff and...a refreshing absence of attitude in the classroom."
- Professor Farrokh Langdana
Professor and Executive MBA Program Director Farrokh Langdana said "The formula for the consistent success of the Rutgers EMBA "Powerhouse" in the global rankings is really very simple: You design a curriculum that adapts constantly and mimics the skills and expertise needed in the real world today and tomorrow, have it taught by professors who can leverage the tremendous experience embedded in our amazing students, back this up by a staff that makes it all run like clockwork, ensure the most important ingredient: a conspicuous and refreshing absence of attitude in the classroom, and that's how you get a winning Powerhouse program!"
"This is truly a collaborative program; one big family of participants who look out for each other for years and years after graduation," said Langdana. 
Other notable achievements in the report showed RBS EMBA ranked in the U.S.:
No. 10 in the world for student rating of faculty
No. 14 for Student & Faculty Diversity
No. 15 in the world for student managerial experience
No. 16 for Salary Increase after Graduation
No. 17 for Quality of Faculty
No. 22 for Program Quality
No. 23 for Professional Development and Educational Experience 
According to The Economist, this is the fourth biennial ranking of executive MBA programs, ranked on two broad measures: personal development/educational experience, and career development.
The Economist collected data using two web-based questionnaires in February and March 2020. One questionnaire was filled out by business schools and included more quantitative measures, such as details of students and faculty, the number of overseas assignments required, and statistics on alumni.
The second questionnaire was circulated to current students and alumni from schools' last three graduating classes. Approximately 8,500 of these questionnaires were completed, and from them, The Economist gleaned the more qualitative measures, such as a rating of classmates, faculty, facilities, etc. Alumni also reported their pre-EMBA and current salaries, from which average increases could be calculated.
Press: For all media inquiries see our Media Kit