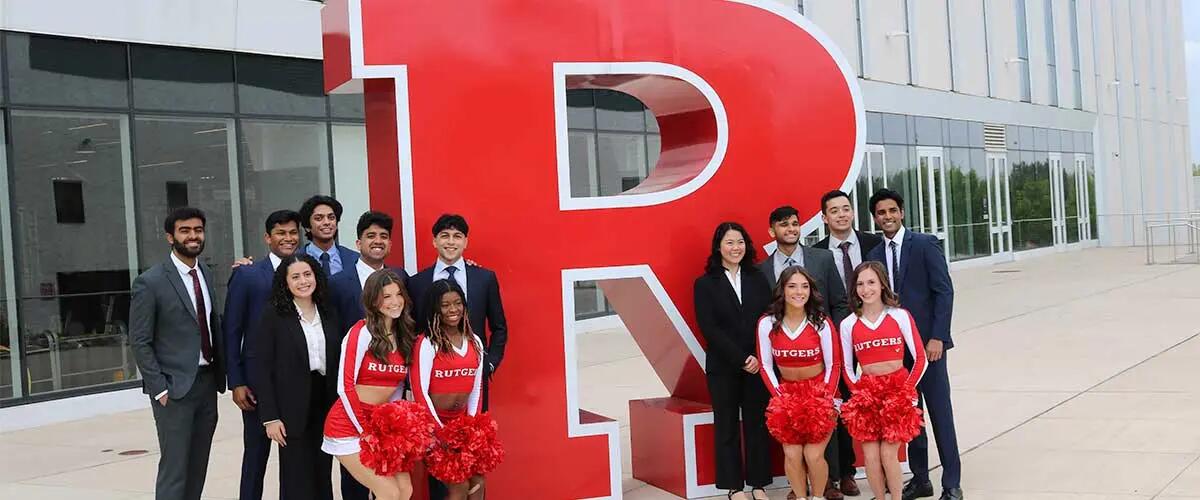 Rutgers Investment Club students compete in stock-picking competition
Rutgers Business School students representing the Rutgers Investment Club competed against nine other teams of professionals and celebrities during the live broadcast of the annual CNBC Stock Draft stock-picking competition. They were cheered on by Rutgers Cheer and Dance Team members.
(L – R) Rishi Mendiratta, Rithvik Reddy, Leena Abdelsamad, Akhil Dwasari, Ritvik Sharma (Portfolio Manager), Alexis Gergely - Dance, Masiyah Blue - Cheerleading, Rayhan Murad (Portfolio Manager), Jane-Marie Lai, Kishan Dalal, Julia Pepe - Dance, Nicholas Ong, Kathryn Hartwig – Cheerleading, and Rajas Chordiya.
The CNBC Stock Draft is an annual stock-picking competition pitting market professionals, athletes and celebrities against each other. Each team makes two picks from a list of 60 stocks and other investments. The winner is the team whose stocks have the highest average price appreciation between the closing price on April 27, 2023, and February 9, 2024.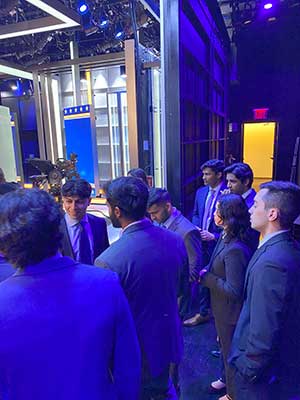 Rutgers Investment Club was the sixth team to select in the first round and chose JPMorgan Chase. "We knew our first choices coming into the event," said Ritvik Sharma. "We also knew they could be taken before our turn to pick, which happened. We had others in mind and had to adjust quickly. We chose JPMorgan Chase because even if there is a recession, they will be the bank that fearful Americans will choose to rely on, not to mention JP Morgan offers some of the world's best leadership."
"Of course, we had no way of knowing they would purchase most First Republic Bank's operations two days later," continued Sharma. "A lot will happen before the end of the evaluation period of this competition on February 9, 2024, but this makes our selection more interesting."
When Rutgers' second turn to pick came around, CNBC's Power Lunch host, Tyler Mathisen, asked Rayhan Murad if either of the team's choices had been taken before they could select it.
"There are a number of football players here today, and they intercepted our picks," said Murad. "For this round, we select Boot Barn. Besides cowboy boots, Boot Barn sells hats, overalls, work wear, and everything Western-related. We believe that Western culture is making a resurgence, and this stock is especially cheap. We feel good about our selections."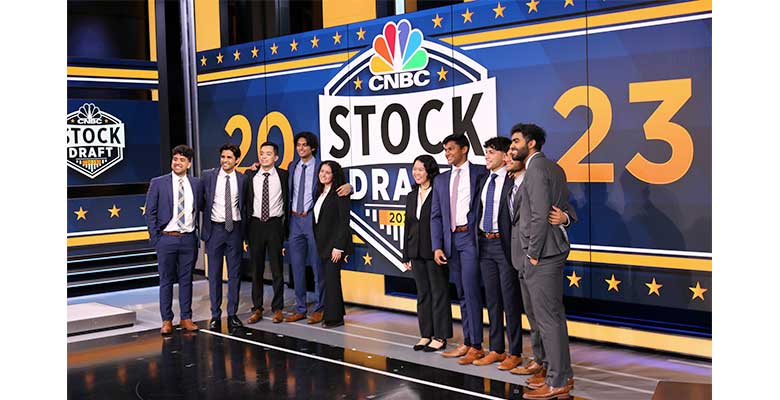 Press: For all media inquiries see our Media Kit