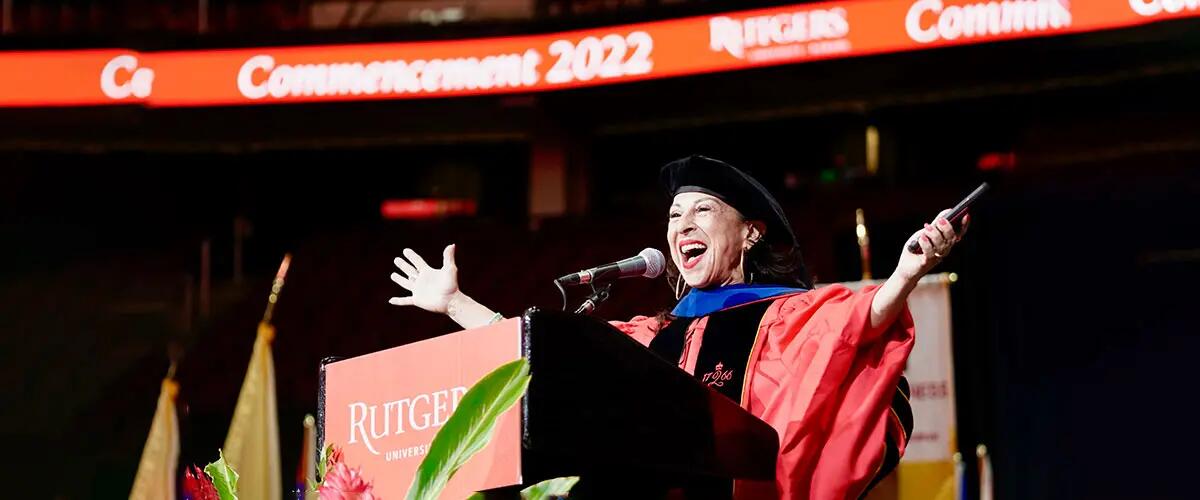 Rutgers-Newark Class of 2022 urged to pursue greater good
This story was written by Carrie Stetler and published by RutgersToday.
At Rutgers University—Newark's first in-person ceremony since 2019, speakers alluded to the challenges of the pandemic and a fraught political landscape. But they urged graduates to be the future of Democracy and work toward the common good.
"It is all of our collective will that will be needed to make our world an equitable place in which to thrive together,'' said Chancellor Nancy Cantor. "Yes, togetherness is my theme today, for we are back together, thankfully, even as we never truly left each other."
The ceremony, held at the Prudential Center in Newark, honored the Class of 2022, comprised of 2,425 undergraduates, including 1,727 from New Jersey.  A total of 224 students are from the city of Newark and 96 are from the Greater Newark towns of Irvington, Orange and West Orange. Of undergraduates, 802 are the first generation in their families to attend college. There are 1,397 graduate students.
The crowd of undergraduates included nearly 700 graduating students from Rutgers Business School-Newark. The experiences of two students from the Class of 2022, Lizet Portillo and Gary Carter, were highlighted in remarks by Chancellor Cantor. 
Commencement speaker Maria Hinojosa, a journalist who founded Latino USA network and a week ago won a Pulitzer Prize, reminded students that it's crucial to make themselves heard and seen within a power structure that can render them invisible.
"Own your power because you are the future, strut your stuff...Many of us, we are invisible-ized in this country,'' said Hinojosa, a Mexican immigrant who was one of the first Latina journalists on network news. "We are targeted with hate, from people who see us as a threat."
She added half-jokingly, "Own your power, but don't be a jerk about it. I'm not going to say the other word. It  starts with an "A." You can disrupt and challenge but don't be an a******."
Hinojosa also reassured students that it's ok if success comes slowly. "Things don't always happen immediately,'' she said.
She told the story of David Luis "Suave" Gonzales, the main character of her podcast series, "Suave,''  which was awarded the Pulitzer. Hinojosa met him when she was invited to give a commencement speech at Graterford prison in Pennsylvania in 1993.  For nearly three decades, she kept in touch with Suave, who was sentenced to life for a crime he committed at 17. 
"He was from the South Bronx, Puerto Rican, illiterate, charged with murder,'' she said. "After seven times, he got his GED. Sixteen years it took him to get his graduate degree.''
Rutgers-Newark students possess the same grit, said Hinojosa -- and that will be in demand among future employers and collaborators. 
"We are looking for your hunger,'' she said.
Hinojosa mentioned student speaker Rachel Hodge, who overcame many hardships and personal struggles to graduate and begin a career as a social worker. 
Hodge shared her story at the ceremony. "If you were to ask me ten years ago what life would be like for me today, I would have not had a response,'' she said. "Ten years ago, I woke up in a car, sweating, hopeless, homeless, struggling with addiction and feeling defeated.'' 
"But within 10 years, I became a mother, a survivor, a social work scholar, and soon, a graduate of Rutgers-University Newark,'' said Hodge. "Life's struggles and sacrifices can be tomorrow's blessings and successes.'' 
In addition to Hinojosa, who received an honorary doctor of letters degree, Wayne Meyer, who served as CEO of New Jersey Community Capital (NJCC), received an honorary degree for his advocacy of sustainable investment in New Jersey's communities, especially those that have seen chronic underinvestment.
Also speaking at the ceremony were Newark Mayor Ras J. Baraka and Rutgers University President Jonathan Holloway. 
"Today is usually our time to celebrate individual striving and success. And while that's important, graduation is not just about individual success,'' said Baraka. "It's about our collective success.''
"Unfortunately we're at a time in American history where the individual has become more important than the collective,'' he warned.
But he expressed confidence that the graduates would look beyond their own well-being."Your vision is so wide, you can see more than yourself,'' he said.
Holloway stressed the importance of participating in civic and political life, quoting Adlai Stevenson II, former governor of Illinois and a presidential candidate in the 1950s. "Your days are short here; this is the last of your springs. And now in the serenity and quiet of this lovely place, touch the depths of truth, feel the hem of heaven...And don't forget when you leave why you came."
Press: For all media inquiries see our Media Kit