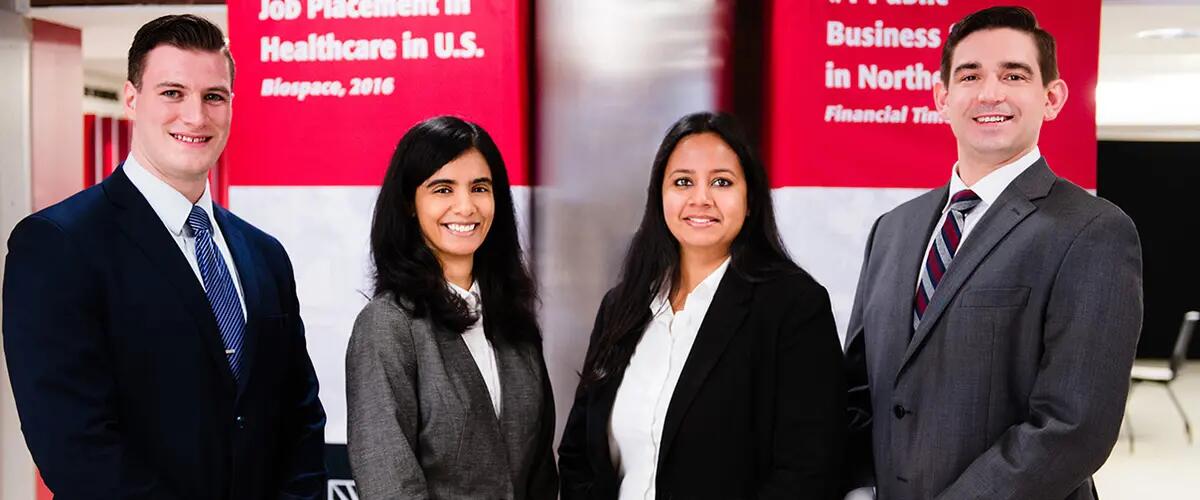 Rutgers team among winners in biopharmaceutical case competition
Teams from 12 schools competed in the eighth annual Biopharmaceutical MBA Case Competition hosted by the Blanche and Irwin Lerner Center for the Study of Pharmaceutical Management Issues.
MBA students from Rutgers Business School, Boston University, New York University, Drexel University, John Hopkins University, Georgetown University, the University of Michigan and University of Minnesota participated. College of William and Mary, Yale University, Cornell University, and the University of Notre Dame were also represented.
The team from Yale University won first place and students from John Hopkins University won second place. Rutgers Business School's team – made up of MBA students Setu Sha, Anu Garimella, Dan Bolotsky and Greg Gerold – placed third.
This year, the competition required the participants to develop an innovative contracting strategy for Mavenclad, an oral prescription medicine used to treat relapsing forms of multiple sclerosis.
The case competition exposes the students to real-world pharmaceutical industry challenges and allows them to compete with teams from top MBA programs around the country for monetary prizes of up to $6,000.
In addition to prize money, students also have the opportunity to network with industry executives from six of the world's leading healthcare companies. The case competition offers students a unique chance to demonstrate their knowledge in front of executives from sponsoring companies.
This year's competition was sponsored by Bristol-Myers Squibb, Bayer, Novartis, Merck, Leo Pharma, and Herspiegel Consulting. 
- Nicolle Williams
Press: For all media inquiries see our Media Kit