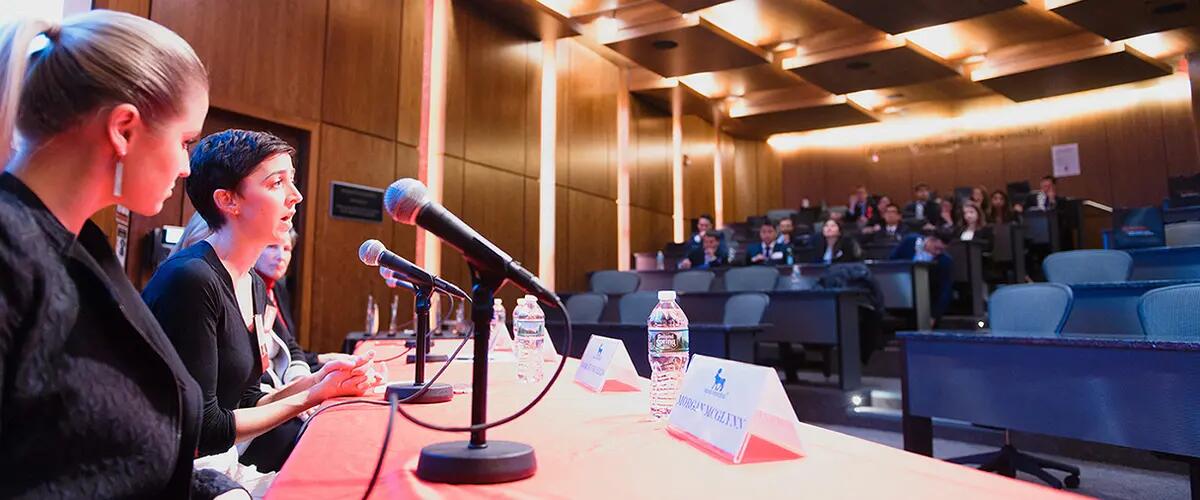 Biopharmaceutical case competition attracts teams from nation's leading business schools
This year, the case revolved around the use and effect of copay accumulators, a controversial new element in the ongoing issue of drug pricing and reimbursement.
The annual biopharmaceutical case competition at Rutgers Business School went on as scheduled Nov. 17 despite a snowstorm that paralyzed transportation routes in much of the Northeast.
First-year MBA students from the Yale School of Management won first place by drawing on knowledge from their pre-MBA career experiences to answer the case problem. This year, the case revolved around the use and effect of copay accumulators, a controversial new element in the ongoing issue of drug pricing and reimbursement.
"The case was incredibly relevant," said Chase Byerly, who worked in pricing and reimbursement for a pharmaceutical company before starting his MBA at Yale.
The case competition, which has been sponsored by the Lerner Center for the past seven years, is considered one of the premier case competitions for MBA students concentrating their studies in pharmaceutical management. Ten MBA teams representing leading business schools from Boston, Carnegie Mellon, Georgetown, George Washington, Wharton, Yale, New York University, Texas-Christian University, Indiana University and Rutgers, participated this year. (Cornell was also scheduled to compete, but could not get to Rutgers because of the storm.)
The event provides student teams a chance to network with industry professionals and fellow students, and the day involves a panel discussion, but at the heart of the competition, is a case that has been written annually by Gary Branning, an industry consultant and Rutgers Business School instructor, and his colleague Martha Vitar. The cases are inspired by news stories and current industry trends, making them particularly challenging and interesting for MBA student participants.
Byerly and his team mates said they were interested in doing the competition as soon as they saw the case prompt. "I don't know if you could have a better topic," he said. The Yale team also included David Chen, Gus Roman and Jennifer Fang. The students will share the $6,000 first place prize.
In this year's competition, second place ($3,000) went to Indiana University's Kelley School of Business and Texas Christian University's Neeley School of Business won third place and a prize of $1,500. George Washington University won honorable mention and team member, Drew Otto, won the Best Presenter award and $500.
Students from the Kelley School of Business arrived in Newark at 4 a.m. after their original flight was cancelled. The team from Georgetown reached New Jersey on Thursday evening but encountered gridlock as they made their way north. The students ended up abandoning their effort to reach Newark and spent the night at the home of one student's parents outside New Brunswick.
Other teams arrived Friday morning, stopping in the lobby of 1 Washington Park to remove their wet winter boots and slip into polished business shoes.
"I was very surprised that the teams (only Cornell University's team could not reach Newark) were able to make it – and the judges too, and we were able to start the program on time," said Professor Mahmud Hassan, who is director of the Pharmaceutical Management program.
Hassan said interest in the competition has increased among business schools around the world. Teams from Cambridge University, Hong Kong University and the University of Toronto wanted to compete this year. He said the teams could not be accommodated because of time constraints.
"I think Rutgers Business School has earned its reputation as the leading business school in pharmaceutical management, and the case competition is now globally known," Hassan said.
The following companies sponsored the biopharmaceutical case competition, which marked its seventh year: Bayer, Novo Nordisk, Insmed, McCann Health, Herspiegel Consulting and Buchanan Ingersoll Rooney P.C. Bristol-Myers Squibb and Novartis were both gold sponsors.
Press: For all media inquiries see our Media Kit