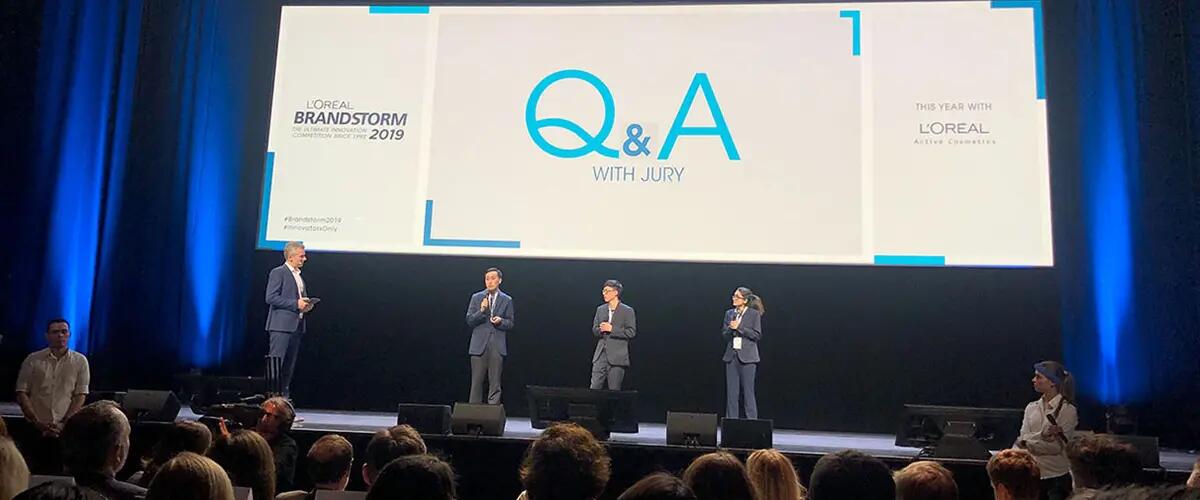 Rutgers team is finalist in L'Oreal's international Brandstorm Challenge
Rutgers Business School-New Brunswick sophomore Justin Lee said he didn't hesitate when his friend Alex Nguyen, another Rutgers Business School sophomore, asked him to be part of a team that would compete in L'Oréal's Brandstorm Innovation Challenge.
But Lee said he never expected to actually wind up on a stage in Paris, standing among the six teams chosen as finalists. Ditto for Nguyen and their team-mate from Rutgers University's School of Arts and Sciences, Zaynab Kahn.
"Amazed," is a word each of the students used to describe their reaction to ending up among the finalists. "It blew my mind," Khan said.
It came after a lot of effort though. Nguyen said they spent winter break thinking of ideas. Ultimately, the team combined two of them and then met with several Rutgers professors to determine the viability of the technology and the idea itself.
And then there were hours of practicing their over and over. Lee sounded like an athlete had who spent months training for the glory of a single, fleeting sporting event.
"We spent so much time practicing and pitching, sometimes five hours a night," he said. "For me the best part of doing the competition was the moment I was making my presentation. Each time, you feel like an entrepreneur, but you're only a college sophomore. It's so exciting."
This year, L'Oréal challenged student teams from around the world to come up with innovative skin care products for health conscious consumers. The competition attracted 340,000 students from 65 countries.
The Rutgers team proposed using a technology known as controlled heat assisted drug delivery in a face mask ("The 1 Mask") to treat both dark under eye circles and delivering doses of melatonin as a sleep aid. 
The team, known as Derma Dapper, presented their idea in New York City in April, competing against 80 teams in an initial round and then going up against a field of 10 before they were chosen to be one of two teams representing the U.S. in the final competition in Paris. Stacy Schwartz, an assistant professor of professional practice, advised the team.
Kahn described the international phase of the competition as "nerve-wracking and intimidating."
"We were surrounded by all of these amazingly talented people," she said.
Nguyen, who is studying supply chain management as well as business analytics and information technology, said he really wanted to do a business competition so he could apply some of the management skills and different management techniques he learned in the first semester of his sophomore year. He figured putting together a team would also give him experience in leadership.
"I want to be in product management," he explained, "This gave me a chance to learn how to incorporate a new technology and bring an idea to life."
A team of students from Indonesia were the first place winners in Paris.
Press: For all media inquiries see our Media Kit