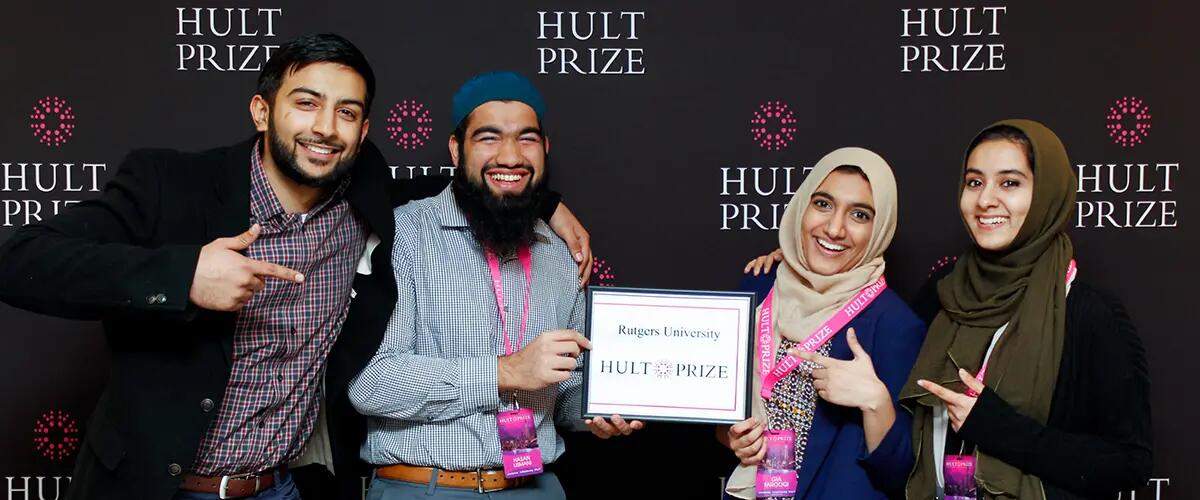 Rutgers team wins regional phase of prestigious Hult Prize Challenge
The students are the first team from Rutgers to win the regional competition in Boston. Now they will work with mentors to refine their business plan, fundraise and pilot their business, all before facing off against four other teams from around the world vying for a $1 million prize.
A team of Rutgers Business School students and one alumna won first prize in the regional Hult Prize Challenge with an idea of operating a system of electric-powered rickshaws in refugee settlements.
Seniors Najeeha "Gia" Farooqi, Moneeb Mian, Hasan Usmani and alumna Hanaa Lakhani captured the top prize in the March 4 competition against 70 teams from such schools as Harvard, Yale, Princeton and the London School of Economics.
In a six-minute pitch – polished by months of preparation – the team detailed a compelling plan for Roshni Rides, a business to provide electric-powered rickshaws in refugee settlements, offering residents an affordable, hop-on, hop-off way of traveling to jobs, schools and vital services, including hospitals and markets. Passengers would use reloadable ride cards similar to the New York City subway's Metro card. The team plans to pilot the system in Orangi Town, where an estimated 1.2 million people live within Pakistan's port city of Karachi.
"We've worked very hard," said Farooqi, who like the other team members are Americans of Pakistani ancestry. "This is very personal for us. We are the sons and daughters of immigrants and refugees."
The students, who know one another from classes and their involvement in Muslim student organizations, have been working as a team on case competitions  since 2014 and have won a couple of them, including the Target e-commerce case competition. Farooqi said the Hult Challenge was "definitely the most challenging competition we've entered."
The Hult Prize Challenge is on a different scale. Started by the Hult Prize Foundation in 2010, it encourages college students from across the globe to dream up the most innovative ideas for sustainable start-up businesses that are capable of solving some of the world's biggest challenges. The not-for-profit foundation is dedicated to launching a new generation of social entrepreneurs through the Hult Prize Challenge. Earlier this year, 14 Hult Prize entrepreneurs were listed on Forbes 30 under 30.
This year's challenge is focused on social ventures to help restore the rights and dignity of people and societies "forced into motion due to social injustices, politics, economic pressures, climate change and war." The Hult Prize Foundation puts the number of refugees around the world at 1 billion.
After winning a lead-up to the regionals in December at Rutgers, Farooqi and her team-mates dramatically re-worked their idea, switching from bicycles to solar-powered electric rickshaws. They calculated costs, enlisting the help of Mian's uncle who lived in Orangi Town to help them determine not only the viability of their plan, but its potential impact on the lives of refugees.
They refined their idea and their pitch over and over with advisers, with Rutgers friends who nearly won the Hult Prize Challenge regionals last year and then in front of family and friends who crowded into a room for an event the team dubbed Demo Day. The love and support of their community, Farooqi said, was one of the things that fueled their determination through long hours of preparation in Tillett Hall on the Livingston Campus. "They believe in this idea even more than we do," she said.
The members of the Roshni Rides team embody the traits that have come to represent the Rutgers Business School brand. They are driven, entrepreneurial and thinking beyond themselves. They are pursuing the Hult Prize with confidence because of the education they received at Rutgers Business School.
Daria Torres, a managing partner at Walls Torres Group, served as an adviser to the team. "Archimedes is known for quipping that a lever long enough can move the world," Torres said. "This Hult Prize regional win for Roshni Rides is evidence that students at Rutgers University can be a dynamic lever for positive change.  Society stands to benefit from their curiosity, ingenuity, humility and optimism."
As regional winners, the Rutgers team will begin a critical period of crowdfunding to raise money for their pilot, which will be carried out during the summer. They will have access to mentoring and other assistance during a six-week-long Hult Prize Accelerator. And then in September, they will compete in the Hult Prize Global Finals, hosted by former President Bill Clinton, for a chance to win $1 million in seed money.
As students on the verge of beginning new careers, team member Usmani said he and his friends often talk about the prospect of making money versus fulfillment and "changing the world with the skills we've been blessed with."
"This is so, so fulfilling," Usmani said. "It has the ability to improve so many lives."
Professor Alok Baveja, who worked with the students, said the Roshni Rides team embodies a truly inspiring ethos – "Real success lies in having a positive impact on the lives of others."
"This competition is not about the four of them," Baveja said, "It is about the difference the four of them will make in the world. This team of supply chain management students, leveraging their diversity and talents toward social good, should inspire the entire Rutgers community."
Umair Masood, who organized the Hult Prize @ Rutgers, said students put in hundreds of hours preparing for the regionals.
"In Boston, they excelled at pitching their idea and evoked amazement from the judges, Masood said.  "It's safe to say that hard work pays off.  With the support from all the advisers and mentors from the Rutgers community, it's now time for them to compete in the last round for $1 million in seed money to help change lives and make an impact."
Farooqi said she felt confident going into the regionals, primarily because of the passion and experience of her team. "We are the right people looking at this issue at the right time," she said. "We want to put everything into this business and see where it goes."
At Rutgers Business School-New Brunswick, Farooqi is studying supply chain management with a double minor in political science and gender studies. Mian is a double major in supply chain and business analytics and information technology. Usmani is also studying supply chain management. Lakhani, who graduated last year with a major in supply chain management, is currently working as an operations analyst for J.P. Morgan.
Follow the progress of the team on Facebook (https://www.facebook.com/roshnirides/) and Twitter @RoshniRides.
-Susan Todd
Press: For all media inquiries see our Media Kit