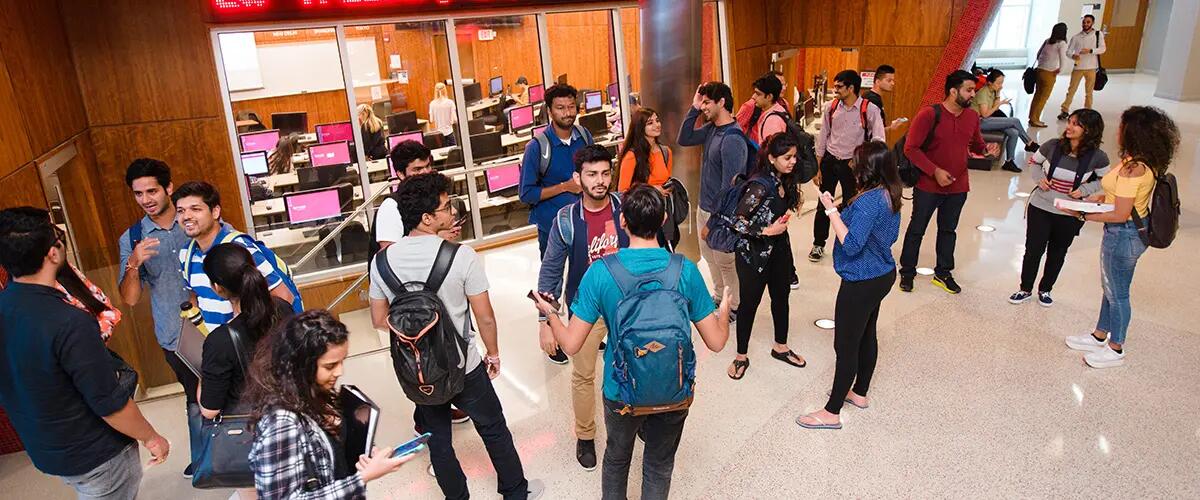 Rutgers University-Newark announces major financial aid initiative for undergraduate students
Eligible students with ambitions of attending Rutgers Business School-Newark may also benefit from the new program.
Rutgers University-Newark Chancellor Nancy Cantor has announced a major new financial aid initiative called the Talent & Opportunity Pathways program – or RU-N to the TOP – which will make college more affordable for wide swaths of New Jersey students, especially residents of Newark, those transferring from county colleges, and those with great potential to make an impact on the world.
RU-N to the TOP provides the following specific guarantees for RU-N undergraduate applicants, including students applying to Rutgers Business School, effective fall 2016:
All Newark residents who gain admission and whose household adjusted gross income (AGI) is $60,000 or less will be offered scholarships covering 100 percent of undergraduate tuition and fees (after federal, state, and external scholarships have been awarded).
Admitted students who are transferring to RU-N after earning an associate's degree from a New Jersey county college, and whose household AGI is $60,000 or less, will be offered scholarships covering 100 percent of undergraduate tuition and fees (after federal, state, and external scholarships have been awarded).
All students admitted to RU-N's innovative new Honors Living-Learning Community will receive residential scholarships covering the full cost of room and board.
"With RU-N to the TOP we are firmly planting a stake in the ground for college affordability for Newarkers and New Jerseyans," Cantor said. "We are saying to the young people of the city of Newark and our great state: We see your talent. We honor your talent. We want you to learn with us – and we want to learn from you – and together with our communities of experts across Newark, the state, the nation, and the world, we are going to make a difference."
RU-N long has been known as an engine of opportunity for Newarkers and New Jerseyans who are first-generation college-going students, first-generation Americans and students from hardworking families of modest means. Cantor believes the new financial aid initiative strengthens that tradition significantly in ways that speak directly to challenges facing Newark and New Jersey today, as well as communities everywhere.
"Our city, state, and nation need to increase educational attainment to both strengthen our democracy and compete in today's global economy," Cantor said. "As an anchor institution in Newark, we're saying that the best way to get there is by investing in the people of Newark and our state."
At Rutgers Business School-Newark, roughly 60 percent of the students transfer from county colleges.
Robert Kurland, Rutgers Business School's associate dean of undergraduate programs, pointed out that the mission of the campus is "Where Opportunity Meets Excellence."
"It is my hope that students from Newark who have not seen RBS as a viable opportunity due to financial roadblocks will now see it as such," Kurland said.  "Any (and as many) roadblocks as we can eliminate to help students earn a degree can only be beneficial to potential students and the community. Hopefully this will be another indicator of the types of commitments that Rutgers – Newark is making to the city of Newark."
Cantor said the extent of talent in Newark and in the county colleges is driving the initiative.
"When we look at the young people of Newark, we see a vast talent pool. We see the same thing when we look at the thousands of students attending Essex, Hudson and other county colleges," she said. "And we know that for some of them – perhaps for many of them – their true talent may not jump right out at you if you rely only on traditional ways of identifying it. That's why we're making this investment and why we're partnering with more than 60 public, private, and nonprofit entities in Newark through the Newark City of Learning Collaborative (NCLC) to strengthen and expand pathways to college."
The depth and breadth of that talent search is nowhere clearer than in RU-N's innovative Honors Living-Learning Community (HLLC). In addition to gleaning information about applicants from the standard Rutgers application form, the HLLC team engages them in in-person activities as part of the application process, through which a range of talents and characteristics associated with academic success may be evaluated.
"We look at – and well beyond – the typical application form," said Executive Vice Chancellor and Chief Operating Officer Shirley Collado, who is leading the development of the HLLC. "We engage applicants through in-person activities to see how they employ multiple intelligences in collaborative problem solving. This kind of engagement is invaluable in revealing who students really are, what their talents are, and what they can bring to an incredibly diverse and challenging learning environment like Rutgers University – Newark. We don't ask students to check their identities at the door, but to build on them by growing intellectually and developmentally in a community."
The HLLC, currently in its first year, has enrolled a cohort of 30 students, but plans are for it to grow to a steady state with cohorts of 125 new students per year, with many coming from Greater Newark. Strongly focused on retention, persistence, and college success, HLLC programming aims to foster academic, social, and personal development of talented students from diverse backgrounds with a desire to make a difference in their communities and beyond. With an innovative curriculum centered on themes of "Local Citizenship in a Global World," HLLC students will live and learn at RU-N with students from all backgrounds and all walks of life. Ultimately, the HLLC will have its own home in a state-of-the-art facility now in the planning phase, with dining, recreational, and academic spaces. Student cohorts will include those who enroll in postsecondary education immediately following high school graduation, as well as students in other stages of their lives.
RU-N's new financial aid initiative and the HLLC are part of the university's broader commitment to increase educational attainment through the NCLC. This citywide initiative aims to increase post-secondary attainment among Newark residents from 17 percent to 25 percent by the year 2025 by engaging more than 60 public, private, and nonprofit entities from Greater Newark in collaborative programming to strengthen pathways to college.
To learn more about Rutgers Business School, go to undergrad Newark admissions.
Further information about admission and financial aid at RU-N may be found at http://admissions.newark.rutgers.edu. Further information about the Honors Living-Learning Community may be found at http://hllc.newark.rutgers.edu/.
Information about the Newark City of Learning Collaborative may be found at http://www.nclc2025.org/.
Press: For all media inquiries see our Media Kit