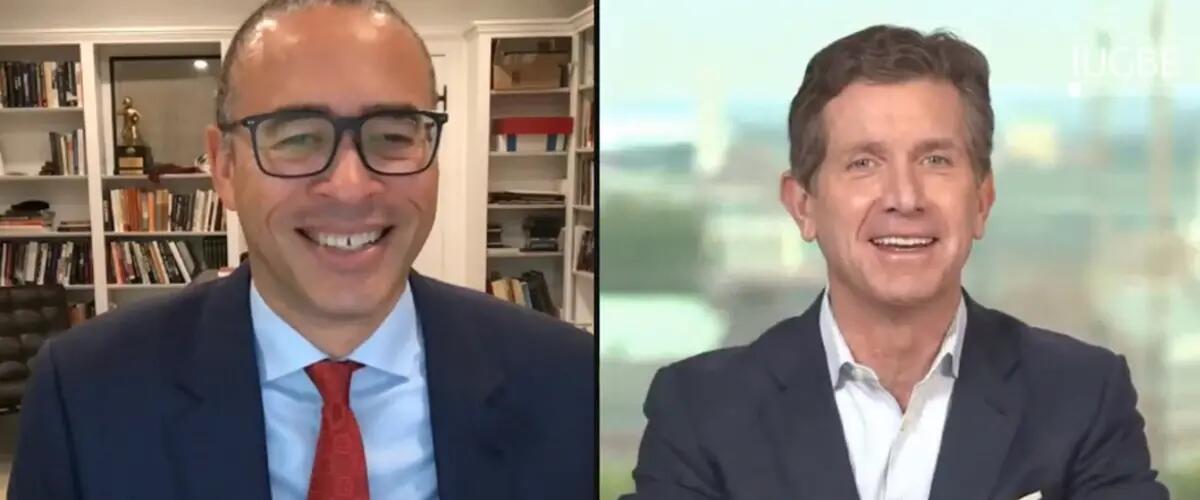 A scholar and a chief executive share their thoughts on education, diversity and disruption
A conversation between Rutgers University President Jonathan Holloway and Johnson & Johnson Chairman and CEO Alex Gorsky, opened Rutgers Business School's Innovations in Undergraduate and Graduate Business Education Conference.
Rutgers University President Jonathan Holloway and Johnson & Johnson Chairman and CEO Alex Gorsky discussed leadership, the value of an MBA, and the importance of inclusion during a fireside-chat-styled conversation hosted by Rutgers Business School.
The hour-long conversation opened Rutgers Business School's two-day Innovation in Undergraduate and Graduate Business Education Conference (Forever Changed: Envisioning B-School 2030). The conversation took place before an audience of nearly 200 people from higher education institutions across the U.S., including deans and faculty from the nation's top business schools.
Early in their conversation, Holloway asked Gorsky to describe the skills and habits that he learned in business school that have stayed with him during his career.
Gorsky described his career track "as a little bit different" than many MBA students. He graduated from West Point and then served in the Army for six years, living in different parts of the world where he learned "a lot of important life lessons about leadership, grit and overcoming obstacles." Afterward, he joined Johnson & Johnson as an entry level sales representative. He pursued his Executive MBA after nearly eight years with the company.
"It was a great experience," he said, "to have the ability to be learning things in the classroom and literally applying them in real time to the job that I had, and it was really a boost overall intellectually. It happened at a great time in my career."
Gorsky said he loved working on real world case studies that gave him constructs to consider as he encountered similar business challenges during his career. He also benefited from relationships he formed with his MBA classmates. "Believe it or not, I still get together annually with my study group from Wharton," he said.
"I don't think I would be where I am today if it had not been for my MBA experience and for the catalyst it provided to my career at a really important time," he said.
His reflections resonated with President Holloway. "I'm all about leaders like you talking about the importance of your education and how it facilitated a transformation in yourself," Holloway said.
Holloway, a historian by training, said he has sustained his own friendships from graduate school. "I hope that the students who are listening to this will keep that in mind, nurture these networks because they will pay off for you in all kinds of ways," he said.
During the talk with Holloway, Gorsky, who studied engineering and political science as an undergraduate at West Point, stressed the importance of an interdisciplinary education that blends qualitative and quantitative skills. "The more diversity of background and thinking and education, the better suited you will be to be a leader," he said.
"Music, music, music to my ears," Holloway replied, agreeing that he also has benefited as a scholar from being surrounded by people with different disciplines who offered different perspectives. "We are going to be faced with an increasing set of complex challenges in our world and the more that we can gather people from different disciplinary experiences, cultural experiences," he said, "the better we'll be prepared to find really creative answers."
As Holloway deftly turned the conversation to the concept of disruption, he asked Gorsky: "What are your viewpoints on the marrying of interdisciplinary thinking and the phenomena of disruption? How can you find a way to manage these things to create success in the business environment?"
"Diversity of thinking is a catalyst for disruption," Gorsky said. "Having a diverse team around the table, having diverse perspectives and making sure you're able to connect with all the different stakeholders is more important than ever."
Holloway, who started as president of Rutgers as the COVID pandemic closed the university in 2020, and Gorsky, who became Johnson & Johnson's CEO in 2012, occupy offices across the street from one another in New Brunswick. The virtual conversation represented their first meeting.
Holloway expressed awe at the ability of Johnson & Johnson and other drug manufacturers to develop a vaccine as swiftly as they did to curb the COVID pandemic. "In all the tragedy of the pandemic, we've witnessed something else quite remarkable."
"It's got to be a wonderful feeling," he said, "to be at the helm of a company doing that kind of great work."
The fireside chat kicked off a conference that explored the future of business education, from the role of deans and curriculum to the corporate perspective on developing future business leaders. The IUGBE conference has become a signature event at Rutgers Business School. Started after Rutgers University entered the Big 10, the conference is designed to showcase thought leadership and inspire educators from the Big 10 – and beyond – to share innovative ideas in business education.
This conversation between Holloway and Gorsky ended with Rutgers MBA student Marsha Fils posing questions to each of the leaders. 
The virtual event drew academics from business schools at Cornell and Harvard to New York University and the University of Pennsylvania. Francesca Cornelli, dean of Northwestern University's Kellogg School of Management, delivered a provocative keynote about how business schools will have to evolve their offerings to emphasize traits such as empathy.
Panelists and attendees connected from Big 10 business schools, including Smeal, Kelley and Fisher. Other business schools across the U.S. stretching from Washington State and Texas to North Carolina and Ohio, were also represented.
- Susan Todd
Press: For all media inquiries see our Media Kit