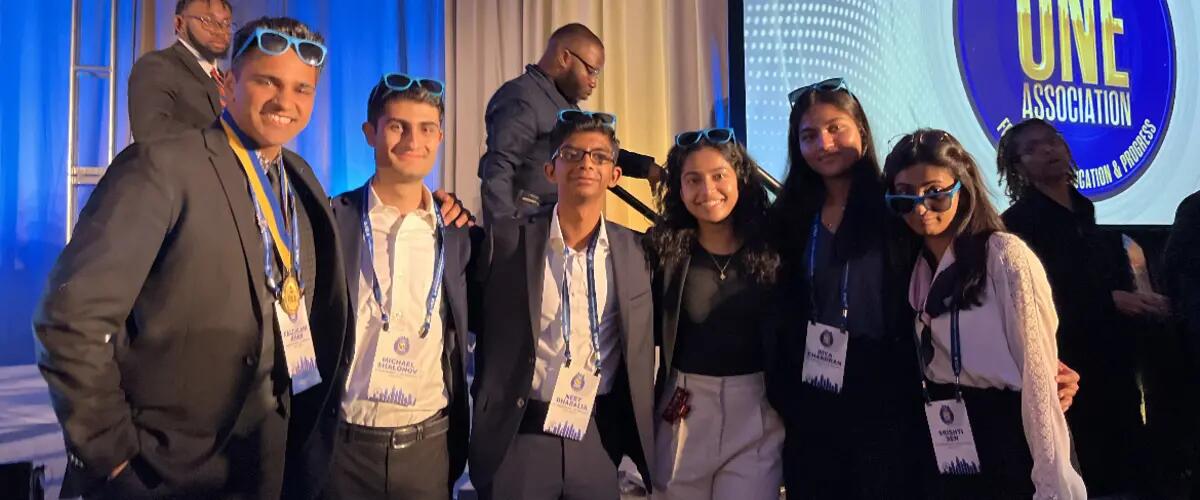 Senior elected to national role in Future Business Leaders of America
The Rutgers Chapter of Future Business Leaders of America (FBLA) made history at the organization's annual leadership conference when a member from Rutgers Business School-New Brunswick won a national officer position.
Faizjilani Khan, who will be a senior in September, was elected vice president of membership, after garnering the support of delegates from coast to coast. He is believed to be only the second Rutgers Business School student to be elected to a national leadership position within the FBLA.
Khan ran a campaign that focused on providing business school students with better access to opportunities that can help them be optimally prepared for the career-searching process. Through town hall-styled meetings and personal greetings, Khan discussed his plans to strengthen FBLA membership outreach and inclusion on a national level.
In his new role as vice president of membership, Khan will promote recruitment and plan events for career-driven students looking to succeed in the economy of tomorrow. Khan celebrated his election with Rutgers FBLA Chapter members Michael Shalonov, Neet Dhabalia, Mahek Mansuri, Srishti Sen and Riya Chandran, all of whom attended the national conference in Atlanta. All of the students are from Rutgers Business School-New Brunswick except Chandran who is a School of Arts and Sciences student.
Future Business Leaders of America is the nation's largest career and technical student organization that focuses exclusively on business. The 2023 conference in June attracted more than 800 college students and educators from across the country.
During the four-day conference, FBLA chapter members from across the country participate in workshops, networking events with FBLA alumni and potential employers, and competitions that test their knowedge. Mahek Mansuri placed tenth in the country in a project management competition.
FBLA President and CEO Alexander Graham commended FBLA members from across the U.S. "We are so proud of our student members who have been working diligently for months to prepare for the National Leadership Conference," Graham said. "They impressed the judges with their mastery of competitive event subjects, made powerful new connections with employers and alumni, and demonstrated a readiness to enter the workforce."
Press: For all media inquiries see our Media Kit